Chicken & Mushroom Chop Suey
Prep: 15 mins
Cook: 25 mins
This one's a quick chop chop chop suey. It takes our gorgeous Devonshire chook and gives it an Asian influence thanks to tamari and hoisin sauce.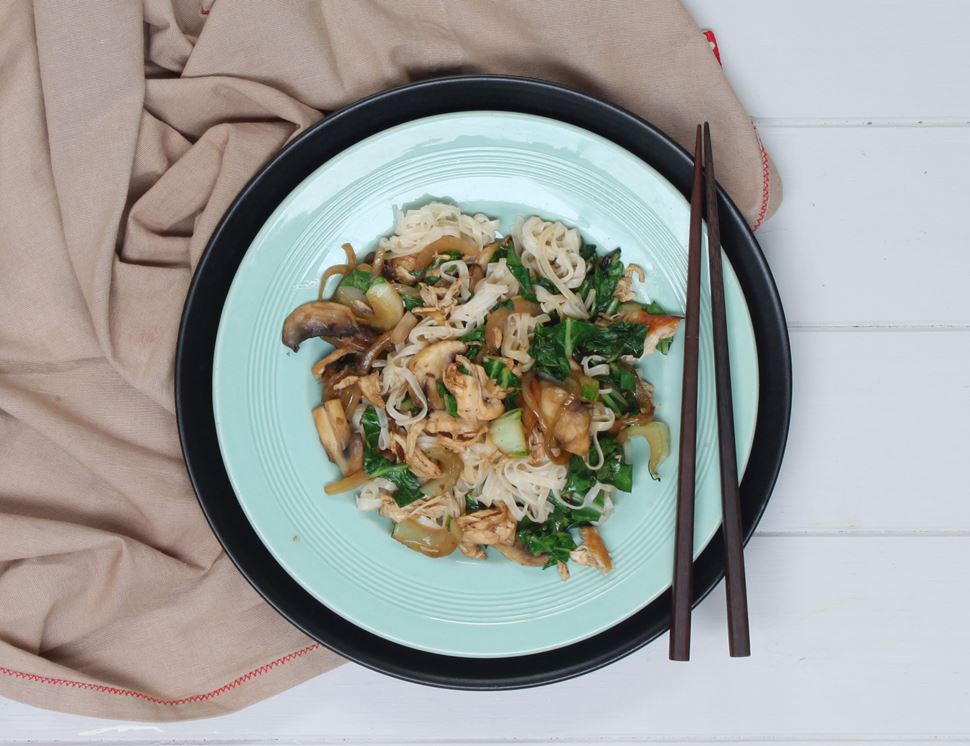 Ingredients you'll need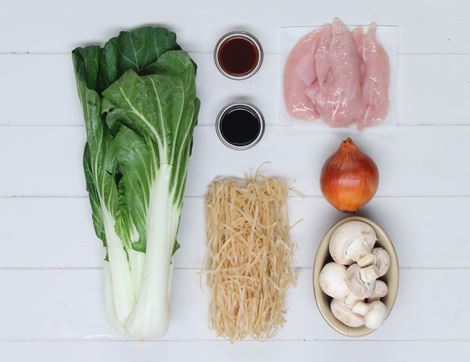 1 onion
A 200g punnet of white mushrooms
A head of pak choi
A 250g pack of chicken breast mini fillets
½ x 250g pack of pad Thai noodles
A 50g sachet of hoisin sauce
1 tbsp tamari
From your kitchen
You'll need
Deep frying pan or wok
Pan
Step by step this way
1.

Peel and finely slice the onion. Finely slice the mushrooms. Separate the pak choi leaves and finely shred the leaves and stems.

2.

Warm 2 tsp oil in a deep frying pan or wok. Add the chicken. Fry over a medium heat for 10 mins, turning now and then till the chicken is a dark golden brown and cooked through.

3.

While the chicken is cooking, bring a pan of water to the boil. Add 1 nest of noodles. Simmer for 3 mins. Drain and tip back into the pan. Add 1 tsp oil and swirl to mix through the noodles.

4.

Add the onion to the wok with a splash of water. Stir fry for 5 mins till the onion is golden brown. Add the mushrooms. Stir fry for 5 mins till the onion looks juicy.

5.

Lift the chicken out of the pan and shred with two forks. Add the shredded chicken, pak choi, hoisin sauce and 1 tbsp tamari to the wok.

6.

Stir fry for 5 mins to heat everything through and wilt the pak choi.

7.

Add the noodles to the wok. Lift up and drop everything a few times with the fork to mix them all together. Warm for 1-2 mins. Divide the chop suey between two plates and serve straight away.
Tip

Use your noodle
Ever tried a noodle frittata? Simply cook your leftover noodles then toss into a hot frying pan with some stir-fried veg. Pour in 6 beaten eggs. Cook till set, then grill to brown. Serve in wedges with hoisin sauce.