Chicken & Fig Tagine
Prep: 15 mins
Cook: 30 mins
Moroccan tagines usually contain dried fruit or nuts. We've gone for dried figs in ours for sticky, sweet depth. Cumin and cinnamon give your dinner an aromatic edge.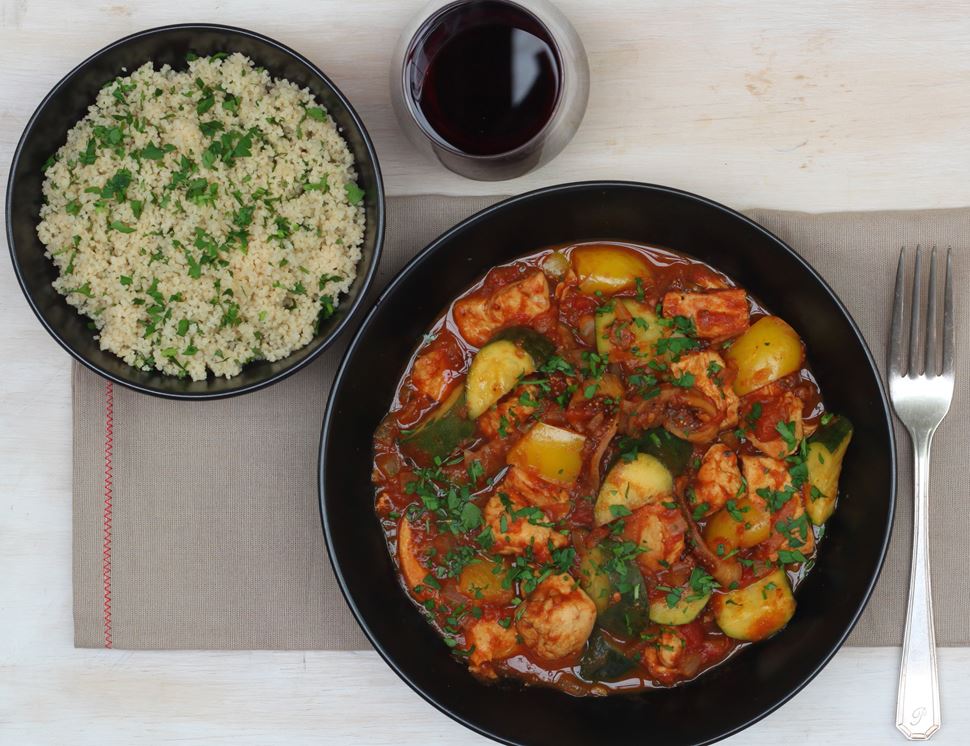 Ingredients you'll need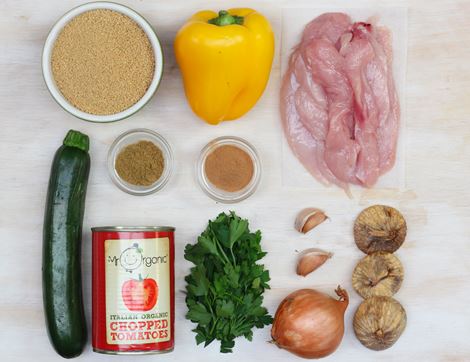 1 onion
1 courgette
1 yellow pepper
2 garlic cloves
A bag of wholewheat couscous
A pack of chicken breast mini fillets
1 tsp ground cumin
1 tsp ground cinnamon
A tin of chopped tomatoes
A bag of dried figs
A handful of flat leaf parsley
From your kitchen
300ml hot water
1 tbsp olive oil
Sea salt
Freshly ground black pepper
You'll need
Heatproof bowl
Deep frying pan or wok
Kitchen paper
Step by step this way
1.

Peel and finely chop the onion. Rinse and trim the courgette. Chop into small chunks. Rinse and halve the pepper. Scoop out the seeds and white bits. Roughly chop. Peel and grate or crush the garlic.

2.

Fill the kettle and boil it. Pop the couscous in a heatproof bowl. Add 300ml hot water from the kettle. Cover with a saucer or plate. Put it to one side to soak up the water.

3.

Halve any larger pieces of chicken. Warm 1 tbsp olive oil in a deep frying pan or wok. Add the chicken. Fry for 3-4 mins till it's golden brown and it doesn't stick to the pan. Turn the chicken over once or twice.

4.

Lift the chicken out of the pan. Pop on a plate. Add the onion to the pan. Season with salt and pepper. Cook and stir over a medium heat for 5 mins till soft and a little golden.

5.

Stir the chicken back in to the pan with the garlic and 1 tsp each of the cumin and cinnamon. Add the courgette and pepper.

6.

Add the chopped tomatoes to the pan. Quarter fill the can with cold water. Add to the pan. Give everything a good stir. Pop on the lid. Bring to the boil. While the tagine is coming to the boil, thickly slice the figs. Throw away the woody stems.

7.

When the tagine is boiling, add the figs. Turn the heat down. Simmer, with the lid on, for around 10-15 mins till the veg are tender and the chicken is cooked through.

8.

Rinse and pat the parsley dry. Roughly chop it. Stir most of the parsley into the couscous. Serve with the tagine, topped with the remaining parsley.