Chicken & Avocado Wraps
Prep: 20 mins
Cook: 30-40 mins
Let's call it a wrap. A high welfare chicken, organic avocado kind of wrap. It's a wrap. Yes, it is. Wrap it up. Rightio. Keep it under wraps! Really? And other wrap-based puns.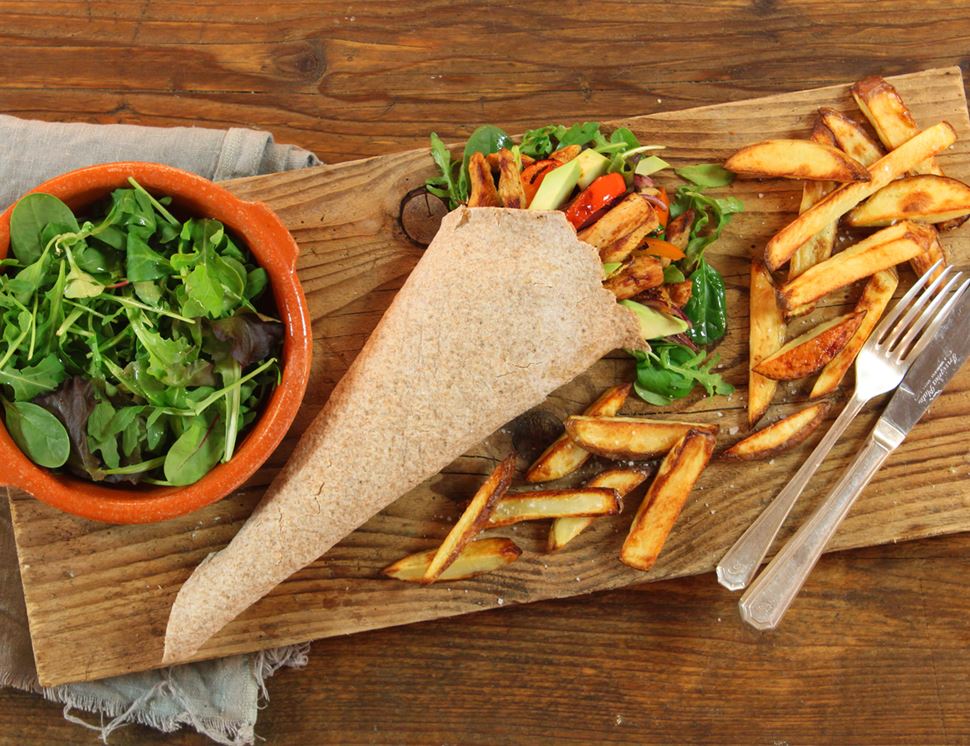 Ingredients you'll need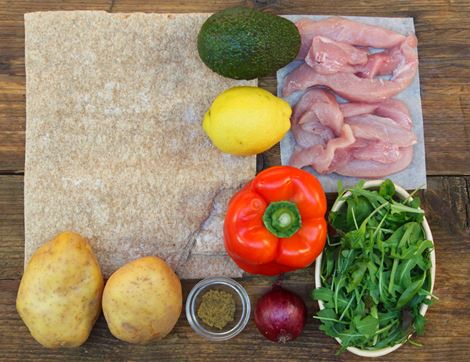 2 large potatoes
A pack of chicken breast mini fillets
1 lemon
1 tsp ground cumin
1 red onion
1 red pepper
1 avocado
A punnet of baby leaf salad
2 wholemeal wraps
From your kitchen
A few glugs of olive oil
Sea salt
Freshly ground pepper
You'll need
Chopping board
Knife
A couple of bowls
Baking tray
Grater or zester
Lemon juicer or fork
Wok or deep frying pan
Wooden spoon
Plate
Teaspoon
Colander
Salad spinner or kitchen paper
Step by step this way
1.

Heat your oven to 200°C/Fan 180°C/Gas 6. Scrub the potatoes. Slice them into chips about 1 cm wide. Pop them in a bowl. Drizzle with olive oil. Season. Toss to mix. Spread them out on a baking tray. Bake for 30-40 mins till cooked through and golden.

2.

Slice the chicken fillets into strips as big as your little finger. Pop in a bowl. Grate or pare the zest from the lemon. Juice it. Add both to the chicken with 1 tsp of the cumin. Season with salt and pepper. Put to one side for 10 mins.

3.

Peel and finely slice the onion. Rinse and halve the pepper. Scoop out the seeds and white bits. Finely slice it. Heat a glug of olive oil in a wok or deep frying pan. Add the onion and pepper. Stir-fry for 5 mins till soft and charred. Season with a little salt and pepper.

4.

Pop the veg on a plate. Add the chicken and marinade to the pan. Stir-fry for 5-8 mins till golden and cooked through. Add to the veg.

5.

Halve the avocado. Scoop out the stone with a teaspoon. Peel or scoop the flesh from the skin. Slice into strips.

6.

Wash the salad leaves. Dry in a salad spinner or with kitchen paper. Wipe the frying pan clean with kitchen paper. Put it on a low heat. Add a wrap. Fry for 30 seconds to warm through. Flip and fry for 30 seconds more. Slide onto a plate. Repeat with a second wrap.

7.

Pile the salad, onion wedges, pepper, avocado and the chicken into the wraps. Roll up. Serve with the chips and any extra veg on the side.
Tip

Don't mind if I avocado
If your avocado is hard when you get it, pop it in a brown paper bag with a banana or a couple of tomatoes and leave it in your fruit bowl for a day or two. That should help it ripen up.