Chicken, Asparagus & Sorrel Lasagne
Prep: 30 mins
Cook: 20 mins
Our newest recipe writer, Sorrel, teaches you to make your own lasange sheets tonight. Funnily enough, Sorrel is using lemony sorrel in her recipe. Sorrel by name, sorrel by lasagne.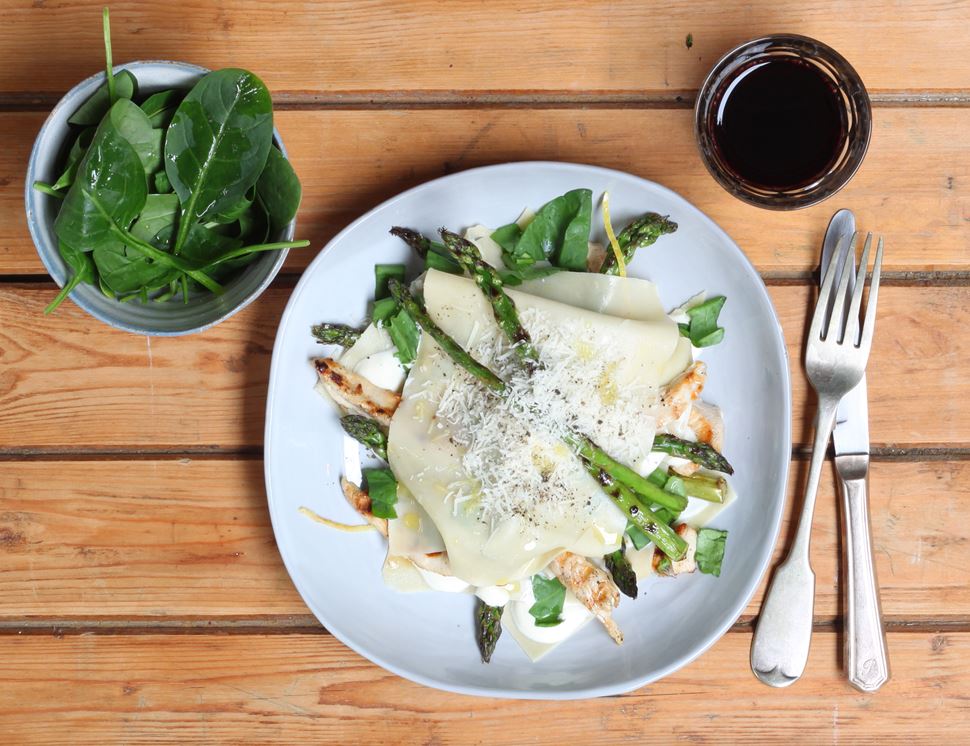 Ingredients you'll need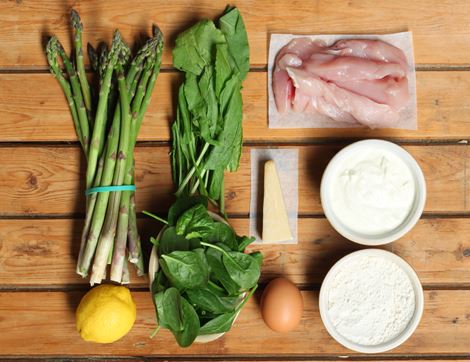 A pot of plain flour
1 egg
1 lemon
A pack of chicken breast mini fillets
A bundle of asparagus
A pot of half fat crème fraîche
A handful of sorrel
A chunk of parmesan
2 large handfuls of baby leaf spinach
From your kitchen
2 tbsp olive oil
1 tbsp cold water
Sea salt
Freshly ground black pepper
You'll need
Food processor or large mixing bowl
Cling film
Bowl
Griddle or frying pan
Small pan with a lid
Rolling pin
Large pan
Step by step this way
1.

Reserve 1 tsp flour for later. Tip the remaining flour into a food processor with 1 tbsp olive oil. Crack in the egg. Pulse to mix. Add 1 tbsp cold water. Pulse till a dough forms. No processor? Mix in a bowl with your hands. Remove and knead for 5 mins. Cover with cling film and rest in the fridge for 10 mins.

2.

Grate or pare the zest of the lemon. Juice it. Pop half the zest and juice into a bowl. Pour in ½ tbsp olive oil. Season and mix well. Add the chicken fillet and put to one side. Snap off the woody ends of the asparagus. Turn your oven on to its lowest setting.

3.

Heat a griddle or frying pan till it's smoking hot. Add the chicken fillets (in batches if needed). Cook for 3 mins on each side, till cooked through. Place in the oven to keep warm. Griddle the asparagus for 2 mins till charred. Pop in the oven with chicken.

4.

Fill the kettle and boil it. Pour the crème fraîche into a pan with the remaining lemon zest & juice. Add the reserved flour and a little salt and pepper. Heat gently on a low heat for 5 mins stirring occasionally. Roughly chop the sorrel. Put it to one side. Put a lid on the pan and leave to one side. Grate the Parmesan.

5.

Remove the dough from the fridge. Divide into four balls. Roll each ball as thinly as possible. Cut each quarter in half, trimming any scraggy edges. Roll these rectangles again to make them even thinner. They should measure approx. 10x15cm.

6.

Fill a large pan with hot water from the kettle. Add a pinch of salt. Bring to the boil. Add 2 or 3 sheets of lasagne pasta. Cook for 3 mins. Remove using a slotted spoon and repeat till all the sheets are cooked.

7.

Place a sheet of pasta on each plate. Dollop a spoonful of lemon crème fraîche on top. Spread to the edges. Add a couple of pieces of chicken and asparagus. Sprinkle a little Parmesan and some sorrel. Top with another sheet. Repeat until you have used all the fillings and pasta sheets. Finish with a sheet of pasta. Sprinkle with Parmesan.

8.

Pop the spinach in a bowl. Drizzle with ½ tbsp olive oil. Season and toss to mix. Serve alongside the lasagne.