Chicken & Greens Bun Cha
Prep: 15 mins
Cook: 25 mins
In Vietnam Bun Cha is made with grilled pork served with noodles, herbs, pickled veg and a sour and spicy dipping sauce. We've lighted it up, using tender chunks of chicken breast fries till they're caramelised and adding them to a big bowl of lime-dressed veg, noodles and herbs.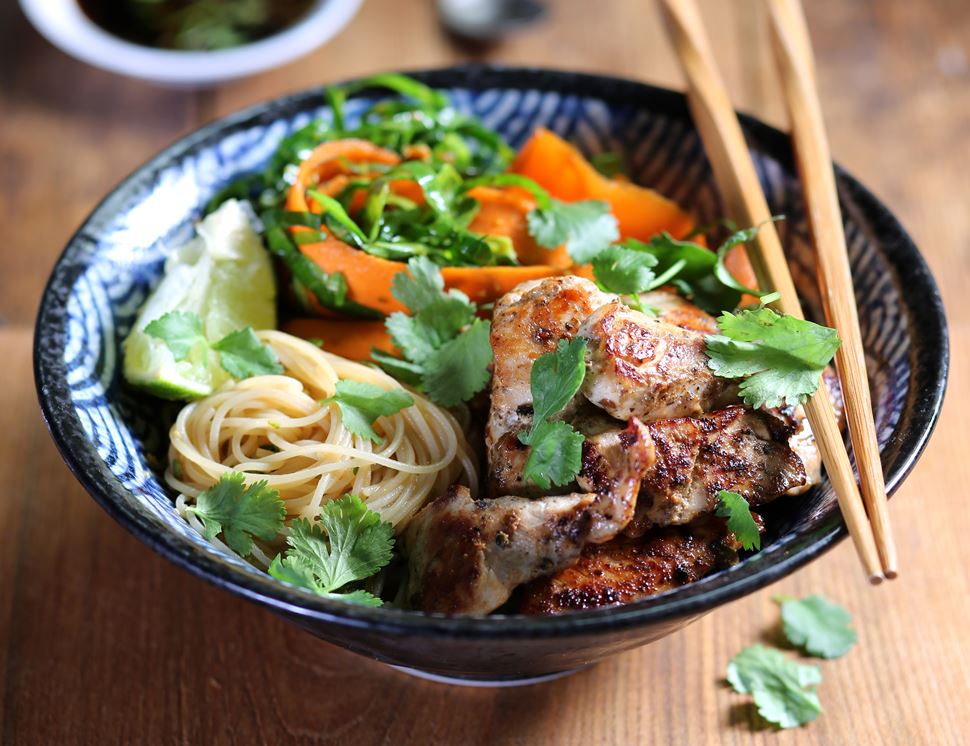 Ingredients you'll need
From your kitchen
1ltr cold water
Sea salt
Freshly ground pepper
1 tsp olive oil
Step by step this way
1.

Place 1 bundle of the noodles in a large bowl or dish. Pour over 1 ltr cold water - or enough to cover all of the noodles. Set aside to soak for 25 mins.

2.

Tip the diced chicken breast into a bowl and add the green curry paste. Sprinkle in a pinch of salt and pepper. Mix together well till all pieces are coated. Set aside for 10 mins to marinate.

3.

Peel and finely grate the garlic and ginger into a separate small bowl. Finely grate in the lime zest and squeeze in half the juice. Finely chop the soft green herbs and stir half into the bowl (save the rest for later in the recipe). Pour in the tamari and stir well to combine.

4.

Trim any woody ends away from the green leaves, and finely shred the leaves. Trim and peel the carrot, then use a peeler to create ribbons. Peel down to the core, then thinly slice the core. Scatter both into a bowl and toss together.

5.

Pour 1 tsp oil into a pan and warm over a medium-high heat for 2 mins. Slide in the chicken breast pieces with their marinade and fry for 6-8 mins, stirring occasionally, till golden and caramelised on the outside.

6.

Meanwhile, drain the noodles through a sieve and shake dry. Tip back into the bowl. Pour half the tamari, ginger and lime sauce over the noodles and toss well to combine. Stir the other half of the sauce over the shredded greens and carrot.

7.

Arrange the noodles and shredded veg into bowls and top with the cooked chicken. Finish with a scattering of the remaining chopped herbs and wedges of the lime.