Cheesey Nachos with Sweet Potato & Bean Chilli
Prep: 15 mins
Cook: 30-35 mins
Work some Mexican magic by turning wraps into tortilla chips, then topping them with a hearty sweet potato chilli and heaps of melted organic Cheddar cheese.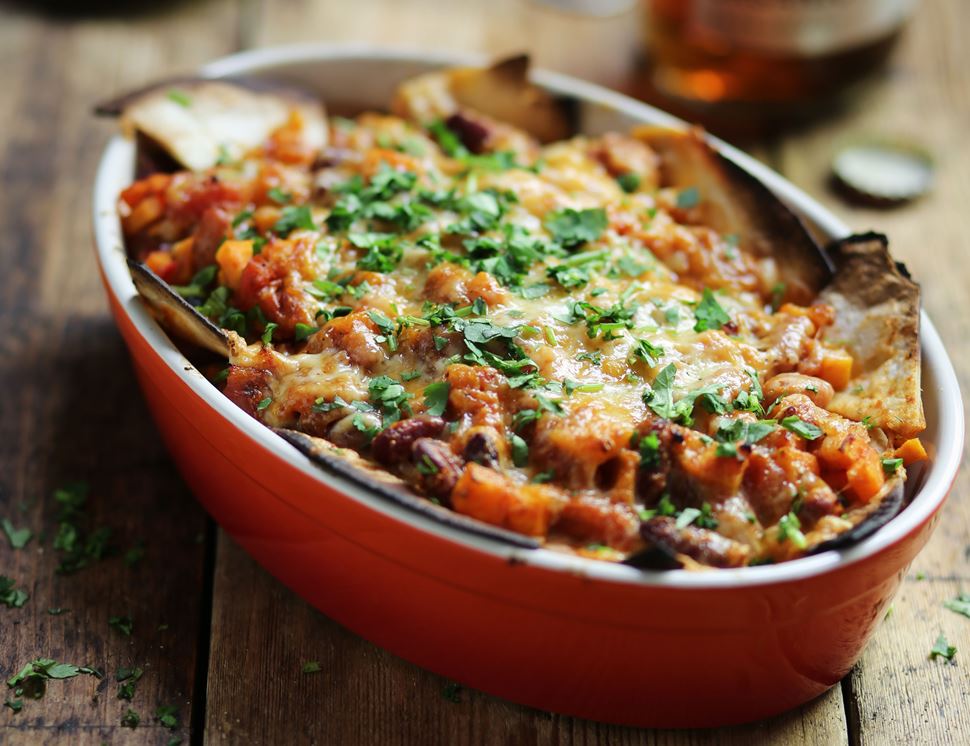 Ingredients you'll need
1 onion
1 garlic clove
1 chilli
1 sweet potato
1 tsp ground cumin
1 tsp coriander seeds
400g chopped tomatoes
400g tin of mixed beans
4 white tortillas
½ x 100g chunk of Cheddar
A handful of coriander, leaves only
From your kitchen
1 tbsp olive oil
Sea salt
Freshly ground pepper
100 ml boiling water
You'll need
Frying pan
Pestle and mortar (optional)
Pan with a lid
Colander or sieve
A couple of baking trays
Heatproof dish or a couple of smaller dishes
Step by step this way
1.

Peel and finely chop the onion. Peel and grate or crush the garlic. Halve the chilli, flick out the seeds and white bits (or leave them in for more heat) and finely chop it. Peel the sweet potato. Finely chop it.

2.

Heat a dry frying pan over low heat. Add 1 tsp coriander seeds. Toast for 1-2 mins, shaking the pan occasionally, till they smell aromatic. Tip into a pestle and mortar and grind them – or grind them in a small bowl with the bottom of a jam jar.

3.

Heat a pan for 1 min, then add 1 tbsp oil, the onion and sweet potato. Season with salt and pepper. Stir and fry over a low heat for 5 mins till glossy. Stir in the garlic, chilli, the toasted coriander seeds and 1 tsp cumin. Stir and fry for 1 min. Add the chopped tomatoes. Pour in 100ml boiling water.

4.

Drain and rinse the beans. Add to the pan. Cover. Simmer for 20 mins, stirring occasionally, till the veg are tender and the chilli is thick. Simmer, without the lid on, for a few mins to thicken it if you need to. Season.

5.

While the chilli cooks, heat your oven to 180°C/Fan 160°C/ Gas 4. Slice 4 tortilla wraps into 8 wedges each. Arrange them on 2 baking trays. Bake for 5-10 mins till they're golden and crisp. Be careful not to let them burn.

6.

Heat your grill to high. Grate half the chunk of cheese. Arrange the toasted tortilla chips in a large heatproof dish (or 2 individual dishes). Spoon over the sweet potato and bean chilli and sprinkle over the grated cheese.

7.

Pop the nachos under the grill for 5 mins till the cheese is just melted and bubbling. Sprinkle the nachos with coriander leaves and serve.
Tip

Bread head
You have 5 tortillas in your pack. You can use all in this dish (this will affect the calories), or freeze the last one for up to 3 months, or use it to make a quick pizza. Spread with a little pesto or passata, sprinkle with leftover grated Cheddar and add a few olives, capers or sliced onion. Grill for a few mins for a quick lunch.