Cheese & Leek Gammon Grills
Prep: 15 mins
Cook: 30 mins
A total rarebit revelation that replaces humble slices of toast with organic gammon steaks, and ups the bubbling cheddar topping game with caramelised leeks. A side of spuds and salad completes the transformation from familiar snack to fantastic feast.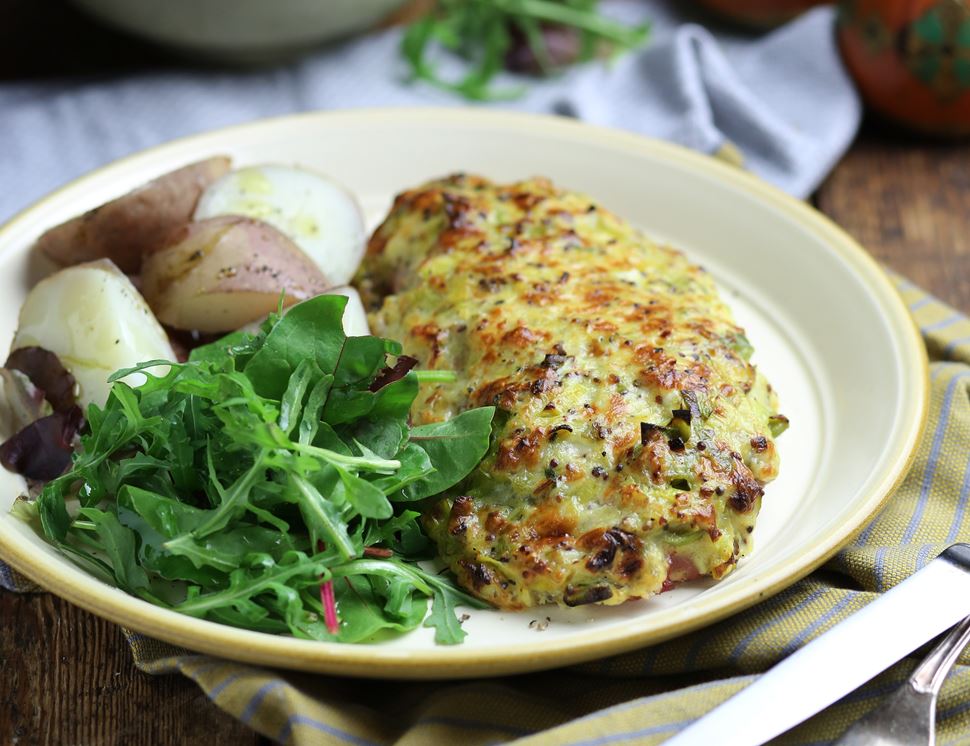 Ingredients you'll need
1 leek
½ x 100g cheddar
1 egg
1 tbsp wholegrain mustard
1 tbsp cider vinegar
500g potatoes
2 gammon steaks
50g peppery salad mix
From your kitchen
Sea salt
11/2 tbsp olive oil
Freshly ground pepper
Step by step this way
1.

Put a large pan of salted water on to boil. Heat your grill to high.

2.

Trim the roots and top 3cm off the leek. Halve it, rinse out any grit and then finely slice it. Warm a medium pan over a low heat for 2 mins, then add the leek and 1/2 tbsp oil. Season with a pinch of salt and pepper. Gently cook for 8-10 mins, stirring, till the leek is soft and lightly browned.

3.

While the leek sweats, coarsely grate half the cheddar. Beat the egg, mustard and 1 tbsp of the vinegar (keep the rest for later) together in a bowl till well combined. Stir in the cheddar.

4.

Line a grill pan or baking tray with foil. Lay the gammon steaks on a board and bash them with a rolling pin or a pestle to flatten them out a little, so they are around 1-2cm thick. Pop them on the grill pan or baking tray and slide under the grill. Grill for 10-15 mins, till they are lightly browned.

5.

While the gammon grills, scrub the potatoes and chop into bite-size chunks. The water should be boiling by now, so add the potatoes and simmer for 15-20 mins.

6.

While the potatoes simmer and when the leeks are soft and caramelised, take them off the heat and stir in the cheese and egg mixture. Season with a crack of ground pepper and mix well.

7.

The gammon should be browned by now. Take out from under the grill and use a spatula to flip them over. Spoon the cheese and leek mixture over the top of each gammon steak. Return to the grill and cook for another 8 mins till the cheese and leek topping is golden brown and bubbling.

8.

Whisk the remaining vinegar with 1 tbsp oil and a pinch of salt and pepper to make a dressing. Toss with the salad leaves.

9.

The potatoes should be tender and cooked. Drain them well and then serve them with the golden cheese and leek gammon grills and the salad.
Tip

More cheese please
You can use all the cheese in this recipe for a blanket of cheesy topping on the gammon steak grills (it will affect the nutritional information). It will also keep in the fridge for a few days. You can use it to make this sauce again, using 1 egg, 1 tbsp mustard and 1 tbsp vinegar (or swap for 2 tbsp beer), and spread it over bread to make an extra luxurious cheese on toast.