Cheddar, Mushroom & Watercress Pancakes
Prep: 15 mins
Cook: 35-40 mins
Wholesome hanky pancaky? These flipping brilliant pancakes are flavoured with thyme and stuffed with herby mushrooms, creamy mature Cheddar and peppery watercress.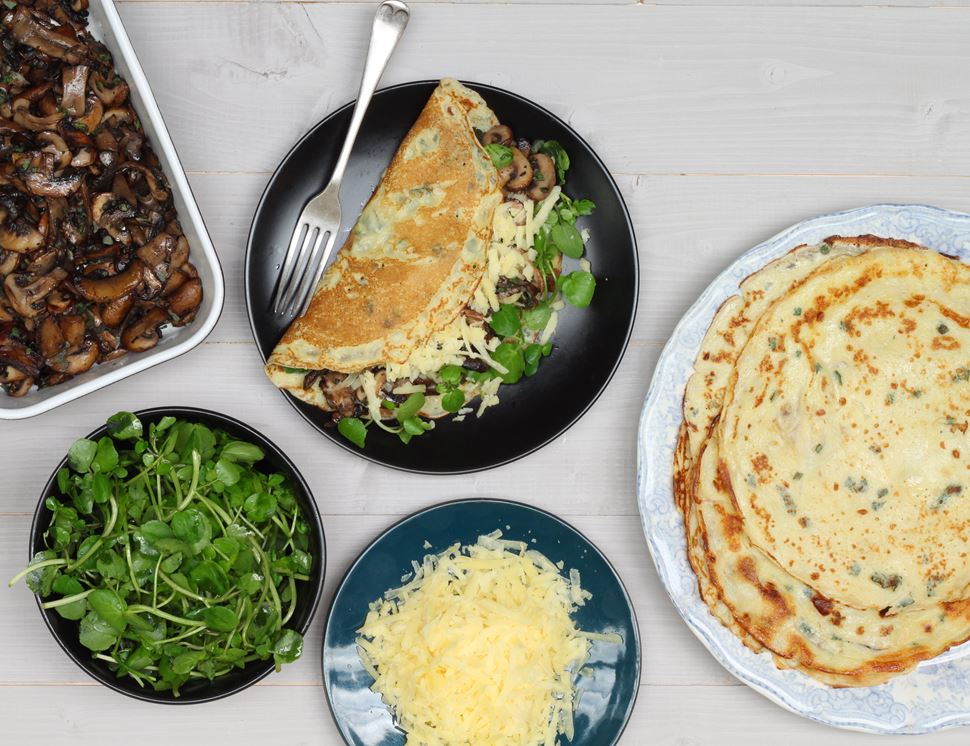 Ingredients you'll need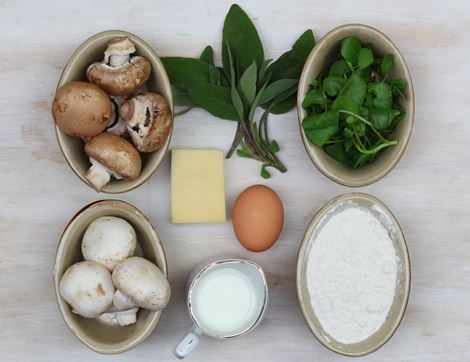 From your kitchen
Sea salt
2½ tbsp olive oil
Freshly ground pepper
You'll need
A large bowl
A large frying pan or wok
Heatproof dish
Step by step this way
1.

Sift the flour into a large bowl. Add a pinch of salt. Whisk 250ml milk with the egg. Slowly whisk into the flour to make a thin batter. Cover with a clean tea towel. Put to one side.

2.

Wash the mushrooms. Finely slice them. Rinse the thyme. Pick the leaves off the sprigs of thyem. Stir ¼ of the thymeinto the batter.

3.

Put your oven on to its lowest setting. Warm 1 tbsp olive oil in a frying pan. Add the mushrooms. Season with a pinch of salt and pepper. Fry for about 10 mins till golden. Stir often.

4.

While the mushrooms cook, grate the Cheddar. Put to one side. Stir in the thyme. Cook for a few mins, and then tip into a large heatproof dish. Pop in the oven to keep warm.

5.

Warm ½ tsp olive oil in a new pan. Add a ladleful of the batter to the pan. Swirl it around to coat the bottom of the pan. Cook over a medium heat for about 2 mins, shaking the pan to loosen the edges.

6.

Use a spatula or palette knife to flip the pancake over. Cook for another 2 mins till the crepe is browned on both sides. Slide onto a plate and pop in the oven. Repeat with the rest of the batter, adding more oil as you go - you'll need around 1 tbsp in total.

7.

Rinse the watercress. Pat dry. pull off any large stalks. Fill the warm pancakes with cheese, mushrooms and watercress. Fold or roll them. Serve with any remaining mushrooms and watercress on the side.

8.