Cauliflower, Courgette & Chickpea Tagine
Prep: 10 mins
Cook: 25 mins
We've thrown some of our favourite organic veg into this hearty winter tagine, packing it out with snowy white cauli florets, emerald courgette crescents and golden chickpeas. We've also turned up the heat with a pinch of spice and rolled out a fluffy carpet of wholewheat couscous for extra cosiness.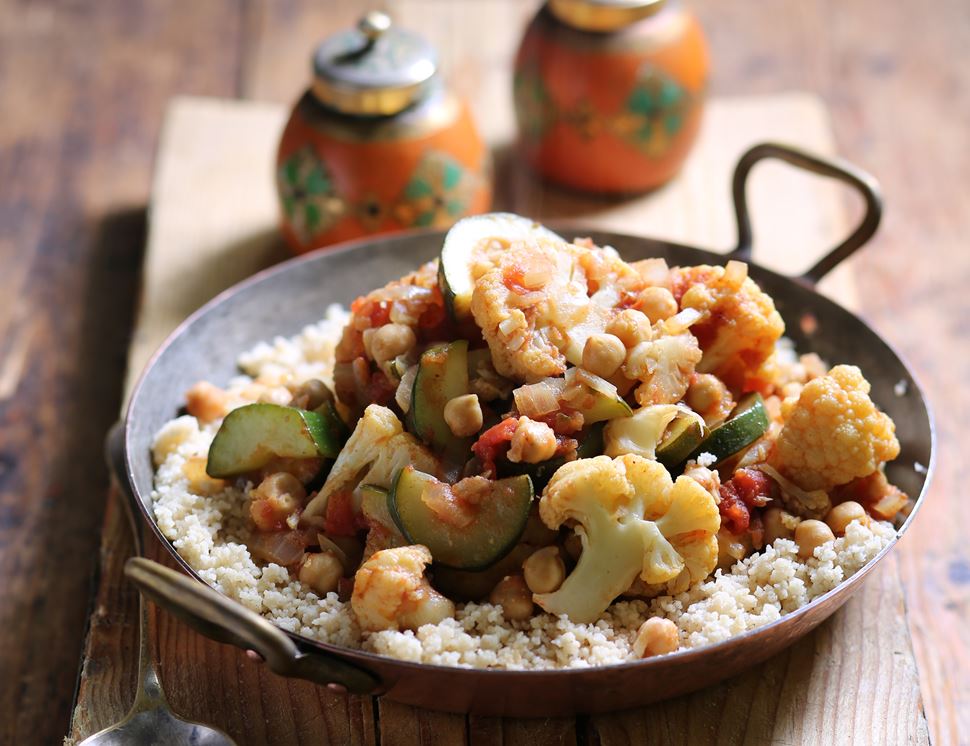 Ingredients you'll need
1 onion
2 garlic cloves
1 courgette
2 tsp ras al hanut
½ tsp caraway seeds
1 cauliflower
400g tin of chickpeas
400g chopped tomatoes
75g wholewheat couscous
From your kitchen
½ tbsp olive oil
Sea salt
Freshly ground pepper
200ml cold water
150ml boiling water
Step by step this way
1.

Peel and finely chop the onion. Place a medium pan on a medium-low heat for 1 min, then add ½ tbsp olive oil and the onion. Season with a pinch of salt and pepper and gently fry for 4-5 mins, stirring every so often, till the onion has started to soften but not picked up too much colour. If it starts to brown, turn the heat down.

2.

While the onion fries, peel and grate or crush the garlic. Halve the courgette, then slice it into half-moons around 1cm thick.

3.

Stir the courgette, garlic, 2 tsp ras al hanut and ½ tsp caraway seeds into the onion. Fry for a further 3 mins, stirring every so often.

4.

While the veg fry, break the cauliflower into small florets, keeping the leaves to one side for later. Chop the cauliflower stalk into bite-size chunks. Drain the chickpeas and give them a rinse.

5.

Stir the cauliflower and chickpeas into the pan. Tip in the chopped tomatoes. Half-fill the tin with water (around 200ml) and pour that into the pan. Put a lid on the pan, turn up the heat and bring the tagine to the boil. Turn the heat down a little and simmer for 10 mins, stirring every so often.

6.

While the tagine simmers, tip the couscous into a heatproof bowl and pour in 150ml boiling water. Pop a plate on top of the bowl and set aside to soak for 10 mins. Shred the cauliflower leaves, including the thick cores.

7.

When the cauliflower has simmered for 10 mins, stir in the leaves and simmer for 5 mins to just soften them. Taste the tagine and add a pinch more salt or pepper if you think it needs it.

8.

Fluff the couscous with a fork and spoon it on to 2 warm plates. Top with the tagine and serve.