Carrot & Coconut Poached Pollock
Prep: 5 mins
Cook: 30 mins
A sweetly earthy golden mix of carrots, turmeric and coconut milk makes the perfect partner for gently poached fillets of sustainably caught pollock.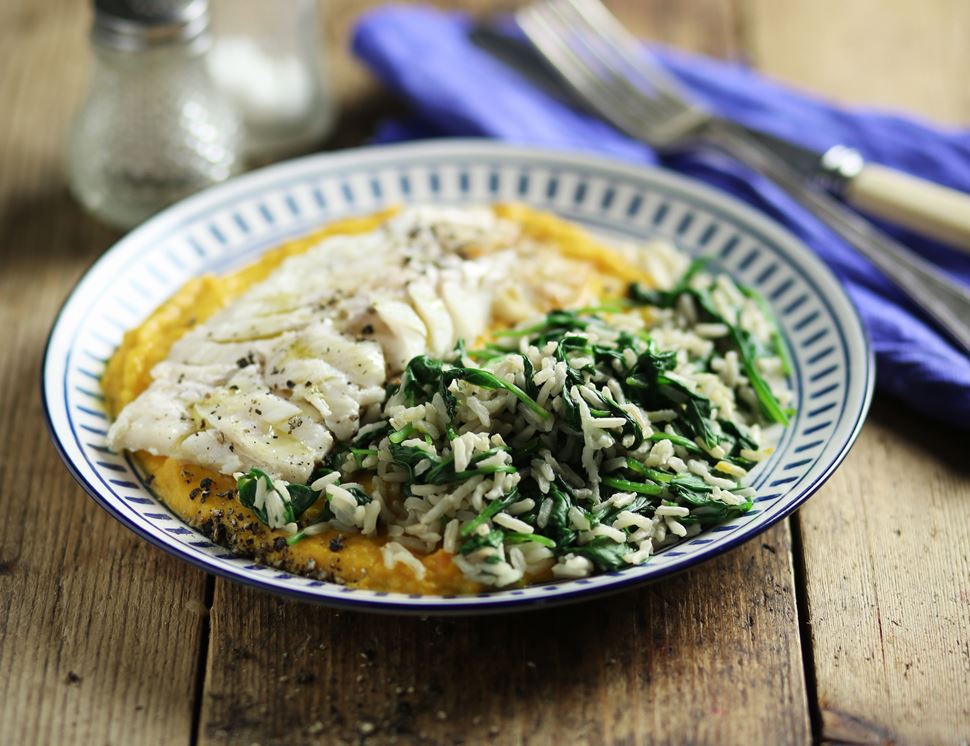 Ingredients you'll need
75g brown basmati rice
600g carrots
1 garlic clove
A thumb of turmeric
200ml coconut milk
2 pollock fillets
100g baby leaf spinach
From your kitchen
150ml boiling water
Sea salt
200ml cold water
Freshly ground pepper
Step by step this way
1.

Tip the rice into a bowl and cover with cold water. Whisk with a fork for 1-2 mins till the water goes cloudy. Drain and tip into a medium pan. Pour in 150ml boiling water. Add a pinch of salt. Cover. Bring to the boil, then turn the heat right down and gently cook for 25 mins.

2.

While the rice cooks, peel and chop the carrots into 1cm cubes. Peel and grate the garlic and turmeric (be careful as this will stain – see our tip).

3.

Place the carrots, garlic and turmeric in a deep frying pan. Pour in the coconut milk. Fill the tin with cold water (approximately 200ml). Add that too. Add a pinch of salt. Cover, bring to the boil, then turn the heat down and simmer for 15 mins till the carrots are soft.

4.

Remove the pan from the heat and blitz the carrot sauce till smooth and creamy using a hand-held blender, or tip into a food processor. For an even smoother sauce, you can then put it through a sieve. No blender? Just use a potato masher to mash the carrots till they're smooth(ish).

5.

Season the pollock fillets with a pinch of salt and pepper. Put the frying pan with the carrot and coconut sauce back on the heat. Slide the pollock fillets into the pan. Pop on a lid. Gently cook for 5-8 mins till the fish is white and flakes easily when pressed with a fork.

6.

While the pollock poaches, check the rice. It should be cooked, and all the water absorbed. Add the spinach to the pan and fork it through. Pop the lid back on and let it steam in the pan for 5 mins.

7.

Spoon the carrot and coconut purée onto warm plates. Place a pollock fillet on top of each. Serve with the spinach rice.
Tip

Mellow yellow
We love turmeric's happy ochre hue, but so do skin, fabric and work surfaces. Wear gloves and an apron when peeling and grating your turmeric. Lemon juice is great at removing any stains.