Butternut Squash & Ricotta Gnudi
Prep: 20 mins
Cook: 30 mins
Gnudi are like gnocchi but made with ricotta. They're in the gnudi, too. No sauce here, just a little bit of sage butter.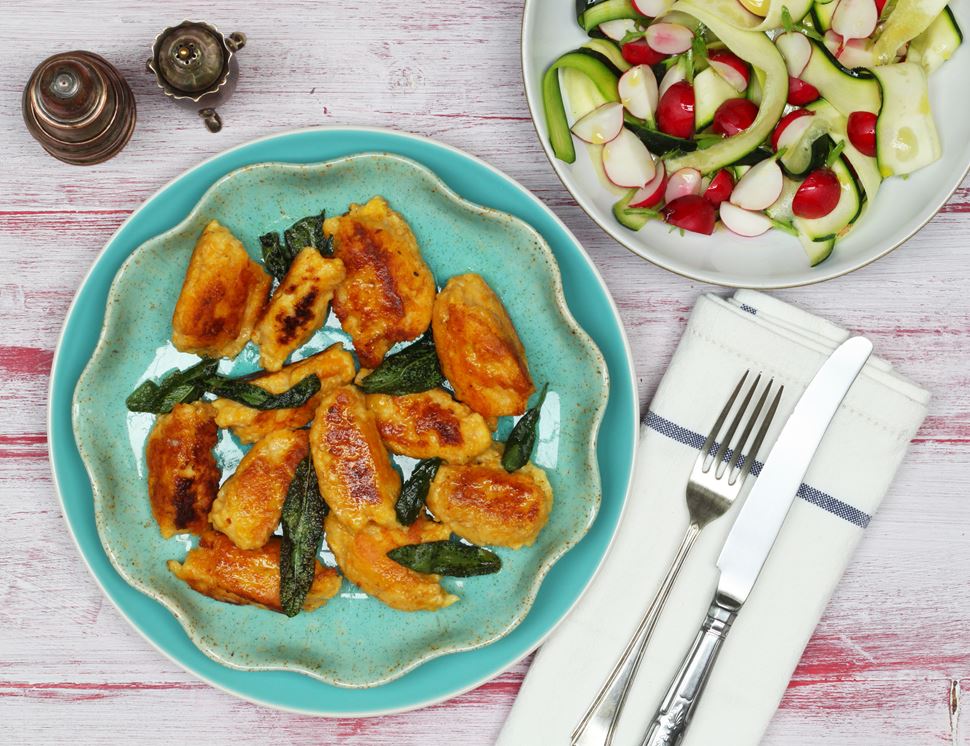 Ingredients you'll need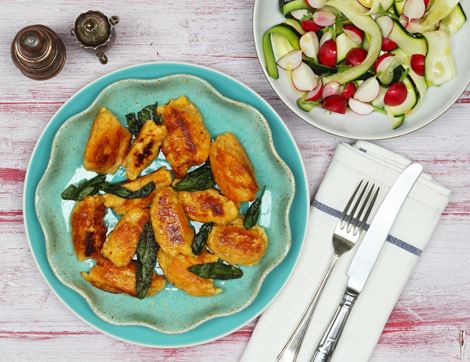 1 butternut squash
1 egg
A tub of ricotta
A pot of plain flour
1 courgette
1 bunch of radishes
½ lemon
1 pot of butter
A handful of sage
From your kitchen
Sea salt
Freshly ground pepper
2 tbsp olive oil
You'll need
Knife
Chopping board
Microwave (optional)
Pan with a lid (optional)
A couple of bowls
Masher or fork
Sieve or colander
Lemon juicer (optional)
Two tablespoons
Plate
Large pan
Slotted spoon
Frying pan
Spatula
Step by step this way
1.

Slice a few slits all the way round the butternut squash. Microwave on high for 10-15 mins till it's soft all the way through. Or peel, chop and deseed the squash. Boil for 15 mins and drain well.

2.

If you microwaved the squash, halve it. Scoop out the seeds. Scoop out the flesh. Pop in a bowl. Mash with a masher or fork. Tip into a sieve or colander. Press to squeeze out as much water as possible.

3.

Beat the egg. Add to the squash with the ricotta and flour. Season with plenty of salt and pepper. Stir to mix. You should have a thick, slightly sticky mixture – not quite a dough but close to it. Put on one side.

4.

While the squash cools, halve the fennel bulb. Trim one half and finely slice it fennel (keep the other half in the fridge for salads or adding to soups). Trim and rinse the radishes. Quarter them. Toss together in a bowl.

5.

Juice ½ the lemon. Whisk with 2 tbsp olive oil and a pinch of salt and pepper. Drizzle over the salad. Put to one side. Bring a large pan of water to the boil.

6.

Scoop a tablespoonful out of the gnudi mix. Scoop between two spoons to shape into an oval – it doesn't have to be neat. Drop into the water. Repeat till you have 6-8 gnudi in the pan. Simmer for 2-4 mins till they float – the water will go cloudy.

7.

Lift out the gnudi with a slotted spoon. Pop on a plate. Repeat with the rest of the gnudi mix. Melt half the butter in a frying pan with a splash of oil. Add the gnudi. Fry for 5-8 mins till golden. Turn once or twice.

8.

Melt the rest of the butter in the pan. Pick the sage leaves off the stalks and add them. Fry for 1 min till the sizzle. Spoon over the gnudi. Serve with the fennel and radish salad.