Brown Buttered Haddock with Curried Lentils
Prep: 10 mins
Cook: 30 mins
Anything cooked in brown butter is pretty magnificent, that's a fact. Tonight we're cooking sustainably caught haddock in it with a pinch of aromatic curry powder, and serving it with spiced lentils.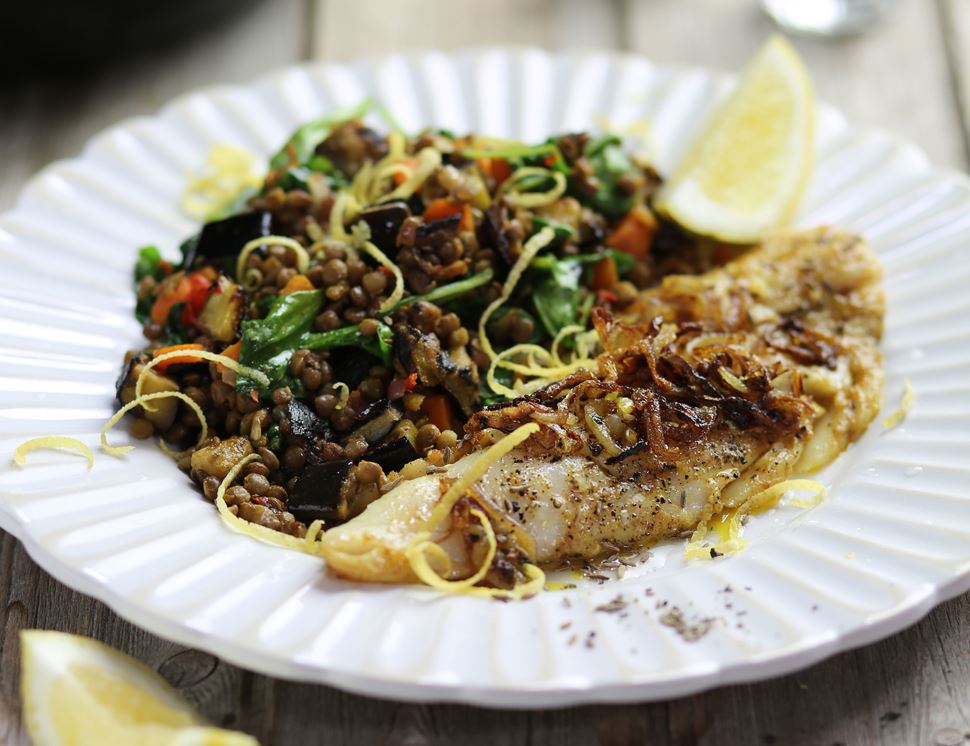 Ingredients you'll need
1 aubergine
2 carrots
2 red onions
2 garlic cloves
1 chilli
1 tsp cumin seeds
2 tsp mild curry powder
A 400g tin of green lentils
100g baby leaf spinach
45g butter
2 haddock fillets
2 shallots
1 lemon
From your kitchen
2 tbsp olive oil
Sea salt
Freshly ground pepper
Step by step this way
1.

Dice the aubergine into 1cm cubes. Put a pan on a high heat for 2 mins to warm up. Add the aubergine to the pan with 1 tbsp olive oil. Fry for 5 mins, stirring frequently, till golden brown. Lift out of the pan and pop on a plate lined with kitchen paper to drain. Take the pan off the heat.

2.

Peel and finely chop the carrots, red onions and garlic. Finely chop the chilli, flicking the seeds out of the chilli for less heat. Put the pan back on the heat. Add 1 tbsp oil plus the veg, garlic and chilli. Turn the heat down to medium-low and cook for 5-6 mins, stirring a few times, till softened.

3.

Add the aubergine back to the pan. Add 2 tsp cumin seeds, 1 ½ tsp of the curry powder and a little salt and pepper. Stir and cook for 1 min.

4.

Drain the lentils and pour them into the pan. Add the spinach leaves. Cook for 4-5 mins, stirring, till the lentils are warmed through and the spinach has wilted. Set aside with the lid on to keep warm.

5.

Put a frying pan on a medium-high heat. Add the butter and ½ tsp curry powder. Warm through till melted, bubbling and golden brown. Season the haddock fillets all over with salt and pepper, then add to the pan. Fry for 3 mins on each side so the haddock is opaque and flakes easily when pressed with a fork. Transfer to a plate. Loosely cover with foil.

6.

Peel the shallots and slice them into rings. Add them to the frying pan. Put over a high heat and fry for 2-3 mins till golden.

7.

Spoon the curried lentils onto 2 warm plates. Place the fish on top. Spoon over some of the shallots and the butter sauce.

8.

Finish by grating some lemon zest over the top. Slice the lemon into wedges and serve with the fish.