Blistering Aubergine & Lentil Tabbouleh
Prep: 20 mins
Cook: 40 mins
Roasting aubergine whole gives them a smoky flavour and soft, melting texture. Spoon them over a herby lentil salad and scoop up with warm, homemade flatbreads.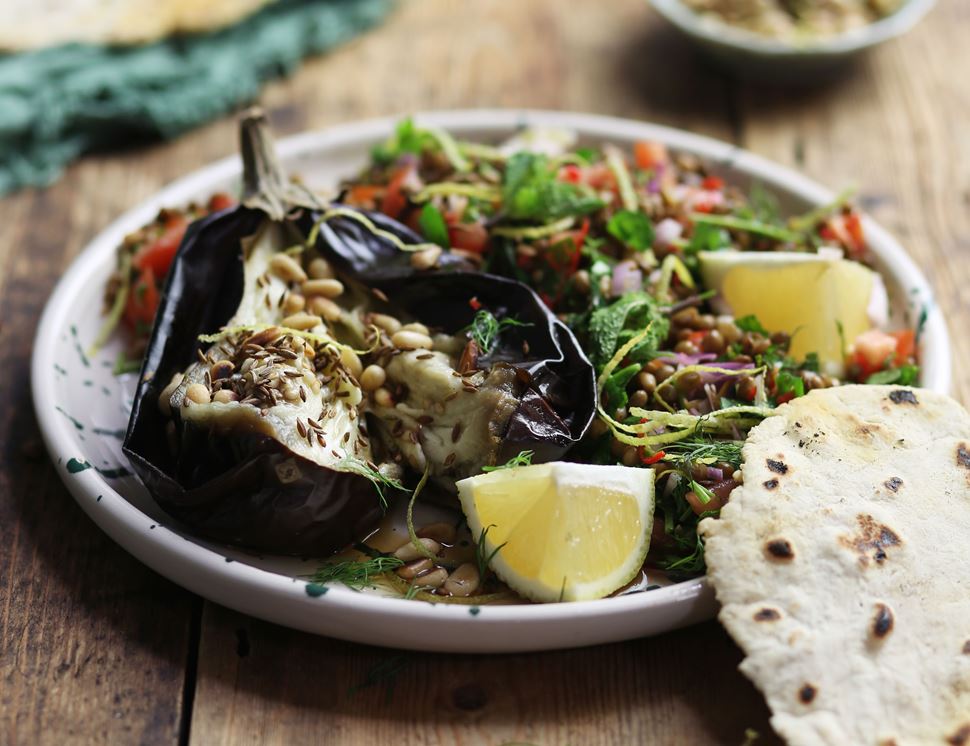 Ingredients you'll need
150g plain flour
1 tsp baking powder
2 aubergines
1 lemon
1 red onion
2 tomatoes
A handful of mint, leaves only
A handful of dill
A large handful of flat leaf parsley
1 chilli
2 tsp cumin seeds
400g tin green lentils
25g pine nuts
From your kitchen
Sea salt
2 tbsp olive oil
3 tbsp warm water
Freshly ground pepper
Step by step this way
1.

Heat the oven to 200°C/Fan 180°C/Gas 6. Sift the flour into a bowl. Take out 1 tbsp and set aside. Add 1 tsp baking powder, a pinch of salt, 1 tbsp oil and 3 tbsp warm water. Mix to make a dough, adding more water if needed. Turn out and knead for 2-3 mins till smooth. Pop the dough in the bowl. Cover with a tea towel. Set aside to rest.

2.

Place the whole aubergines on a baking tray and roast for 30-40 mins till the skins are blackened and they look soft.

3.

While the aubergines roast, halve the chilli and flick out most of the seeds. Finely chop it. Peel and finely chop the onion. Pop the onion in a bowl. Cover with boiling water. Soak for a few mins, then drain. Chop the tomatoes into small chunks.

4.

Drain and rinse the lentils. Tip them into a bowl. Zest and juice the lemon. Add the lemon zest and half the juice to the lentils. Stir through the chopped chilli, onion and tomatoes.

5.

Finely chop the mint leaves, and the dill and parsley, leaves and stalks. Stir most of the chopped herbs into lentils, saving a handful for garnishing. Taste and season.

6.

Dust your work surface with the reserved flour. Divide the dough into 4 pieces. Roll out each piece into a small circle, around 10cm in size. Set aside.

7.

Warm a dry frying pan over a medium heat. Toast 2 tsp cumin seeds for 2-3 mins, then tip into a bowl. Toast the pine nuts for 3-4 mins till golden. Tip into the same bowl as the cumin.

8.

Add a flatbread to the pan. Fry for 1-2 mins on each side till golden. Slide out of the pan and cover with a tea towel to keep warm. Repeat with the remaining pieces of dough.

9.

Split the aubergines in half. Spoon the lentils onto 2 plates. Top each with 2 aubergine halves. Scatter over the toasted seeds and the remaining herbs. Serve with the flatbreads. Drizzle 1 tbsp oil and the remaining lemon to taste.