Beef & Squash Stir-Fry
Prep: 20 mins
Cook: 10-15 mins
Your kale is from Herefordshire, your beef from the Peak District. You are there and I am here. Life goes on around us but for now we sit. We sit and we feast. (Well, you do.)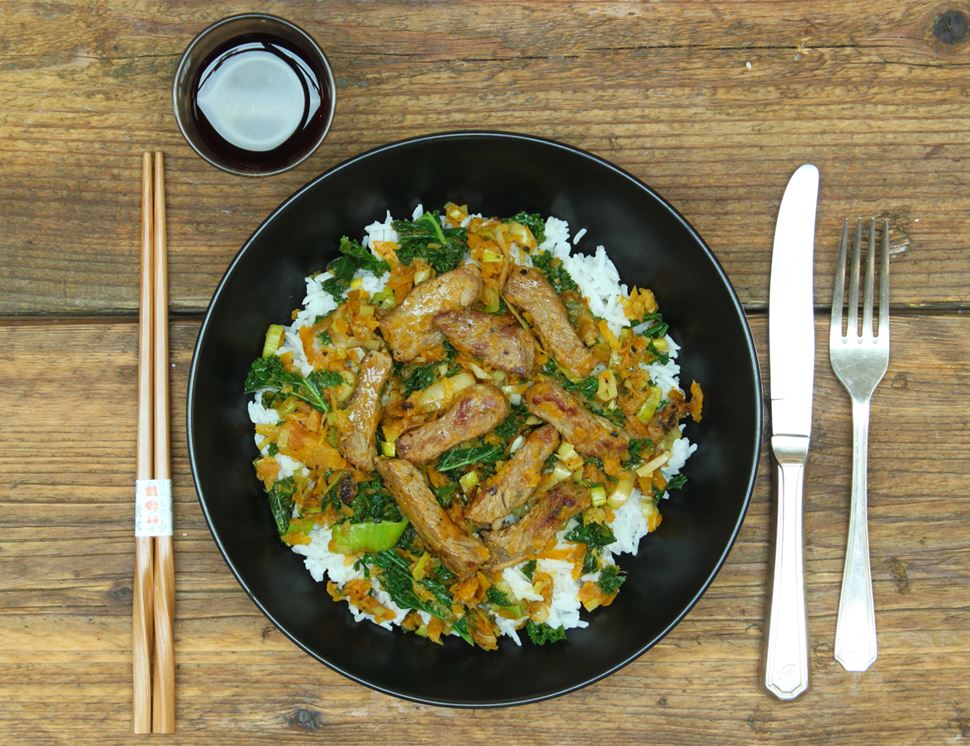 Ingredients you'll need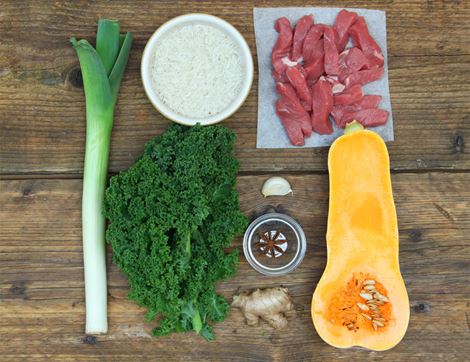 ½ a butternut squash
1 garlic clove
A thumb of ginger
1 leek
A bag of kale
A bag of white basmati rice
A pack of beef stir-fry strips
1 star anise
From your kitchen
250ml hot water
A splash of olive oil
Sea salt
Freshly ground pepper
You'll need
Chopping board
Knife
Vegetable peeler
Grater
Colander
Small pan with a lid
Measuring jug
Deep frying pan or wok
Wooden spoon
Step by step this way
1.

Fill the kettle and boil it. Halve the squash. Scoop the seeds out of one half. Peel it. Coarsely grate the flesh (see our tip about what to do with your spare half). Peel and grate the garlic and ginger.

2.

Trim the leek. Slice a cross shape in the top and pull the leaves open so you can rinse inside. Shake it dry and thinly slice. Remove any tough stalks from the kale. Finely shred the leaves. Rinse well.

3.

Tip the rice into a small pan. Pour in 250ml hot water from the kettle. Cover. Bring to the boil. Turn the heat right down. Simmer for 6 mins till all the water has been absorbed. Take off the heat. Steam, lid on, for 2-4 mins till the rice is cooked.

4.

Heat a splash of olive oil in deep frying pan or wok. Add the beef and stir-fry over a high heat for 3-4 mins till browned.

5.

Add the leek, squash, ginger, garlic and star anise to the wok. Stir-fry for 5 mins till the veg have softened. Add the kale and stir to mix. Add 3 tbsp hot water from the kettle. Season.

6.

Pop on the lid. Cook the stir-fry over a medium heat for 2-3 mins to wilt the kale. Fish out the star anise from the stir-fry. Taste and adjust the seasoning if you think it needs it.

7.

Fluff the rice up with a fork. Divide between two bowls or plates. Top with the beef stir-fry and serve straight away.
Tip

Gourdeous mash
Peel, chop and boil your leftover squash for 15 mins or so till soft. Drain. Tip back into the pan. Mash over a low heat till smooth and any excess water has steamed off. Stir in butter and spices, such as paprika, cumin, ground fennel seeds or chilli flakes to flavour it.