Beef Pot Pie
Prep: 20 mins
Cook: 50 mins
Our Sorrel's going to put you through your pastries. (Ahem, paces.) This is serious comfort food. Slow cooked high welfare beef with a cheesy homemade pastry roof.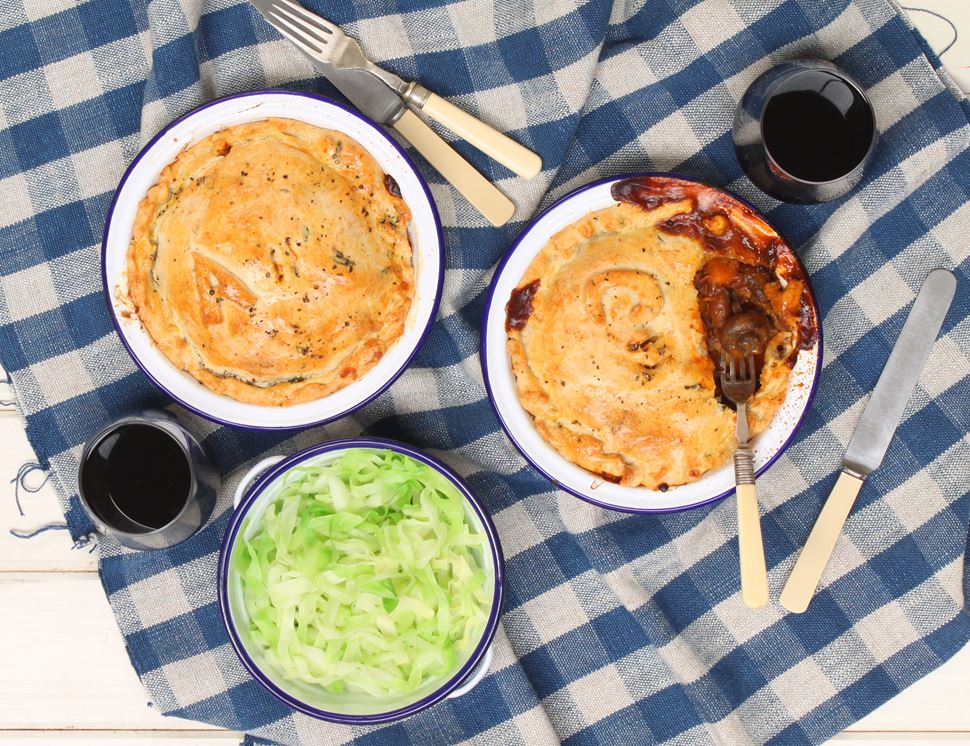 Ingredients you'll need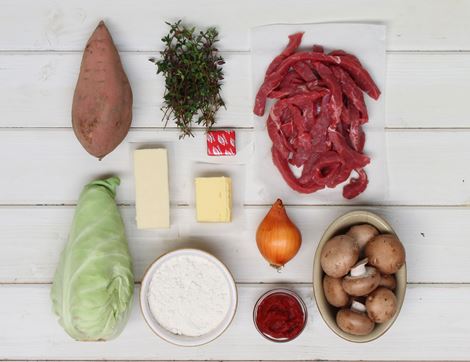 1 onion
1 sweet potato
A 200g punnet of chestnut mushrooms
A 250g pack of beef stir-fry strips
1 beef stock cube
A 150g pot of plain flour
1 tbsp tomato purée
A handful of thyme, leaves only
2 tbsp butter
½ x 100g chunk of cheddar
1 green cabbage
From your kitchen
200ml boiling water
1 tsp olive oil
2 tbsp ice cold water
1 tbsp milk (optional)
Sea salt and freshly ground pepper
You'll need
Heatproof jug
Large pan with lid
Large bowl
Ovenproof dish or a couple of dishes
Pan with lid
Steamer basket or colander
Step by step this way
1.

Heat your oven to 180°C/Fan 160°C/Gas 4. Peel and thickly slice the onion. Peel and chop the sweet potato into 2cm cubes. Thickly slice the mushrooms. Cut the beef strips in half.

2.

Crumble the stock cube into a heatproof jug. Pour in 200ml boiling water and stir to dissolve. Heat 1 tsp oil in a large, heavy based pan over a medium heat. Tip in the beef and cook for 3-4 mins till browned. Remove from the pan with a slotted spoon.

3.

Add the onion, mushrooms and sweet potato to the pan. Cook for 4-5 mins till just softened. Add the beef back to the pan. Stir 1 tbsp of the flour with 1 tbsp of the tomato purée. Add to the pan and stir for 2 mins. Add half the thyme leaves. Pour in the stock. Cover and simmer for 20 mins.

4.

Meanwhile, grate 2 tbsp of the butter into a large bowl. Set aside 1 tbsp of the flour, then tip the rest into the bowl. Use your fingertips to rub the flour and butter together till you have a breadcrumb-like texture. Add the reserved thyme leaves.

5.

Grate and fold in half the cheddar. Pour in 2 tbsp ice cold water and lightly bring the dough together. (Avoid over kneading as this will make it tough.) Dust your work surface with the reserved 1 tbsp flour. Roll the dough into a circle the thickness of a £1 coin to fit one large pie dish or two smaller dishes.

6.

Once the beef has cooked for 20 mins, taste and season. Spoon into your pie dish or dishes and drape the pastry over the top. Tuck any edges in. Brush the pastry with 1 tbsp milk, if you like. Bake for 20 mins till the pastry is golden and crisp.

7.

While the pie cooks, finely shred the cabbage. Pop in a steamer basket or colander over a pan of boiling water. Cover and steam for 5-6 mins till tender and bright green. Season and serve with the pie.
Tip

Dairy made
Your leftover butter and cheddar will keep well in the fridge. Bake jacket potatoes, then mash the flesh with the butter and top with grated cheddar, pickled chillies, coriander and toasted cumin seeds for a Mexican twist on baked spuds.