BBQ Tandoori Spatchcock Chicken
Prep: 10 mins
Cook: 1 hr + resting
Beautifully spiced organic spatchcock chicken barbecued till lightly charred on the outside and succulent inside. It's still mouthwateringly tendr and tasty when oven roasted, should the British Summer drive your dinner prep indoors.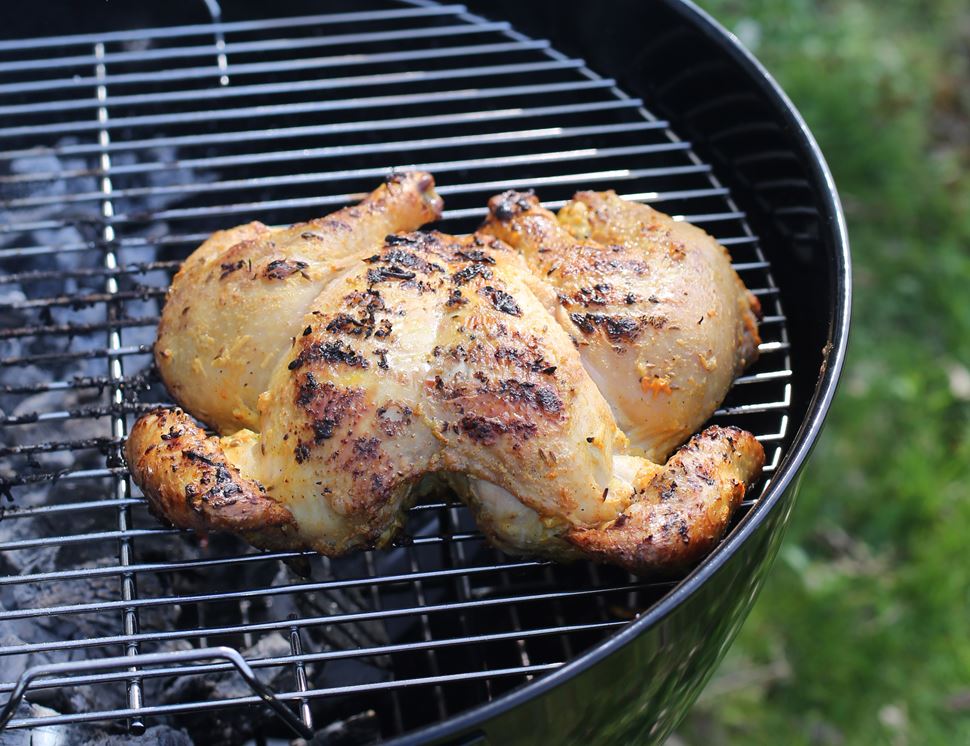 Ingredients you'll need
1.7kg spatchcock chicken
A thumb of turmeric
A thumb of ginger
4 garlic cloves
1 lemon
1/2 tsp chilli powder
1 tbsp cumin seeds
150g Greek style yogurt
From your kitchen
Sea salt
Freshly ground pepper
Step by step this way
1.

Get started: Peel and grate the turmeric, ginger and garlic into a mixing bowl. Zest in the lemon and stir in ½ tsp chilli powder (it's spicy, so use less than ½ tsp for a milder flavour or 1 tsp for something extra hot), 1 tbsp cumin seeds, the yogurt and a good pinch of salt and pepper.

2.

Pop the chicken on a plate or board. Pour the tandoori yogurt over the chicken and rub to cover all sides. Allow to marinate for at least 30 mins as the chicken warms to room temperature.

3.

Cooking indoors: Heat your oven to 180°C/Fan 160°C/Gas 4. Place the spatchcock chicken, breast-side up, in a large roasting tin.

4.

Slide the chicken into the oven and roast for 1 hr, basting from time to time. To check if it's cooked through, insert a skewer into the thickest part of the thigh. The juices should run clear. If it needs a little longer, return the chicken to the oven for a further 5-10 mins before checking again.

5.

Transfer the cooked chicken to a board and allow to rest for 20 mins before carving. Serve on a platter with wedges of lemon.

6.

Cooking outdoors: Light your barbecue and bring the coals to a medium temperature.

7.

Place the chicken, breast-side down, over the hottest part of the barbecue and cook for 4-5 mins, or till well coloured. Flip over and cook for a further 4-5 mins. Transfer the chicken to a cooler part of the barbecue and cook, with the lid on, for 1 hr or till cooked through.

8.

Transfer the cooked chicken to a board and allow to rest for 20 mins before carving. Serve on a platter with wedges of the lemon.
Tip

Know your grill
When lighting your barbecue, lay the bulk of your coals to one side, gently sloping 3/4 of the way to the other side. This helps to regulate the heat, giving you fierce 'direct' heat to brown your meat over, and gently 'indirect' heat to slowly finish it off.

Tip

Speedy spatchcocking
What the chook is spatchcocking you say? Spatchcocking removes the backbone of the bird and allows it to be flattened to cook more evenly and quickly. Most poultry can be prepared using this simple technique, making them perfect for a grill or BBQ. Check out the step-by-step video on our website.

Tip

Next week in the Summer Roast Box
Forest Smoked Summer Venison and Honeyed Shallots. Succulent, pink venison studded with juniper, rosemary and garlic and finished with a lick of smoke on the grill.

Tip

Sideshow superstars
Wondering what would go well with next week's venison? New season asparagus would be perfect, grilled until caramelised and charred before tossing in a bowl with wild garlic, a good squeeze of lemon and perhaps even a soft boiled egg or two. It's well worth grabbing a bunch or two for next week.