Baked Greek Salad with Flatbreads
Prep: 20 mins
Cook: 20-25 mins
Flatbreads are so called because they cook in 4 minutes flat. They're also super easy to make (true story). Paired with creamy baked feta and an organic salad, they're amazing.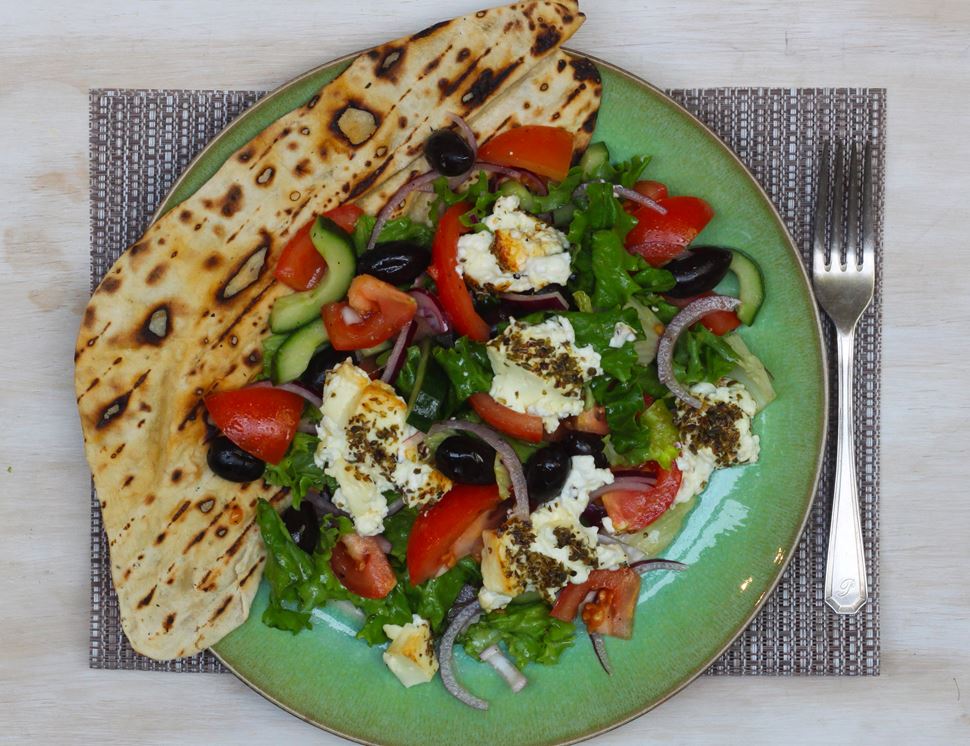 Ingredients you'll need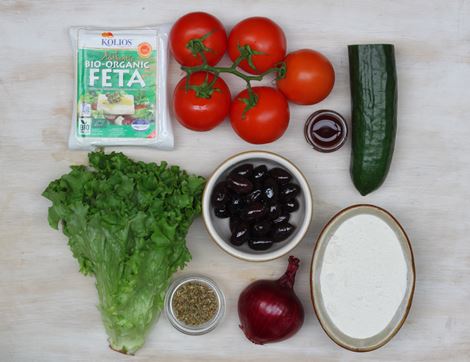 A pot of plain flour
2 tsp dried oregano
A block of feta
A punnet of vine tomatoes
½ a cucumber
1 red onion
½ a lettuce
A pot of black olives
1 tbsp red wine vinegar
From your kitchen
3-5 tbsp warm water
1½ tbsp olive oil
Sea salt
Freshly ground pepper
You'll need
A couple of bowls
Ovenproof dish
Foil
Frying pan
Tea towel
Step by step this way
1.

Sift the flour into a bowl. Take out 1 tbsp for later. Add a pinch of salt, 1 tsp dried oregano and 3-5 tbsp warm water to the rest of the flour. Mix to a soft but not sticky dough.

2.

Turn the dough out of the bowl. Knead for 2-3 mins till it's soft and supple. Cover the dough with the bowl. Leave for 15 mins to rest. Heat your oven to Gas 4/180°C/Fan 160°C.

3.

Drain the feta and halve it. Put the feta halves in an ovenproof dish. Scatter the rest of the dried oregano on top. Season and drizzle with ½ tbsp olive oil. Cover with foil.

4.

Bake the feta for 15 mins. Take the foil off the dish. Put the feta back in the oven for 5-10 mins more till it's just golden.

5.

Roughly chop the tomatoes. Halve the cucumber. Scoop the seeds out of one half with a teaspoon. Roughly chop it. Peel the onion and slice it into wedges. Tear the leaves off ½ the lettuce. Rinse, dry and chop them.

6.

Put all the veg into a bowl. Add the olives. Whisk 1 tbsp red wine vinegar with 1 tbsp olive oil and some seasoning. Add to the salad and toss to mix.

7.

Divide the dough into four. Dust a surface with the 1 tbsp flour saved in step 1. Roll the dough out to make very thin rounds. Warm a dry frying pan. Add a flatbread. Cook for 1-2 mins. Flip. Cook for 1-2 mins till golden.

8.

Slide the cooked flatbread out of the pan onto a clean tea towel. Loosely cover to keep warm. Repeat with the other flat breads. Serve them with the baked feta and Greek salad.