Aubergine & Pepper Pilaf
Prep: 10 mins
Cook: 20 mins
Did you know aubergines are giant berries? Woah there. And they're related to potatoes. Really? If I'm not dishing out aubergine facts, I'm dishing out aubergine recipes. Aubergenius.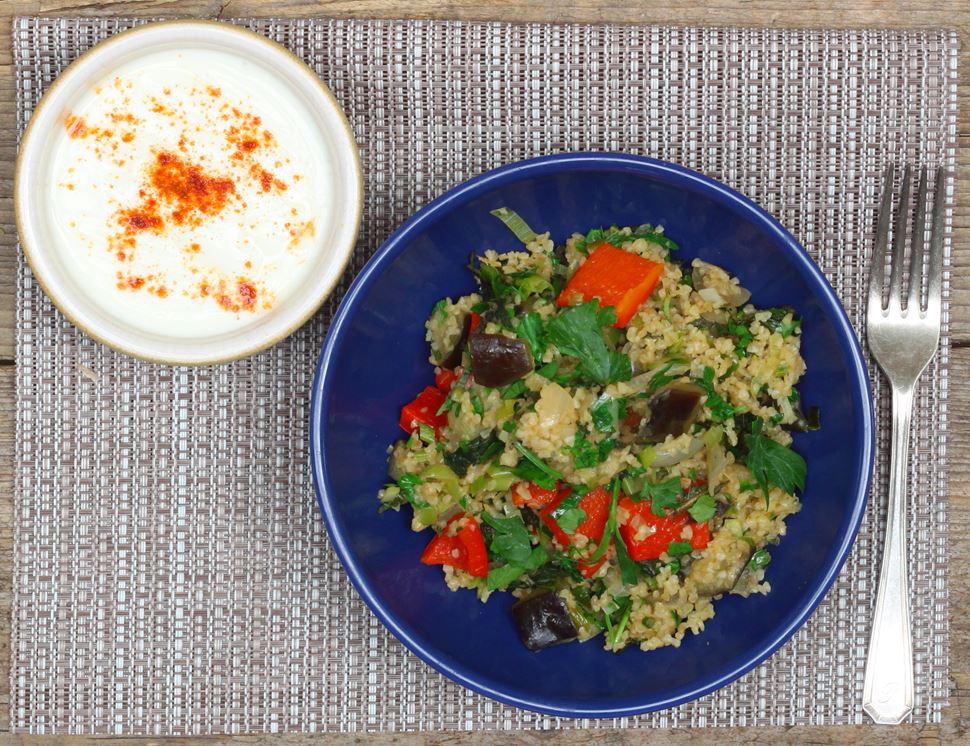 Ingredients you'll need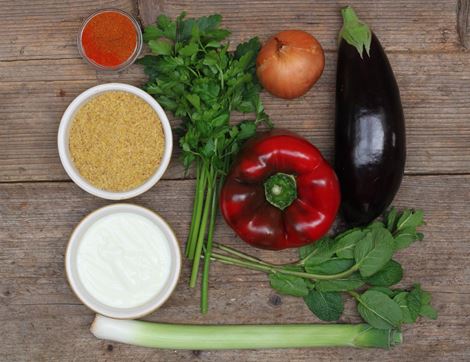 1 aubergine
1 pepper
1 onion
1 leek
A handful of flat leaf parsley
A bag of bulgar wheat
A handful of mint
A pot of Greek yogurt
A pinch of smoked paprika
From your kitchen
1 tbsp olive oil
Sea salt
Freshly ground pepper
250ml hot water
You'll need
Pan with a lid
Measuring jug
Step by step this way
1.

Fill the kettle and boil it. Trim the aubergine. Chop it into cubes about 1 cm big. Halve the pepper. Scoop out the seeds and white bits. Roughly chop it.

2.

Peel and finely chop the onion. Trim the leek. Slice a cross into the top to open it out. Rinse out any grit. Finely slice it. Finely chop the parsley stalks and leaves but keep them separate.

3.

Heat 1 tbsp oil in a pan. Add aubergines, pepper and onion. Season. Stir and fry for 5-8 mins till soft.

4.

Stir the bulgar wheat into the pan with the parsley stalks. Pour in 250ml hot water from the kettle. Cover. Simmer for 10-15 mins till the bulgar wheat is tender. Stir every so often.

5.

Finely slice the mint leaves. Take the pilaf off the heat once it's dry. Stir in the chopped parsley and mint leaves. Taste and adjust the seasoning if you think it needs it.

6.

Spoon the yogurt into a serving bowl. Sprinkle with a few pinches of the smoked paprika.

7.

Divide the pilaf between two warm plates or bowls. Serve with the yogurt.
Tip

Ging, gang, goulash
Nothing says smoked paprika like goulash. For a veggie version sweat a few handfuls of chopped veg in a pan for 5-10 mins. Add a tin of chopped toms and a few pinches of paprika. Simmer for 10 mins till the veg is cooked. Serve with rice and a dollop of yogurt.