Aubergine & Lardon Penne
Prep: 10 mins
Cook: 30 mins
Your lardons come from Rob Mercer's award winning Packington Fields Farm in Staffordshire. They do wonders in this warming, cosy aubergine number.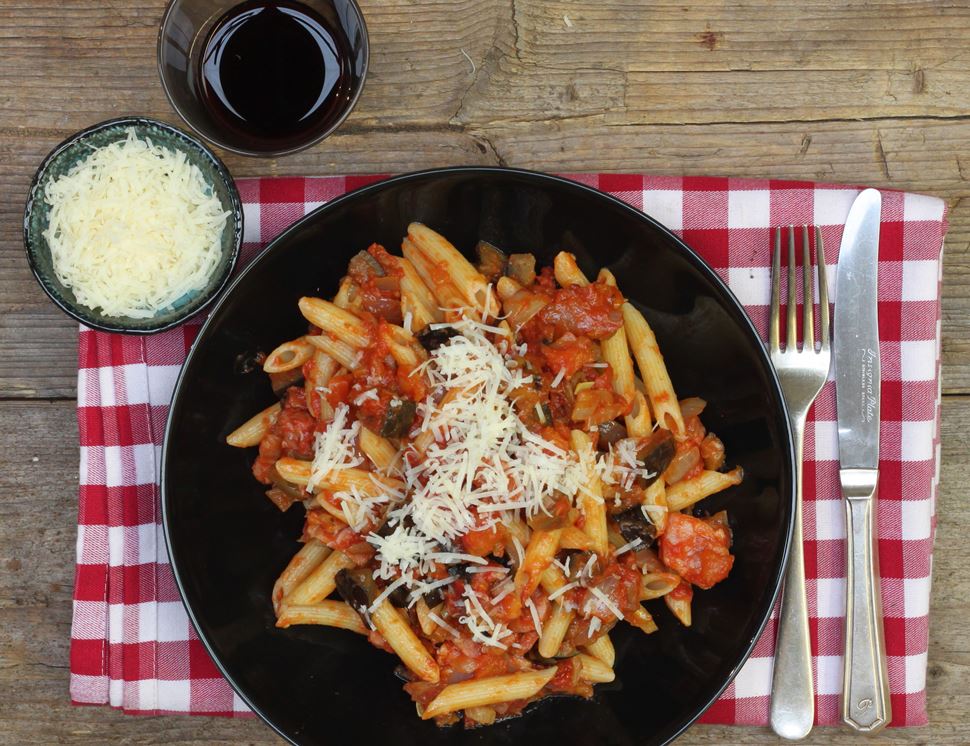 Ingredients you'll need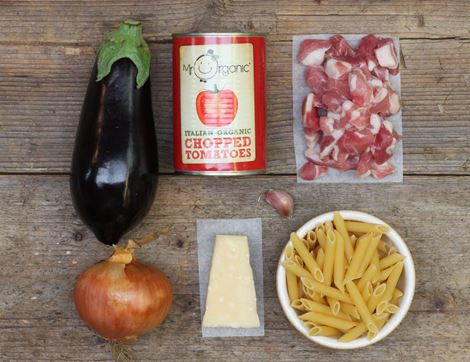 1 onion
1 aubergine
1 garlic clove
A pack of unsmoked lardons
A tin of chopped tomatoes
A bag of penne
A chunk of Parmesan
From your kitchen
1½ tbsp olive oil
Sea salt
Freshly ground pepper
2 tbsp cold water
You'll need
Deep frying pan or wok with a lid
Kitchen paper
Pan with a lid
Colander
Step by step this way
1.

Peel and finely chop the onion. Chop the aubergine into small cubes about 1 cm big. Peel and grate or crush the garlic. Turn your oven on to its lowest setting.

2.

Warm 1 tbsp olive oil in a deep frying pan or wok. Add the lardons. Fry over medium heat for 5 mins till golden. Stir now and then. Lift out of the pan with a slotted spoon, onto a plate lined with kitchen paper to drain. Keep warm in the oven.

3.

Add the diced aubergine to the pan. Stir and fry for 5 mins till the aubergines look soft and are lightly coloured. Lift out of the pan. Add them to the plate with the lardons.

4.

Add the onion and ½ tbsp olive oil to the pan. Season. Cover. Sweat for 10 mins over a very low heat. Stir now and then. When the onion is soft, add the garlic. Fill a pan with water. Cover. Bring to the boil.

5.

Stir the chopped tomatoes into the pan with 2 tbsp water. Stir in the lardons and aubergine. Cover. Simmer for 10-15 mins till the sauce is thickened up a little. Stir often.

6.

While the sauce cooks, add the penne to the boiling water with a pinch of salt. Pop on a lid. Simmer for about 8 mins. When the pasta is cooked but still a bit chewy, drain.

7.

Taste the sauce. Adjust the seasoning if you think it needs it. Add the drained pasta to the pan. Toss together to coat the pasta in the sauce. Serve immediately with some grated Parmesan.
Tip

Umami me
Umami is one of the 5 'tastes' in food, along with sweet, sour, bitter and salty. It's savoury and rich. Your dinner is packed with umami rich lardons, tomatoes and Parmesan. Yummami.