Asparagus Benedict with Duck Eggs
Prep: 10 mins
Cook: 30 mins
Spring into summer with seasonal asparagus and quacking organic duck eggs from Ben Ambrose. A springy twist on the classic eggs Benedict.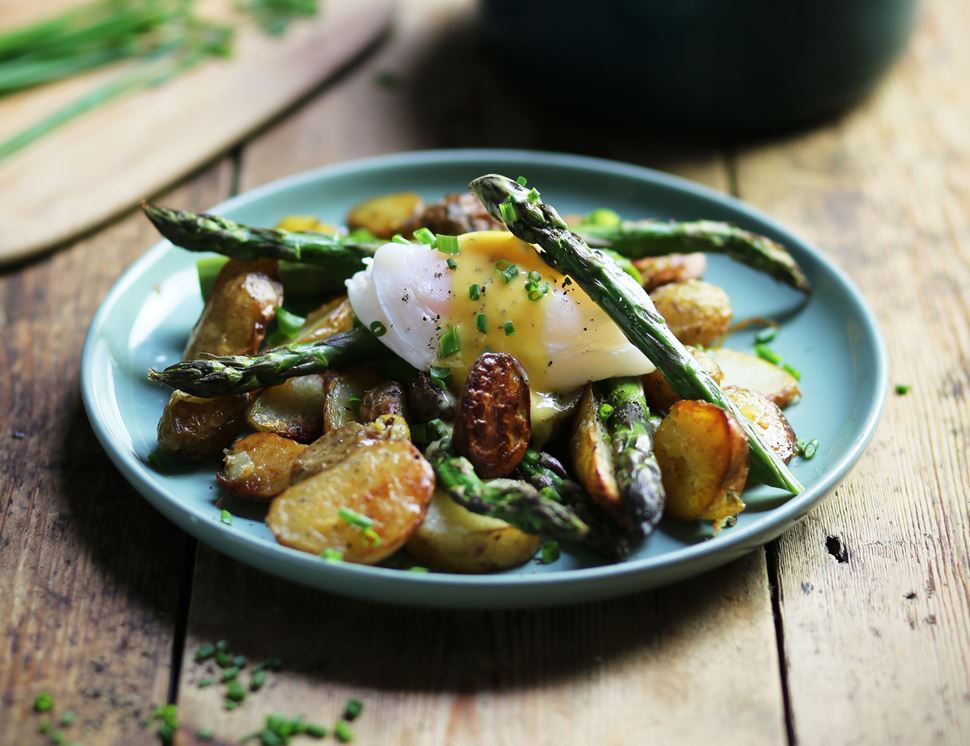 Ingredients you'll need
500g Jersey Royal potatoes
1 garlic clove
1 lemon
250g asparagus
2 duck eggs + 2 yolks
45g butter
A handful of chives
From your kitchen
1 tbsp olive oil
Sea salt
Freshly ground pepper
You'll need
Roasting tin
A couple of pans with a lid
Step by step this way
1.

Heat your oven to 200°C/Fan 180°C/Gas 6. Place a large roasting tin on the top shelf of your oven to heat up.

2.

Give your potatoes a good scrub. Cut into ½-1cm thick slices. Toss into the warmed roasting tin. Drizzle over 1 tbsp olive oil. Season well. Give them a shake to coat the potatoes in the seasoned oil. Roast for 25 mins or till golden.

3.

Peel and finely chop your garlic. Grate or pare the zest from your lemon. Juice it. Snap the woody ends from your asparagus (you can use them to make a quick and easy pesto. Watch the video at abelandcole.co.uk/recipes/woodlandasparagus- pesto).

4.

When the potatoes are golden, stir the garlic and lemon zest through them. Pile the asparagus on top. Slide back into the oven for 5 mins or till the asparagus is just tender.

5.

Separate 2 egg yolks from the whites (see our tip for what to do with the whites). Place your yolks in a large bowl with 1 tbsp lemon juice. Season. Melt the butter in a pan. Gradually whisk the melted butter into the egg yolks till you have a creamy sauce. Spoon the sauce back into the pan. Set aside.

6.

Fill a deep, wide pan with boiling water. Bring back up to a gentle boil. Crack 1 egg into a small dish. Gently slide the egg into the water. Repeat with the other egg. Pop the lid on. Cook for 3 mins or till the whites are set and the yolks are as firm as you like. Transfer the eggs to a bowl using a slotted spoon.

7.

Chop and stir some chives through the potato and asparagus mix, along with a drizzle of lemon juice. Pile onto plates. Top with your poached eggs. Warm the butter sauce and spoon over the top. Garnish with more chives and a pinch of pepper.
Tip

All white
Beat your duck egg whites till soft and voluminous. Fold through the butter sauce just before serving for a lighter, fluffier sauce. Alternatively they will keep in the in the fridge for 2 days. Use to glaze bread or pastry.