Afghani Lamb & Rhubarb Qorma
Prep: 10 mins
Cook: 45 mins
Tart, red rhubarb pairs brilliantly with lamb, cutting through the richness and turning this spiced Middle Eastern stew into something special.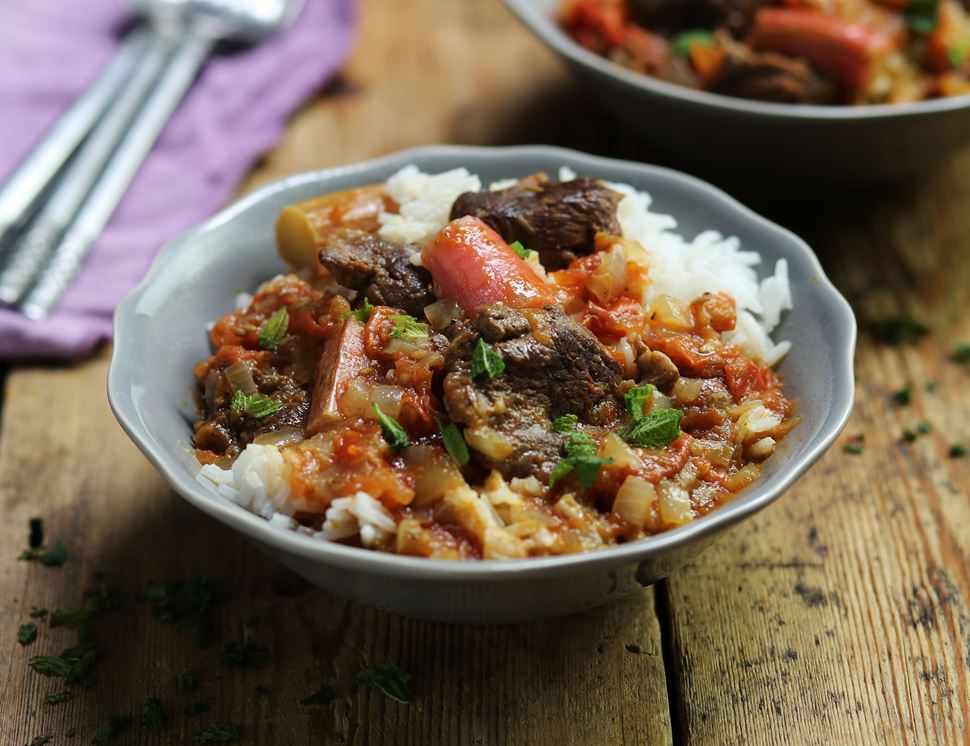 Ingredients you'll need
200g white basmati rice
1 onion
400g tomatoes
4 sticks of rhubarb
250g diced lamb
6 cardamom pods
1 tsp cumin seeds
1 cinnamon stick
1 tsp Demerara sugar
A handful of mint, leaves only
From your kitchen
½ tbsp olive oil
Sea salt
Freshly ground pepper
400 ml + 400 ml boiling water
You'll need
A couple of bowls
Sieve
Medium pan with a lid
Small pan with a lid
Measuring jug
Step by step this way
1.

Tip the rice into a large bowl. Cover with cold water. Whisk for 1-2 mins (you can use a fork) till the water goes cloudy (this is the starch). Drain, rinse under cold water and tip back into the bowl. Cover with fresh cold water. Set aside to soak.

2.

Peel and finely chop the onion. Finely chop the tomatoes into small dice. Trim the ends off the rhubarb sticks. Chop it into chunks around 2cm long.

3.

Warm a medium pan for 1 min. Add ½ tbsp olive oil and the lamb. Fry over a medium heat for 5 mins, turning once or twice, till the lamb is browned all over. Lift the lamb out of the pan and pop on a plate.

4.

Add the onion and tomatoes to the pan with a splash of water. Season with salt and pepper. Cook and stir for 5 mins till the onion and tomatoes are soft and look glossy. Slide the lamb back into the pan with any lamb juices from the plate.

5.

Add 6 cardamom pods to the pan with 1 tsp of the cumin seeds and 1 cinnamon stick. Pour in 400ml boiling water. Cover. Bring to the boil, then turn the heat down and simmer for 25 mins. Add the rhubarb to the pan with 1 tsp Demerara sugar and simmer for another 5 mins.

6.

When the qorma has been cooking for 20 mins, drain the rice. Tip it into a small pan. Pour in 400ml boiling water and add a pinch of salt. Cover, bring to the boil and then turn the heat right down. Simmer for 8 mins till all the water is absorbed and the rice is tender. Take off the heat and set aside, lid on, for 2 mins.

7.

Fish the cinnamon stick and cardamom pods out of the lamb qorma. Taste and add more salt, pepper or sugar if it needs it. Serve the rice with the qorma, garnished with torn mint leaves.
Tip

Cumin up with good ideas
Any leftover cumin can be added to beef stews or chillies or sprinkled over bread before baking.