Afghani Carrot & Lentil Qorma
Prep: 20 mins
Cook: 45 mins
Qorma or korma? Inkredible or inqredible? Either way, it is what it is, and what it is is beautiful. And much more straightforward to make than this introduction is to read.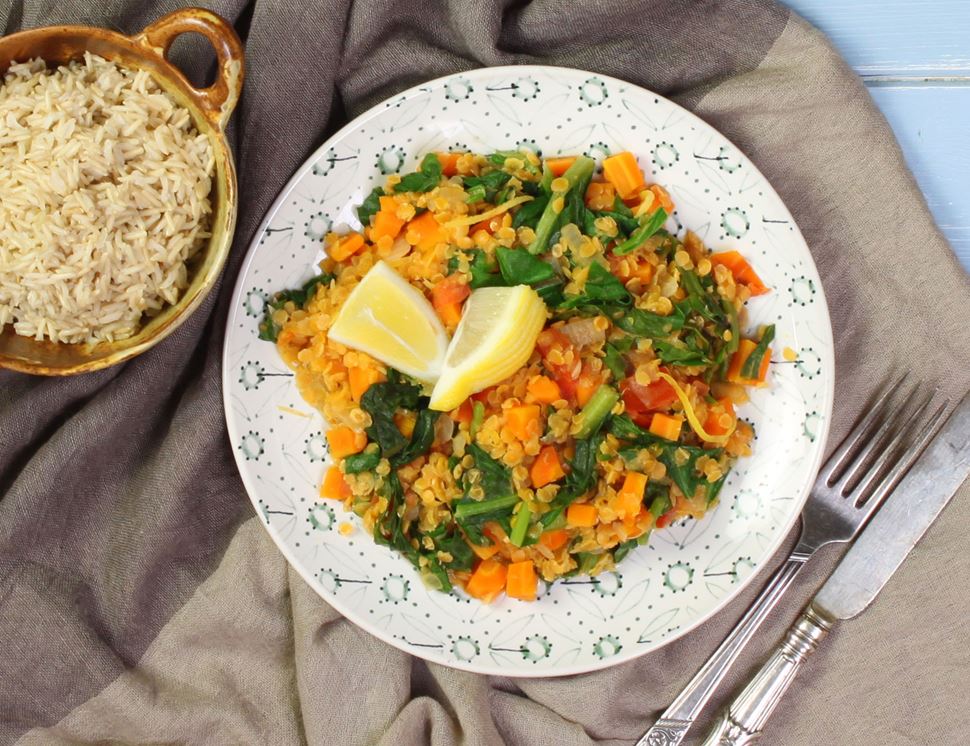 Ingredients you'll need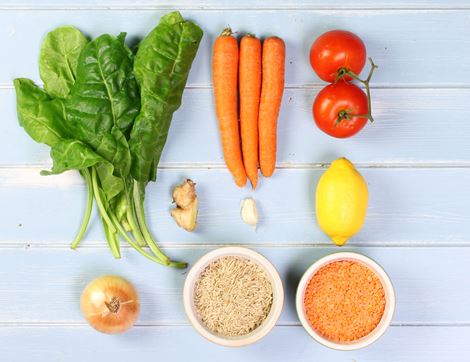 A 200g bag of brown basmati rice
A 150g bag of red lentils
1 onion
3 carrots
2 vine tomatoes
1 garlic clove
A thumb of ginger
1 lemon
A 100g bag of spinach
From your kitchen
1 tbsp olive oil
Sea salt and freshly ground pepper
750ml boiling water
You'll need
A couple of bowls
A couple of pans with lids
Colander or sieve
Measuring jug
Step by step this way
1.

Tip the rice and lentils into separate bowls. Cover both with cold water. Leave them to soak for around 15 mins.

2.

Peel and finely chop the onion. Peel and dice the carrots. Roughly chop the tomatoes. Peel and grate the garlic and ginger. Finely grate or pare the zest from the lemon. Juice it.

3.

Warm 1 tbsp oil in a pan over a low heat. Add the onion. Season. Fry for 8-10 mins till the onion is pale golden but hasn't picked up too much colour. Stir often.

4.

Stir in the garlic, ginger, lemon zest and carrots. Cook for about 5 mins. Stir now and then till the carrots have started to soften. Drain the lentils (they'll have sucked up a lot of the water).

5.

Tip the lentils and tomatoes into the pan with 350ml boiling water. Cover and bring to the boil. Turn the heat down. Simmer for 30 mins till the lentils are soft and thick. Stir now and then.

6.

Drain the rice. Tip it into a pan with 400 ml boiling water. Cover and bring to the boil. Turn the heat down. Simmer for 25 mins till the water has been absorbed and the rice is tender. Take off the heat. Set aside, lid on, for 5 mins to finish cooking.

7.

Stir the spinach leaves and stems into the qorma till they wilt. Stir in the lemon juice. Taste and adjust the seasoning if you think it needs it. Serve the carrot and lentil qorma with the rice.

8.
Tip

A nice, long soak
Soaking the rice helps to cut the cooking time down. If you don't want to wait, pop the rice in a bowl, cover with cold water and whisk for 2-3 mins. Drain and rinse really well, then get cooking.