Studying Sustainable Milk Packaging

Since day dot we've challenged ourselves to do things the sustainable way. From carbon-efficient weekly deliveries to returnable boxes, doing the right thing will always be in our DNA. We are all aware of the pressing problem that plastic pollution poses to our environment, and have thought long and hard about the positive role we can play in turning that tide. Not ones to rest on our laurels, we decided to have a look into our milk packaging so we could confidently answer customers when they ask why we're not delivering milk in glass bottles.
Where does our journey begin?
Our brilliant organic community have often asked, why don't you use glass bottles? For 18 years now, we've been working with the wonderful team at Berkley Farm and their herd of cows. Their organic milk is packaged up in HDPE (High-density Polyethylene), a highly versatile plastic that can be easily recycled through kerbside recycling. Sustainable packaging is always front of mind for both us and Nick and Ed at Berkley Farm, so we have challenged ourselves to check out what other options are available to us.

Thirteen years ago, we trialled Ecolean pouches for the first time. Ecolean pouches are flexible packages shaped like a pitcher, with an air-filled handle, weighing 50-60% less than a conventional plastic milk bottle. Back then, the timing wasn't quite right and it felt like too much of an adaptation; so we decided to stick with HDPE and focused on increasing the percentage of recycled content used to make the bottles, which currently sits at 30%.

In 2019, fuelled by questions from our brilliant organic community, we revisited the subject of sustainable milk packaging again. Our innovative research project began.
The sustainable milk packaging research project
To answer questions such as 'are glass milk bottles better for the environment', we took a data-led approach.

Our Head of Sustainability, Stef, commissioned research from the Business Transformation Team at ReLondon, a partnership of the Mayor of London and the London boroughs to improve waste and resource management. ReLondon's mission is to help "London's businesses, local government and communities thrive by helping them make the very best use of resources and materials."

The goal of our research project was to compare the carbon footprint of different milk bottle materials, to see which options would be the most sustainable for us. These findings could then inform any changes we make to our milk packaging.

The research compared the environmental impact (measured in carbon emissions, or kilograms of CO2 equivalent) and packaging waste of:

·HDPE (single use)
·Glass (single use)
·Ecolean (single use)
·Tetra Pak (single use)
·Reusable glass
·Reusable PP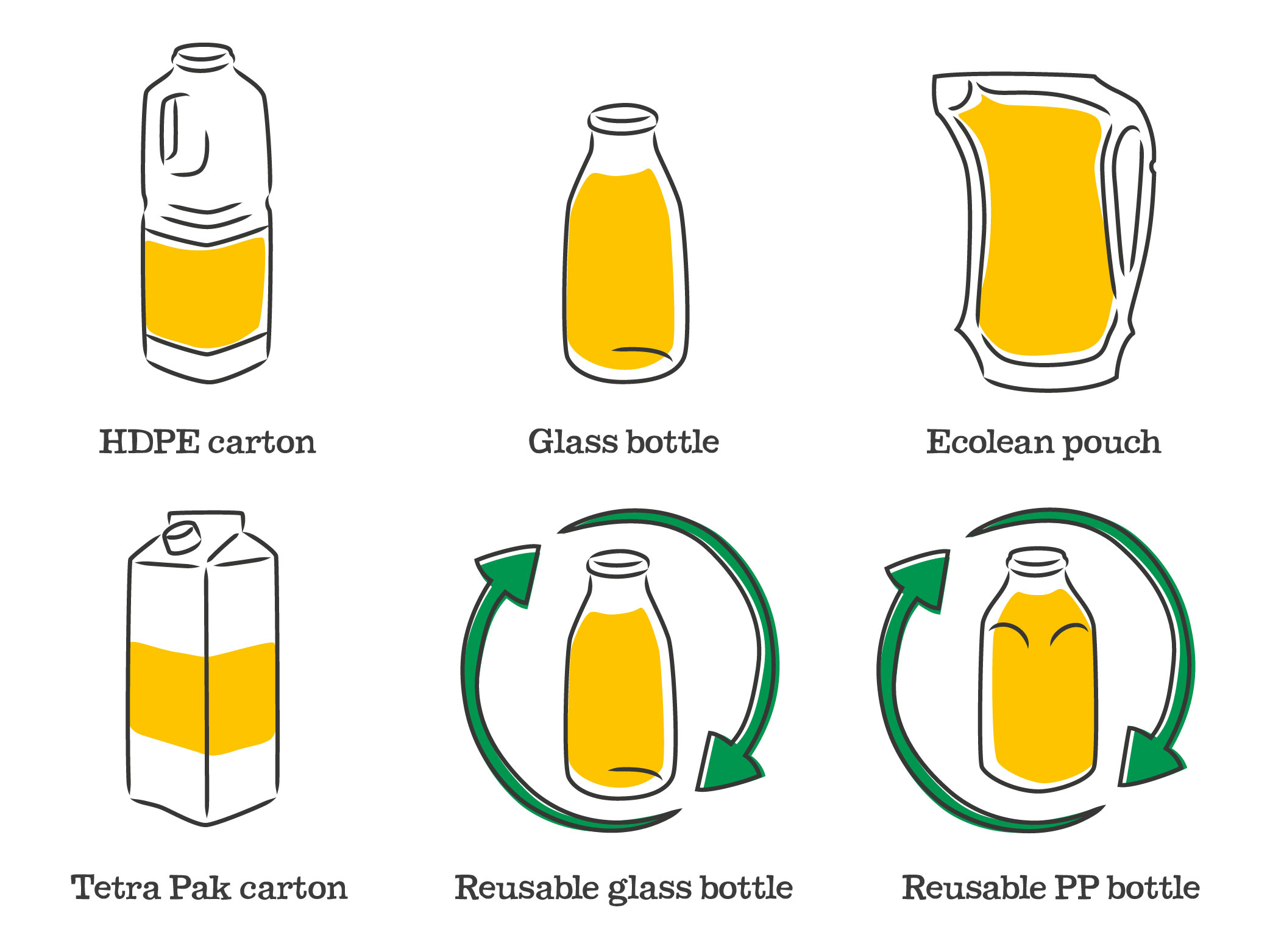 We all had our theories going into the project. Natalia and the ReLondon team are "big believers in the circular economy and its core principle of keeping resources in circulation for as long as possible." So they were hedging their bets on refillable glass options being a sustainable option for us. It was a similar story for Simon, our Head of Technical, who says "in all honesty I entered the project almost prejudiced, thinking that it would be a bit of a fruitless exercise and would just reaffirm the view that plastic was bad, and glass was a better option."
Our milk packaging analysis
There's no universal answer for a sustainable milk packaging solution. As Natalia explains, "when assessing and comparing the carbon footprint of any two options," the answer is "highly dependent on many different parameters" for different businesses. Though "we all had different views on where to turn on milk packaging" , Stef highlights, "we were lacking the figures." To fully understand the environmental impact of our material options, we took what Natalia terms a "lifecycle approach", reviewing the Greenhouse Gases and material footprint of the whole chain. And that meant a huge amount of data.

From filling the bottle at the dairy, to transporting it to us and then to homes, and the bottle's 'end of life', ReLondon quizzed us on every stage of our milk's journey so that we could thoroughly quantify what the carbon footprint of any changes would be at every step. For the reusable options, we also considered additional steps such as collecting and washing. From this, ReLondon created a 'Carbon footprint Calculator' that would allow us to model different packaging scenarios and measure their respective greenhouse gas emissions By crunching the numbers through the Carbon Calculator, we could make informed packaging decisions.
The results
The results of our milk packaging comparison analysis were clear. ReLondon's research showed that, for Abel & Cole, all of the plastic derived options have a much lower carbon footprint than glass in the context of our study.

Despite our theories, it was staggeringly clear that, for Abel & Cole glass would not be the most sustainable material for milk bottles. Single use glass was found to equate to 6 times the carbon emissions as our current HDPE bottles, and reusable glass still generates 1.5 times the carbon emissions. As Natalia explains, "glass's own nemesis, its heavy weight, made it evident that the more those glass bottles were transported, the heavier the trucks would be, the more fuel they would require and thus the higher the carbon footprint of the glass packaging solution." As well as the vans being heavier, there is a legal weight threshold (or maximum load) for lorries and vans that would need to be respected. So additional vans would in fact be needed. These findings demonstrate Natalia's point that "there is no one size fits all" approach, so it's important to understand the ins and outs of each business before making any packaging decisions.
What's next for our milk packaging journey?
Both refillables and Tetra Pak had potential, but for a number of business and customer reasons, they aren't the right fit for us. Instead, the research data has led us to trial the use of Ecolean; a flexible plastic pouch, which is made from 40% chalk, and weighs less than half of our current HDPE milk bottles - meaning it uses less carbon to get it to your fridge. The one downfall of this option is that flexible plastics aren't currently commonly recycled by local authorities, but we're pleased to have found a sustainable solution to have the pouches recycled responsibly here in the UK. As Ecolean had such a low emission of CO2-eq per day (kg) and we got some fantastic feedback from the trial, we are confident in taking it forward as most suitable and sustainable material for Abel & Cole milk. We're really excited about this next step on our sustainable milk packaging journey, so watch this space for updates!
Published March 2021
Feeling inspired? Become a Club Zero hero and send single-use plastic packing. Club Zero champions the sustainability benefits of a Circular Economy model, delivering organic pantry faves in refillable pots that we reuse time and time again.


Back to top