Hallowe'en crafts for little monsters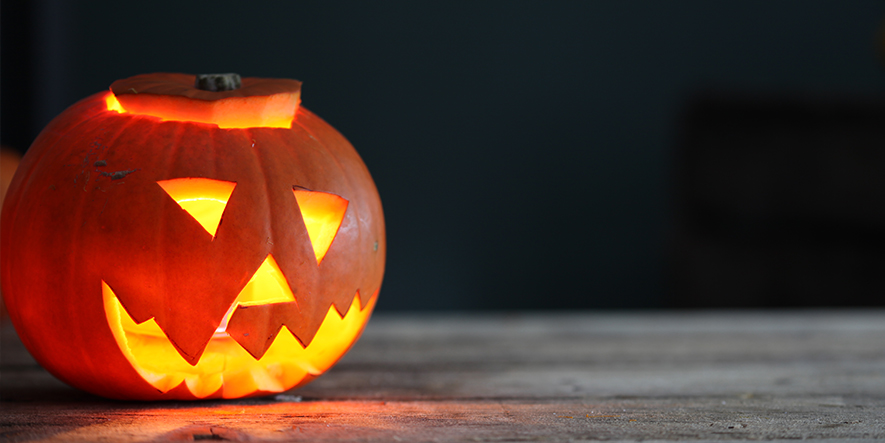 Half terms always tastes better with a bit of crafting thrown into the mix. So here's Claudia, one of our organic crafters and mum of two little pixies, with her top tips for clean hallowe'en foodie fun.
I'm a firm believer in letting the young 'uns let rip with their creative side, but I don't long to spend hours getting glue and glitter off carpets. So this October half term I'll be sitting the little terrors down to the most fuss-free, naturally sweet activity that'll keep them busy for – oh – all of 10 minutes. And it'll give the local trick or treaters a healthier option when they come knocking on the 31st.
Here's my glue and paint-free hallowe'en craft activity. Best of all, it's bursting with seasonal sustainably grown, organic fruit.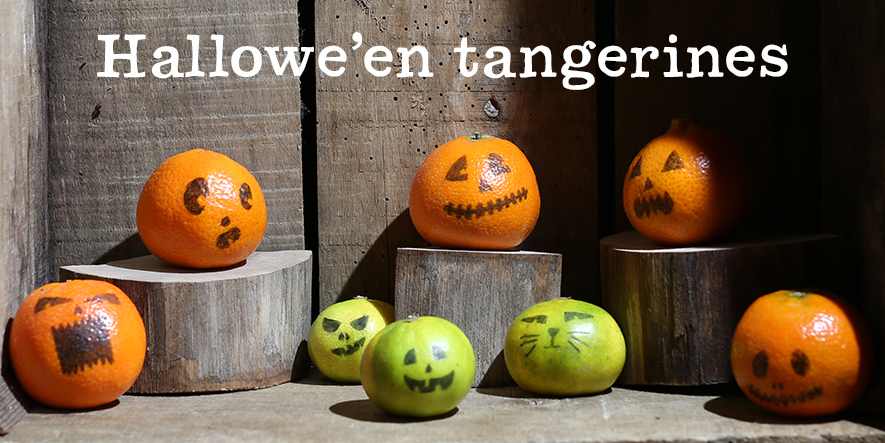 You'll need:
Felt tip pens

Tangerines or satsumas
Method:
Pick up a pen

Adorn your petrifying peelers with scary yet cute facial features, á la your average Hallowe'en pumpkin Jack O Lantern.

Arrange the frightening little fellas in a fruit bowl and consume at your leisure, or offer them to trick or treaters instead of (or alongside) sweets.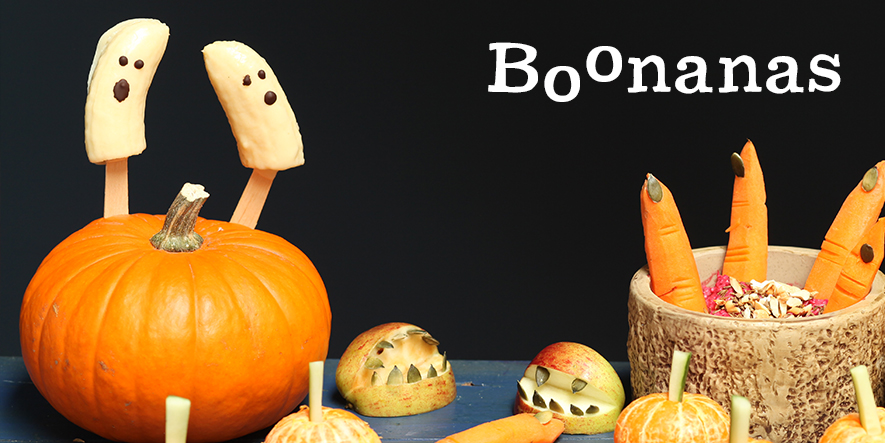 Kids love getting involved in the kitchen and the promise of chocolate covered things at the end will have them queuing up to help out.
You'll need:
At least one banana

A handful of white chocolate buttons or a few squares of white chocolate
Method:
Peel and halve a banana.

Stick a wooden skewer in each half.

Freeze for 2 hrs.

Dip the banana in melted white chocolate.

Lay them on greaseproof paper.

Pop in the fridge to set.

Melt milk chocolate and dot on for eyes and mouth. Boo!
These other ideas might tickle your crafty-foodie fancy.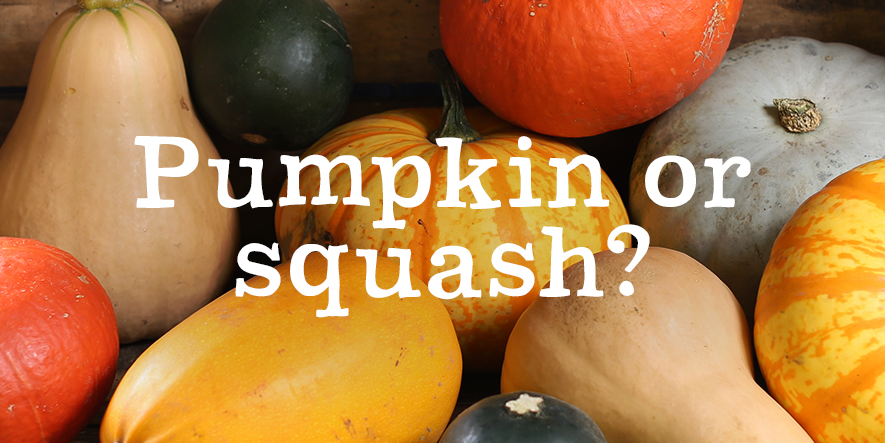 The most popular artistic pursuit at this time of year is carving a Jack O Lantern.
Did you know that the UK chucks out 18,000 tonnes of pumpkins each year at Hallowe'en? That's about 8 billion pumpkins grown for months just for a brief encounter with a small candle.
Think of the hundreds of litres of water, hours of hard work, acres of land and energy needed to tend to, harvest and transport all those orange orbs. And at as low as a pound a pop, it's no wonder some pumpkins haven't got much going on in the taste department.
The shocking truth is that carving pumpkins found in the shops aren't made for eating. They're specifically bred to be the right shape to scare away spirits then go on the compost, or worse, landfill.
No fear though. We are here, as usual, with our positive solution divination rod, sniffing out better ways to do things.
All hail(owee'en) the onion squash! It's rich orange colour and softer structure makes it the organic Jack frontrunner.
Whatever pumpkin you choose, please do cook as much of it as possible. Just bear in mind the kind of candle you use, as some are quite heavy on the chemicals.
Here's a four course pumpkin menu to help you use up every last scrap of Jack.
Start with an amouse bouche of these moreish roasted squash seeds, then follow this squash and broccoli tray bake with tahini sauce, then finish with squash and almond blondies or spiced pumpkin bread.
Make sure you save all the innards and bits and bobs then skip over to our recipe library for buckets of inspiration. Just pop 'squash' or 'pumpkin' in the search box.


Back to top