An Update On Our B Corp Journey: March 2023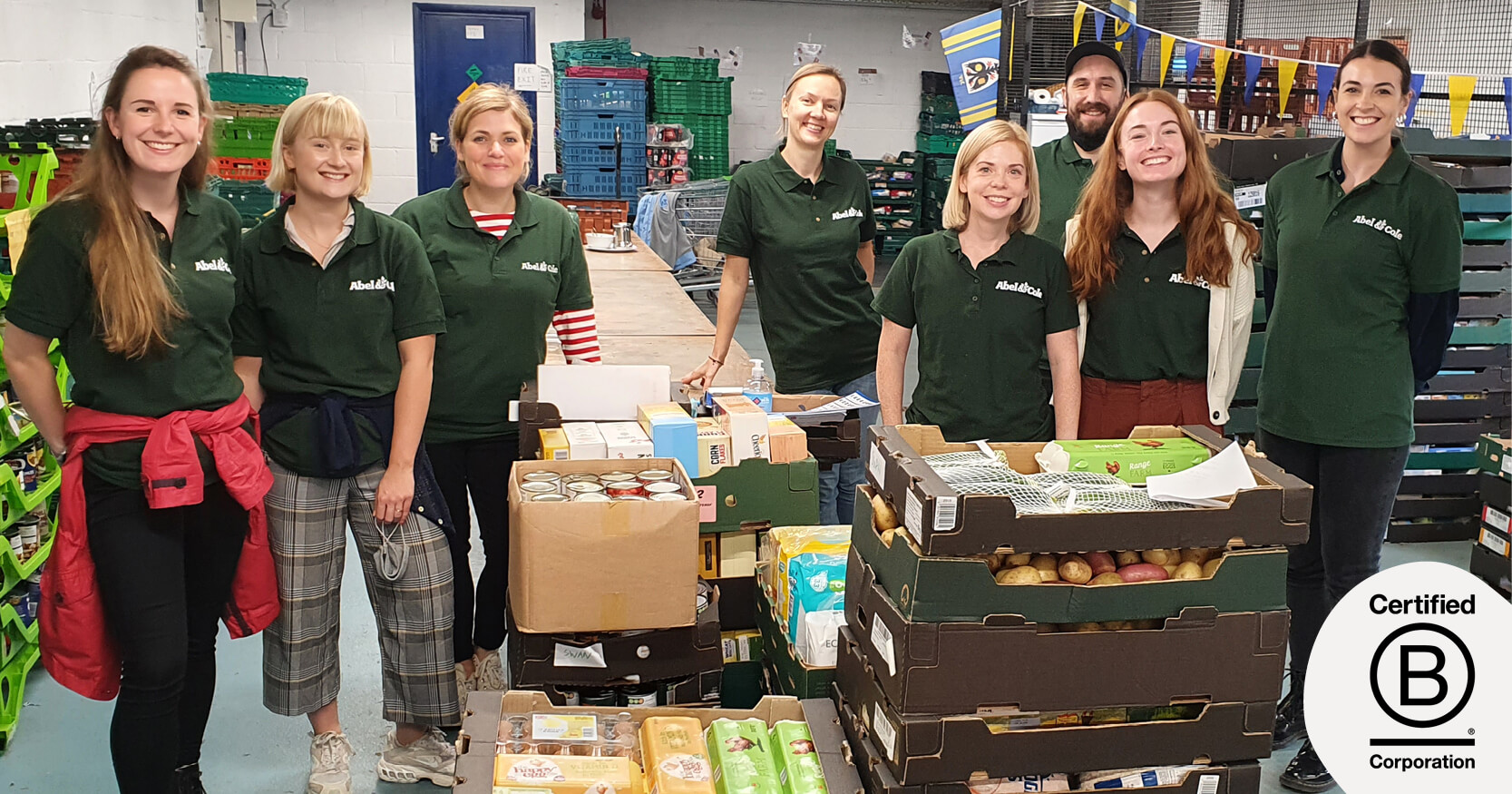 March is B Corp Month – the perfect time to look beyond the labels at what it really means to do business differently. Certifying as a B Corp back in 2018 was a huge step for us, validating our efforts to become more sustainable, and showing us where to continue challenging ourselves. We successfully recertified in 2021 with an even higher score – and we're still innovating to improve our impact even further. Here are some of our proudest achievements from this year's B Corp journey.

Remind me, what is a B Corp again?
"Certified B Corporations are businesses that meet the highest standards of verified social and environmental performance, public transparency, and legal accountability to balance profit and purpose. B Corps are accelerating a global culture shift to redefine success in business and build a more inclusive and sustainable economy."

- B Lab
What does it take to become a B Corp?
Certifying as a B Corp is no light undertaking. B Lab, the certifying body behind the B Corp label, will test a company on a wide range of topics, from anti-bribery practices to staff training and environmental protections, requiring evidence every step of the way.

Recertification takes place every three years and, as well as requiring companies to improve on their scores, B Lab will also carry out an inspection of their workplaces. This level of oversight from B Lab, and disclosure from the companies they certify, helps strengthen the B Corp assurances of positive impact.
Highlights from this year's B Corp journey

Our B Corp shop
We're always looking for fresh ideas and innovative products for our shoppers, from brands that we know align with our values. And knowing what it takes to become a B Corp meant we knew the label would be a brilliant place to start.

This year, we've been busy growing our collection of change-making B Corp food and drink brands – and it's now bigger and better than ever before. From Holy Moly's delicious guacamole to Proper's moreish popcorn, we're excited about working with even more like-minded brands through the B Corp network.

"Our new range of products from certified B Corps means our shoppers can now choose from even more items aligned with our values. Looking for the B Corp label is a sure sign of positive impact on the broad range of issues that our shoppers care about just as much as we do."

- Ilyas Wouda-Deshmukh, Head of Trading

Ethical supply chains
We've always chosen our makers carefully to align with our values. But wearing the B Corp badge means companies must take responsibility for the impact of their supply chains as well.

Recently, we went this extra step further and included our Scope 3 emissions (our indirect emissions, like those from the farming of our products) in our efforts to go carbon neutral. This year, we've gone further still, working with leading experts to map our supply chains, calculate the impact of our items and score their eco-impact. Starting with over 80 of our fruits and vegetables, we're measuring their water usage, biodiversity impact and pollution potential, as well as their greenhouse gas emissions.

B Corps must also make sure that the workers in their supply chains are treated fairly. Behind the scenes, we've kicked off a big project to look at the risks to our makers and their employees from labour issues like modern slavery. Projects like these only help to strengthen further the brilliant relationships we have with our makers.

"Brands that claim sustainability really need to be challenged on the impact of their supply chains, as this is where most of the action takes place. Traceability is key, but treating workers fairly, reducing greenhouse gases, and keeping our local environment clean should also extend right the way from field to fork."

- Ed Ayton, Sustainable Sourcing Manager

Volunteering
B Corps also bring benefits to local communities. We do this by offering every member of our team a paid day of volunteering each year, and by lining up plenty of opportunities for them to get involved with.

Last year, we helped Children's Book Collection's efforts to sort and deliver over 91,000 books to children in need, we kept tree-planters fed on cold winter days, and we cleared kilos of rubbish from Brighton Beach. As well as helping our charity partners, we believe volunteering is good for our team too, building morale and boosting mental health.

"Volunteering can make you feel happier and healthier and have a positive effect on your wellbeing by increasing feelings of self-esteem, purpose, and social connection."

- Ellie Westfold, Wellbeing and Facilities Manager, and Disability Champion for our Equality & Inclusivity Committee

Food waste
Cutting food waste has always been at the top of our agenda, but we've doubled our efforts since certifying as a B Corp.

Despite this, it's inevitable that we'll end up with something that could go to waste. This is where Ania, our Food Guardian, steps in. From working with charities across the UK to take the best quality produce to feed those in need, to taking leftovers back to our farms for hungry animals, Ania ensures that every last delicious scrap finds a good home

Packaging
B Corps must help their customers reduce their impact, and we know that packaging is a topic that lots of our shoppers are passionate about.

Our policy is to 'Refuse. Reuse. Recycle.', which means we only use packaging where we need to. That's why you'll find on average 77% less plastic in our Fruit & Veg Boxes. But our Packaging Promise to help our shoppers slim their bins, goes even further.

Launched in 2021, our Club Zero range of zero-waste refillables helps our shoppers avoid single-use plastics. Excitingly, we've just launched our first chilled items to the range, with our ReRooted plant drinks in returnable glass bottles.

We've always taken back our boxes and insulation for reuse, but now we also take back the flexible plastics that our shoppers find hard to recycle – even when they're from other supermarkets! Last year, our game-changing Plastic Pick-Up recycling scheme collected a huge 20 tonnes of flexible plastics to turn into sustainable building materials.

In 2022, we also decided to move away from compostable plastics. We analysed extensive research and were no longer confident that compostable plastic breaks down in the UK waste system the way it should. So we listened to the science and took action, immediately removing it from our core Fruit & Veg Boxes. We're also working closely with our other makers to remove it from our range by the end of 2023.

"As a trusted retailer and certified B Corp, we're continually challenging ourselves to offer our customers their most sustainable shop, and that means scrutinising the packaging of everything we sell. When packaging is necessary, to extend the shelf life for example, we're always looking for innovative ways to reduce its impact. Like expanding our refillable Club Zero range, or working with our makers to remove problematic materials."

- Hugo Lynch, Sustainability Project Manager
Continuing our B Corp journey

Certifying as a B Corp is a huge step for any business to take, and it's a major part of our sustainability strategy. But it has to be supported by real change. That's why, during our B Corp journey, we'll keep challenging ourselves to do better on as many issues as we can.

From reducing the packaging in our boxes, to pushing the boundaries of sustainable farming, and cutting the carbon from our shop – we're committed to driving positive change, as B Corps do best.
Published March 2023
Head to our B Corp shop to explore food and drink that puts people and the planet first.


Back to top