Eco-Impact Labelling: How It Works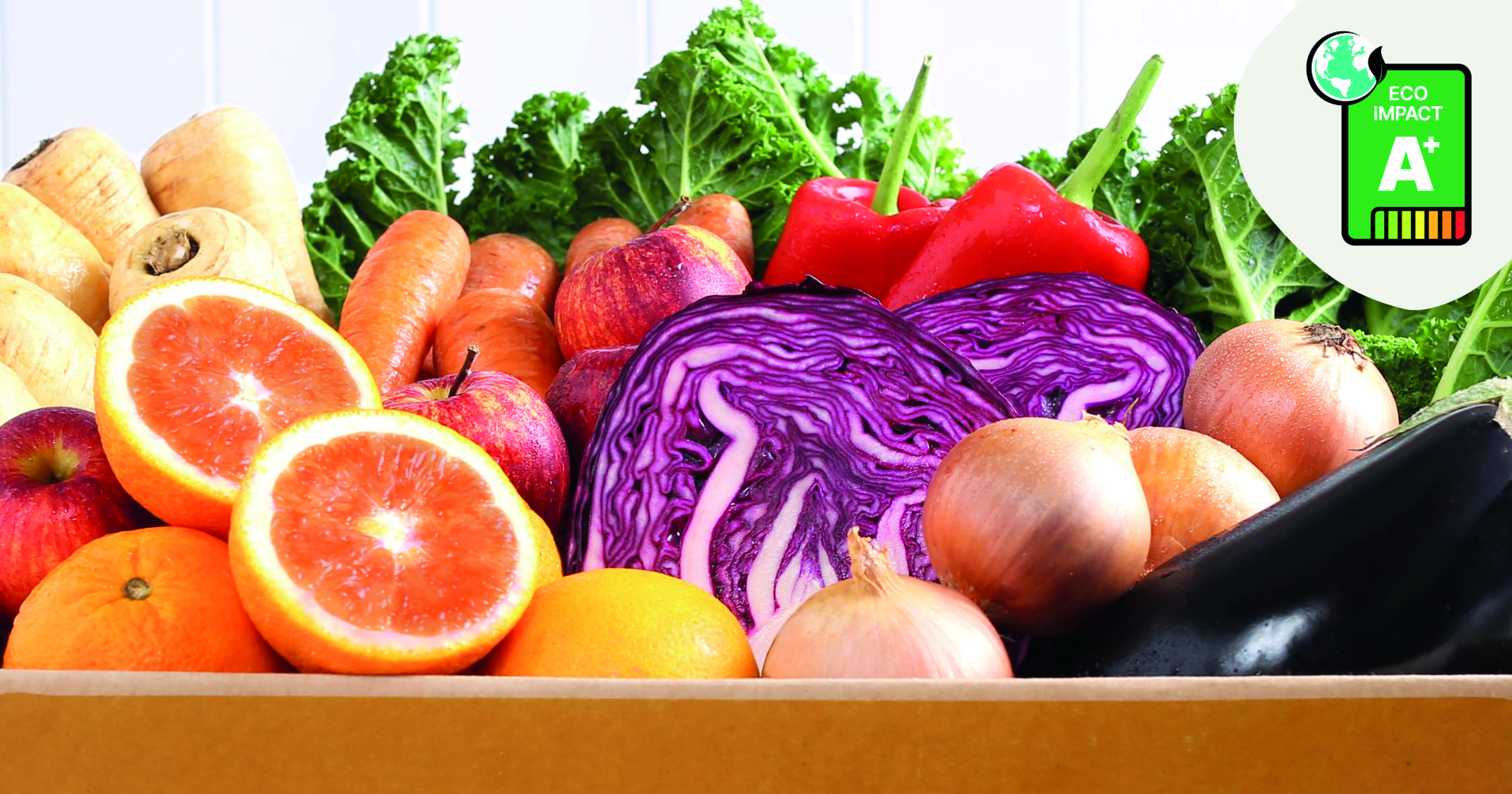 Spotted anything different about our website recently? We've started 'eco-labelling' our products, scoring them on impacts such as CO2 emissions and water pollution. We turn these into an easy-to-read score that helps you choose a more sustainable diet. To find out just how essential these eco labels are to sustainable food production, we turned to our Sustainable Sourcing Manager, Ed Ayton.

We've always believed that our products are made in a way that treats the planet with more respect than a lot of what's out there, and these benefits are backed up by a growing body of research. We also know that environmental impacts, such as a product's carbon footprint, are a deciding factor for an increasing number of shoppers.

We work with makers, bakers and growers who really go above and beyond when making the most sustainable food they can. It's important to let our green community know about all the hard work that entails, so they can shop knowing they are making positive choices for our planet. For most of the public however, this level of information is often missing when they purchase an item in the shops. So how should it be measured and communicated?
What is a Life Cycle Assessment?
A Life Cycle Assessment, or LCA, measures the environmental impact of all stages in a product's lifetime, from sourcing to manufacturing to retail. There are many different impacts that can be measured, from the water pollution caused by processing to the CO2 emissions from recycling, and LCAs offer a lot of insight into a product's impact. However, there is no widely accepted standard for exactly which impacts are chosen for each LCA. So, one item's carbon footprint can be measured differently from another which makes comparing their impact and influence as part of a more sustainable diet very tricky.

In 2018, a team at Oxford University sought to resolve this with publication of a 4-year project that had brought together thousands of studies from over 40,000 farms around the world. By normalising the measurements of carbon and water, the team were able to make a fair comparison of the impacts of 200 different foods. Seeing the study's potential for more sustainable food production, data experts, Mondra, worked out how to apply this research to whole supply chains. In 2021, Mondra helped us show that the average shopping basket from Abel & Cole produced 16% less CO2 emissions than the equivalent baskets from supermarket stores.

You can read more about our basket comparison study here.
What impacts are we measuring?
There are many different types of impact that a product can have, such as toxicity to humans, or ozone depletion. For our work with Mondra, we're measuring four key impact areas:

Carbon
Greenhouse Gases (GHGs) are the main drivers of climate change, and include carbon dioxide, methane and nitrous oxide. These are reported collectively as grams of carbon dioxide equivalent, or 'g CO2(eq)'.

Water usage
Water scarcity is a significant global issue, often taken for granted here in the UK. Mondra count how much water is used but also consider the water scarcity of an area where it is drawn from. This is then reported as litres equivalent, or 'L eq'.

Water pollution
Focusing on a type of pollution called eutrophication, Mondra records any substances used that, if released into waterways, could cause algae to overgrow and suffocate anything living there. This is reported as phosphate equivalent, or 'PO43- eq'.

Biodiversity
Clearing habitats for farming is the biggest driver of biodiversity loss. Mondra look at the impact of farming on the 'ecoregion' of production, using a pre-set measure of biodiversity for that site.
How are our grades calculated?
1. Map supply chains
The first step is to map out every process that goes into making a product, across the following 5 stages:
Farming - Transport - Processing - Packaging - Retail

2. Gather data
Information gathered directly from our suppliers is called 'primary data'. Primary data is crucial to building an accurate picture of their impact.

3. Fill the gaps
When primary data can't be sourced directly from our suppliers, Mondra draw on information from other areas. 'Secondary data' can be obtained from other pre-existing research, or a proxy model can be built to estimate the results.

4. Calculate impact
By rating the performance of our farmers against the data of Oxford University's HESTIA database, and factoring in the impact of transportation, processing and packaging, a final score from A+ to G can be produced for the four different impacts listed above. This is then reworked into a single grade, one that can be easily displayed on the packaging or website as an eco label.

In order to reliably condense the impact grades into a single score and encourage action where it's needed most, each stage of the supply chain and type of impact is weighted differently in the final score. For example, farming contributes more to the final score than any other stage, given that is where most of a product's impact happens.
The Foundation Earth eco label
Many of us will recognise the traffic light-style labels for salt, fat and sugar found on the front of packs for processed foods. These labels have been recognised as a very cost-effective way to promote healthy diets and reduce unhealthy levels of salt and sugar in diets. So, what changes could we achieve if a similar system helped inform shoppers who want a more sustainable diet?

There are currently 456 eco labels in use around the world. The majority of customers struggle to recognise or interpret these labels, not helped by the fact that there are so many to choose from. Foundation Earth, an independent non-profit organisation created by scientists and leading industry figures, was established to address this. Their goal: to unite the food industry behind a single eco labelling system. By working with LCA experts, such as Mondra, to gather data and map supply chains, Foundation Earth have already successfully piloted their traffic light-style system of labels. And now, having submitted the data for an impressive 87 of our fruit and veggie lines, we're proud to be the first retailer to commit an entire range of products to carry their eco label.

If you want more details about the scores, you can find the range of labelled products on the Foundation Earth website.
We want to know how effective eco labelling is for encouraging you to eat more sustainably, so we've teamed up with Oxford University to look at the impact on our shoppers' choices. We'll be working with the same team that introduced the nutritional traffic light system to food products, and we're looking forward to this study playing an important part in the future of eco labelling.

As well as influencing customer behaviour, eco labelling is also an important tool for helping brands make their products more sustainable. By mapping supply chains and detailing the impact of each process involved, a business can see where the most effective improvements can be made. For example, our work with Mondra highlighted the impact of the packaging used to transport items. We'll be working closely with our suppliers to increase the number of reusable containers used in our supply chain, to combat this impact.
A closer look at our results
You can find a breakdown of Mondra's life cycle assessments for our fruit & vegetables, here
Published January 2023
Eco labelling is one of many ways we're helping our customers choose a more sustainable diet. You can read more on our Sustainability Hub, where you'll also find details on what to do with our packaging, how we're reducing our carbon footprint, and our annual Sustainability Report.


Back to top