We're officially a B Corp!
We're shouting it from the veggie mountaintops:
Abel & Cole is a proudly certified B Corporation®!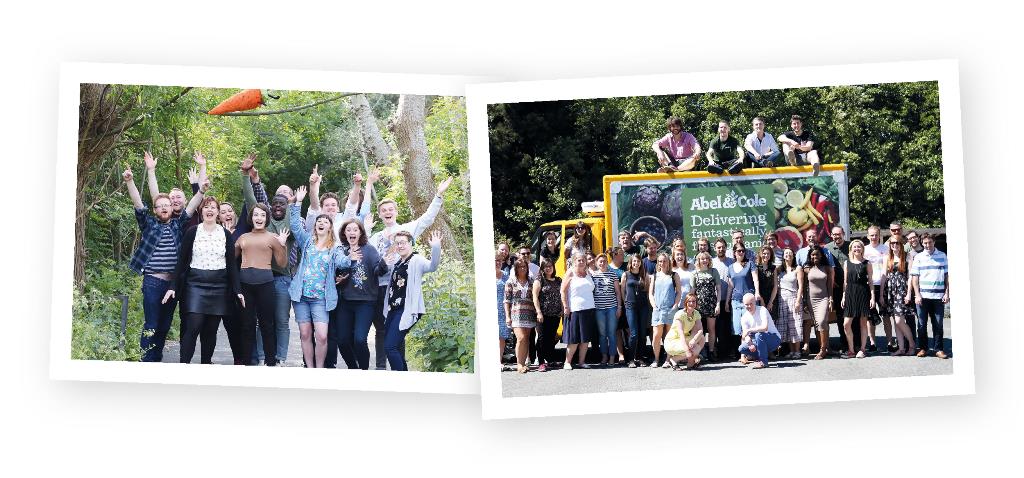 It's like Fair Trade certification but for the whole
business, not just a bag of coffee.

Since day one, we've always wanted to do things the right way. Back in 1988, when Keith Abel and Paul Cole first learned what organic really meant, a commitment to these values was born.

Organic is a more conscientious way of tending the land. It's food as it should be. Food that works with nature, not against it.

We're proud to have stayed true to these values over the years. We've even helped farmers like David Trehane at the Dorset Blueberry Company, and the guys at Cold + Black coffee, to achieve organic certification themselves.
Then it's on to coming up with the greenest methods of getting their fruit, veg and more to your door. We've always minimised plastic and pioneered sustainable packaging. Where possible, it's been replaced by paper, cardboard and, in the case of our WoolCool® chill boxes, the odd bit of sheep's wool here and there.

With your help, we've been able to make the most of our delivery vans as they're delivering the goods. We've collected your bike, book and backpack donations to help support charities here at home, and further afield. That's not even the half of it, but being a B CorpTM isn't about blowing your own trumpet.

It's about wanting to recognise that there's still plenty of work to be done.

Now we're B CorpTM certified, we're in a great position to measure, challenge and improve our impact more than ever before.
We're all committed to innovation – from the farmers out-standing in their fields, to everyone here at Veg HQ. Whether it's supporting green energy sourcing or improving recycling and waste reduction practices, the future's looking green.

Becoming a B CorpTM is a huge milestone for us. We're incredibly proud of the hard work that's gotten us to this point. It's a sign that we're definitely heading in the right direction. And with plenty of steps left to take, we hope you'll be right there with us.

THE As, Bs AND
Cs OF B CORPTM

"B Corporations® are leaders of the global movement of people using business as a force for good. They are businesses that meet the highest standards of verified social and environmental performance, public transparency and legal accountability, to balance profit and purpose.
B CorpsTM are accelerating a global culture shift to redefine success in business and build a more inclusive and sustainable economy."

You can see how we fare (and our score) over on the B Corp website.


Back to top