Championing Change with Blueprint For All

As a B Corp, we're committed to looking beyond our four walls to drive positive social change for our community. So we're incredibly proud to be embarking on a new partnership with Blueprint for All, and are celebrating this with a £1,000 donation. To mark UN Anti-Racism Day, we spoke to Ewan Tuohy to learn more about the charity's origins and how they're ensuring equal opportunities for all.

Who are Blueprint for All?
"From 1st January 2021, our name formally changed from the Stephen Lawrence Charitable Trust to Blueprint for All. This change respects Stephen's family's wishes that the Stephen Lawrence Day Foundation, set up by his mother Baroness Lawrence last year, is the only charity to bear his name.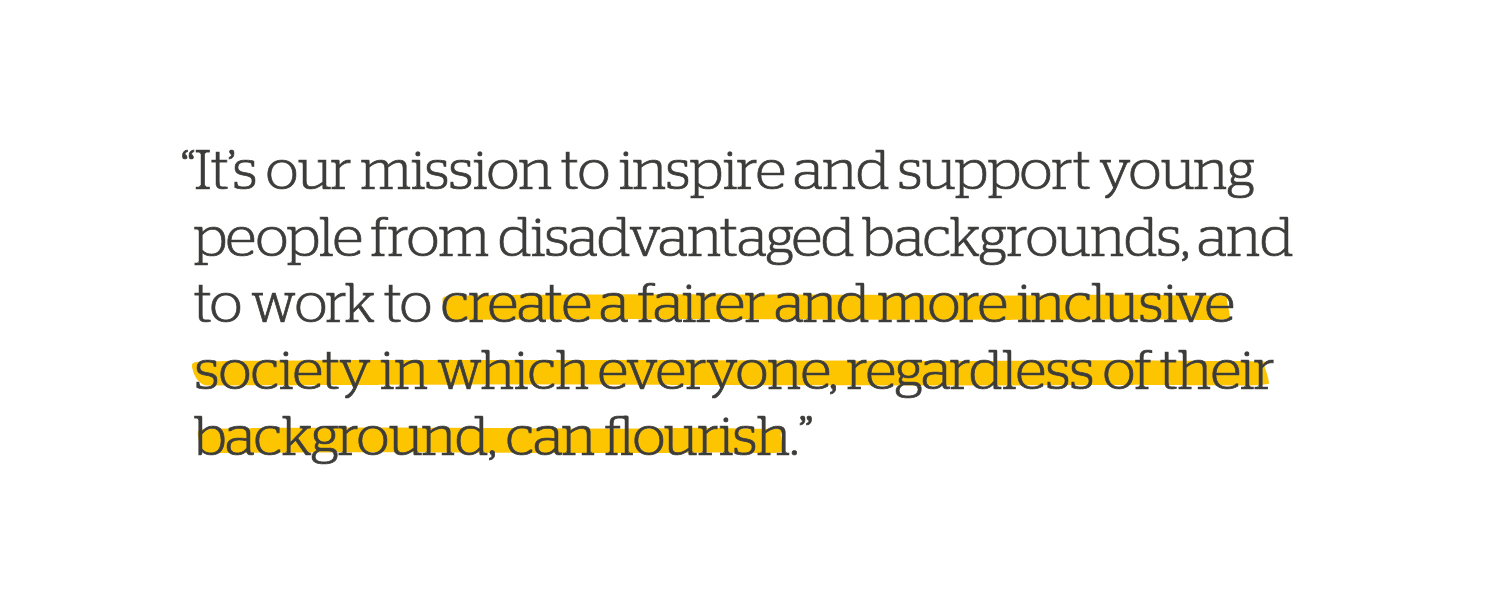 "Our new name provides an important link to our past and sets out our ambitions for the future. The 'Blueprint' symbolises our clear plan to create the changes our society needs and gives a subtle nod to Stephen's own desire to become an architect, ensuring that he is always recognised in our story. The 'for All' highlights our belief that the same opportunities and support should be open to everyone, not limited because of someone's race, ethnicity, or background. It also speaks of our collaborative approach, and the role we all need to play in creating a fairer and more inclusive society.

"It's our mission to inspire and support young people from disadvantaged backgrounds, and to work to create a fairer and more inclusive society in which everyone, regardless of their background, can flourish."


How did the charity's work first begin?
"Formerly the Stephen Lawrence Charitable Trust, the organisation was founded in 1998, five years after Stephen's dream of becoming an architect was cruelly cut short in the spring of 1993. We know how important it is that Stephen is never forgotten, and we continue to honour his memory through our work to create a fairer and more inclusive society where talent is respected and nurtured irrespective of where it comes from, where organisations recognise and realise the benefits of a diverse workforce, and where our communities can come together to thrive."


Can you tell us more about your work with young people to champion anti-racism? How has this been affected by the pandemic?
"Our Building Futures programme focuses on young people in higher education and in the early stages of their career. Through the programme, 60 aspiring architects receive mentoring from those in the industry – including from founding partners at prestigious practices. Young people on the programme can benefit from specialist workshops (including architectural drawing and the effects of Covid-19 on design) as well as enhancing their career-building skills through sessions on promoting themselves on the likes of LinkedIn and through apprentice schemes.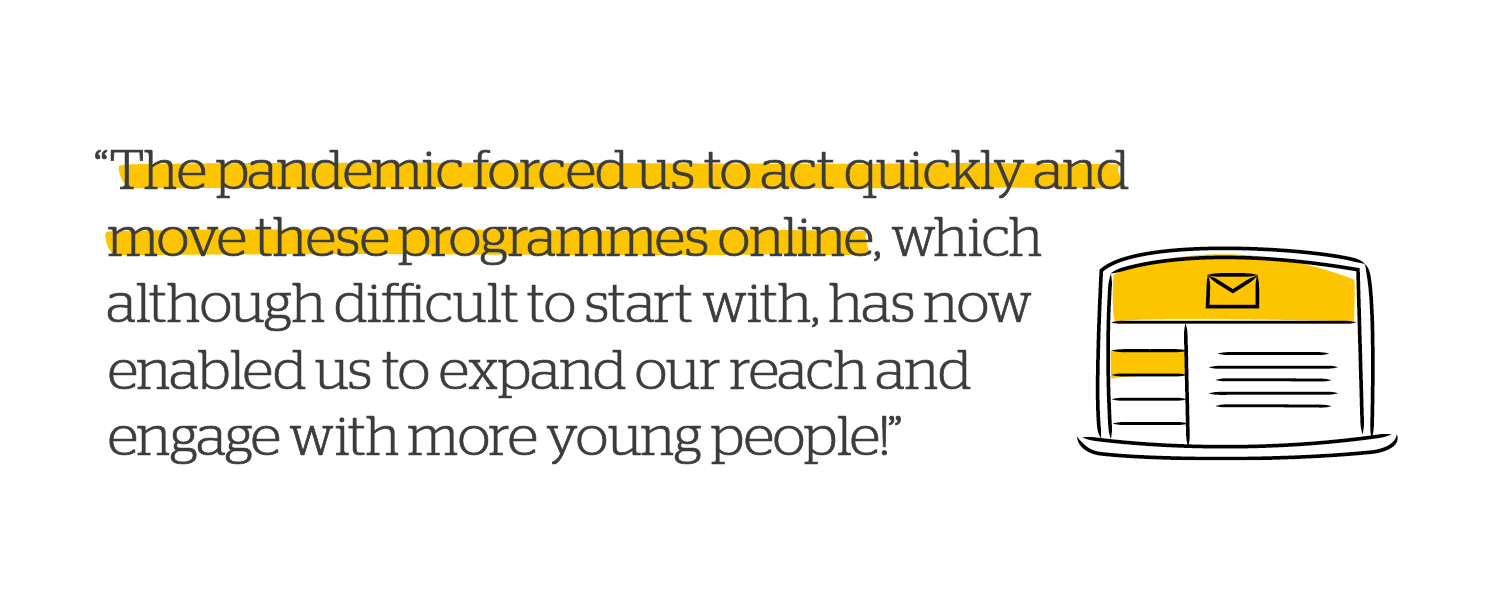 "In the last three months of 2020, students aged 13-15 on our Pathways to Professions programme for schools took part in a series of online workshops, learning about the different careers – ranging from fashion to biochemistry – that are available to them. Over the coming months we are looking to expand the programme and to tailor it to the needs of 6th formers. Additionally, we are also developing more targeted programmes that will help young people explore careers in finance, the creative industries and as entrepreneurs. The pandemic forced us to act quickly and move these programmes online, which although difficult to start with, has now enabled us to expand our reach and engage with more young people!"


What does Anti-Racism Day mean to you, especially in our current day and age?
"A fundamental premise of anti-racism is eradicating racist policies to create a more equal society: this is embodied by the work that Blueprint for All dedicates itself to.

"Through our work with young people and communities, we strive to create a fairer and more inclusive society where everyone, irrespective of their race, ethnicity, or background, has tangible opportunities to thrive.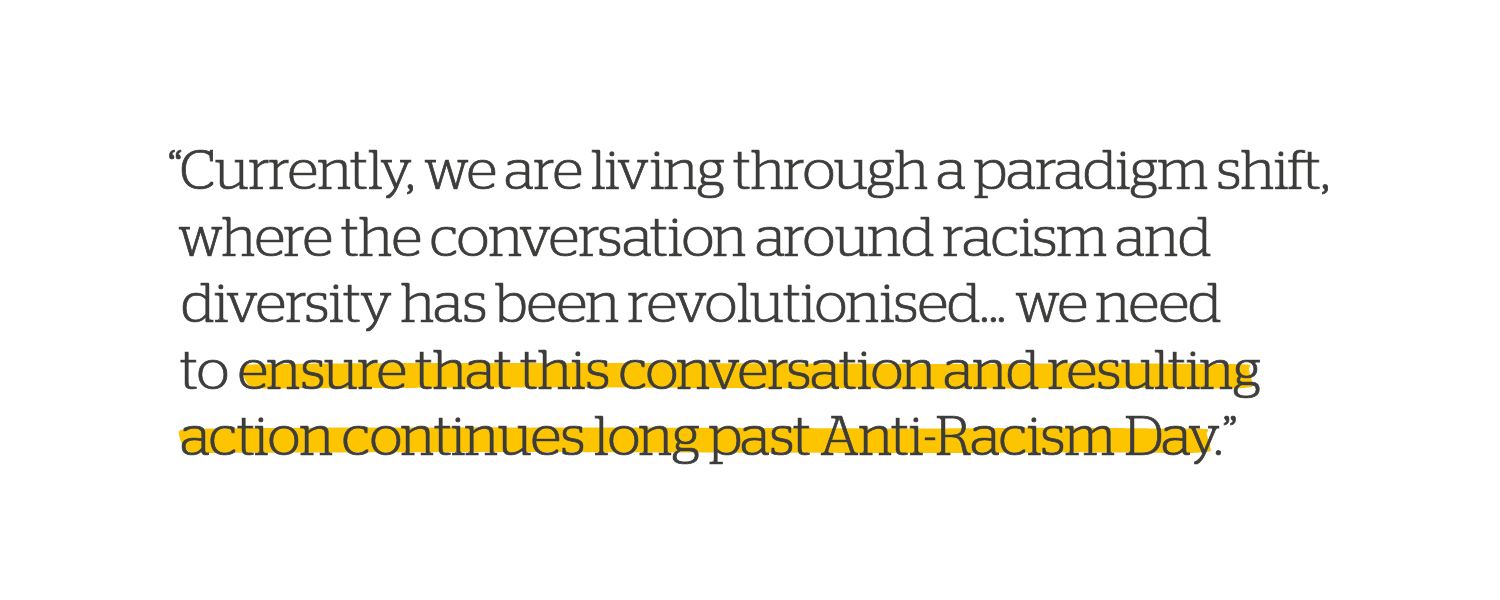 "Anti-racism means taking stock of, and actively challenging racism wherever it occurs; one of the ways in which we do this is by helping to drive systemic change in organisations across the country and creating the transformation our society needs.

"Currently, we are living through a paradigm shift, where the conversation around racism and diversity has been revolutionised. This has been exacerbated by the impact of the pandemic, which has disproportionately affected BAME communities. Whilst this shift in public attitudes is positive, racism, discrimination and under-representation cannot be overcome in one day, so we need to ensure that this conversation and resulting action continues long past Anti-Racism Day."

Thank you to Ewan Tuohy from Blueprint for All.
Our partnership with Blueprint for All was first put forward by our Charity & Sustainability Champion, Jess, following her work with our own Equality & Inclusivity Committee. The Committee was set up last year as part of our ongoing B Corp journey – we're constantly challenging ourselves to improve our positive impact on the world and to consider how we can bring about change.

Whilst a key role of the Committee is external, stretching beyond our four walls to help bring about positive change in our community, it also has an important, internal focus: ensuring that every member of the Abel & Cole community feels represented and heard.

Our Equality & Inclusivity Committee has written an Anti-Racism Charter that outlines our key targets. From tackling unconscious bias in recruitment to ensuring our marketing best represents the team and our organic community, we have a clear plan of action for improving representation. Our Race & Ethnicity Champion, Jeanette sees the Committee as "a key part of our mission to create an inclusive environment where diversity thrives".


Find out more about how we're committing to giving back to both people and our planet, along with other highlights from our B Corp journey here.


Back to top