Marking Black History Month with Blueprint for All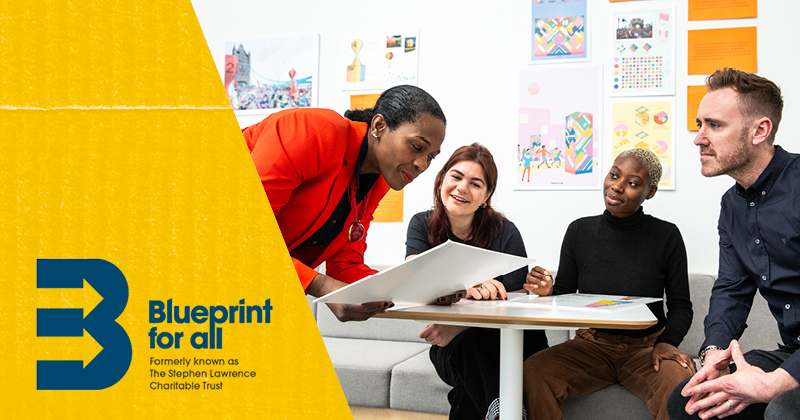 To mark Black History Month this October, we're celebrating the hard work and successes of our partners at charity Blueprint for All. We've also been reflecting on the progress we've made to tackle inequality from within, through the creation of our own Anti-Racism Charter.

Our charity officer Jess caught up with Ewan Tuohy from Blueprint for All to learn more about how the charity are championing Anti-Racism and ensuring equal opportunities for all, as well as the importance of Black representation, particularly for young people.
Who are Blueprint for All?
"Formerly the Stephen Lawrence Charitable Trust, the organisation was founded in 1998, five years after Stephen's dream of becoming an architect was cruelly cut short in the spring of 1993 by a racist attack. We know how important it is that Stephen is never forgotten, and we continue to honour his memory through our work to create a fairer and more inclusive society where talent is respected and nurtured irrespective of where it comes from, where organisations recognise and realise the benefits of a diverse workforce, and where our communities can come together to thrive.

"From 1st January 2021, our name formally changed from the Stephen Lawrence Charitable Trust to Blueprint for All. This change respects Stephen's family's wishes that the Stephen Lawrence Day Foundation, set up by his mother Baroness Lawrence last year, is the only charity to bear his name.

"Our new name provides an important link to our past and sets out our ambitions for the future. The 'Blueprint' symbolising our clear plan to create the changes our society needs and giving a subtle nod to Stephen's own desire to become an architect, ensuring that he is always recognised in our story. The 'for All' highlights our belief that the same opportunities and support should be open to everyone, not limited because of someone's race, ethnicity, or background. It also speaks of our collaborative approach and the role we all need to play in creating a fairer and more inclusive society.

"It's our mission to inspire and support young people from disadvantaged backgrounds, and work to create a fairer and more inclusive society in which everyone, regardless of their background, can flourish."
With movements such as Black Lives Matter becoming widely visible in recent years, it seems like people are waking up to the realities of racial inequality, particularly in the workplace. In your experience, what are the major obstacles facing Black youth when it comes to education and employment today?
"The pandemic has undoubtedly affected young people from ethnic minorities disproportionately, and not just in terms of health outcomes. Back in May this year, Blueprint for All conducted research with 500 young people and discovered that those from disadvantaged or ethnic minority backgrounds were considering dropping out of university at twice the rate of their counterparts (24% vs. 11%). With 73% taking on an additional job to support their studies or families in that time.

"With such high dropout rates, and 45% of disadvantaged students considering abandoning plans for a professional career altogether due to the pandemic, this signals alarm bells to employers who could miss a whole cohort of diverse talent, perpetuating the problem of diversity and inclusivity even further into the future."
We also hear a lot about 'you cannot be what you cannot see'. Why is it so important for young people to see Black representation and leadership?
"With many industries still supporting unpaid internships and work experience for friends and family, the lack of distinct representation in leadership roles across almost every sector imaginable in the UK is hardly surprising. The more opportunity those with lived experience of being a minority can share a seat at the top table, the more chance we have of affecting change throughout an organisation, and therefore society at large.

"We hear every day from the young people who attend our programmes how impactful it is to have access to role models like them. Mentoring is hugely important at the early stages of one's career (and arguably throughout), but the best mentoring relationships are built two-way, requiring compassion and understanding from the mentor. When young people connect with mentors who are representative, there is a shortcut to get to that mutual understanding. Representative roles models are both aspirational and inspirational for young people."
What does Black History Month mean to the charity?
"While we celebrate the achievements of Black-led community groups and young people daily, Black History Month serves as an important moment in time to remember the adversity of those that paved the way before us, and prompts important discussions at a national level about what the future will look like for young Black Britons today."

Our thanks to Ewan.

We've also been reflecting on the progress we've made tackling inequality within our own four walls, through the creation of our Anti-Racism Charter.
Our Anti-Racism Charter: Where are we now?
Since its creation in July 2020, our Anti-Racism Charter has enabled us to be clear on our commitment to being an Anti-Racist organisation, making an active and conscious effort to improve our diversity.
Our action plan continues to help ensure this is embedded in every part of our activity as a business. Black History Month may fall during October, but when it comes to championing Anti-Racism and equality, we're constantly challenging ourselves to do more, and regularly review and improve our action plan.
Here are some of the actions we have implemented to date, to start to address the issue from within:
We have signed the BITC's Race at Work Charter, making a clear commitment to tackle the barriers that ethnic minorities face in recruitment and progression.

We've captured our ethnicity data, which we will use to monitor progress going forward.

We have reviewed the recruitment agencies we work with to reinforce our commitments and to ensure that we're working with partners who hold similar values, and agree to support our commitments and efforts.

We'll be completing an Equality, Diversity & Inclusivity survey annually, so we can see who is underrepresented in the business and what our targets should be.

Our Customer Services team have received training on how to handle racist and discriminatory conversations, challenging where deeming appropriate.

Diversity and inclusivity are key considerations in every piece of content produced by our Content and Creative team.

All content relating to world food or global recipes is internally peer-reviewed before public sharing.

Our followers are regularly audited, and our Community Management team follow a diverse and inclusive mix of accounts.

Marketing content requests (e.g. for ideas, pictures, videos clips) are emailed to the entire company so that everyone has the opportunity to contribute.

We've made sure to cultivate a diverse influencer programme.

Our Recipe Team are continuously updating our content and completing a recipe inclusivity audit – with inclusivity and diversity being key objectives in every new recipe created.

We have completed an audit of staff photography to make sure this reflects our current team accurately.

We are undertaking a review of our website to ensure that we are communicating our values clearly.

Going forward, at least 10% of our charity initiatives each year will be BAME-focussed.
As well as raising over £4,500 across the last 12 months, our very own Grocery Technologist Carrie Trewern ran the Virgin Money London Marathon on the 3rd October to raise funds for Blueprint for All's vital programmes.

Carrie tells us: "Although training for the Marathon has been undoubtably tough at times, it has been made so much easier knowing that the money raised will be making a positive impact on people's lives. Blueprint For All's work to ultimately help to create a fairer society tackles key areas of inequality – including career opportunities and progression as well as access to appropriate sexual health services. Tackling these areas not only has an impact on the lives of the individuals affected, but also helps to create a more inclusive culture in society as a whole.

"The fact that Abel & Cole have partnered with Blueprint for All makes me glad to be part of a company that sees the value in creating positive change, and the importance of a diverse and inclusive society and workforce."

Make a donation to support the work of Blueprint for All this Black History Month, here.


Back to top