Ask a foodie: Jassy
We went full tilt morning television chat show and sat down with our recipe guru, Jassy.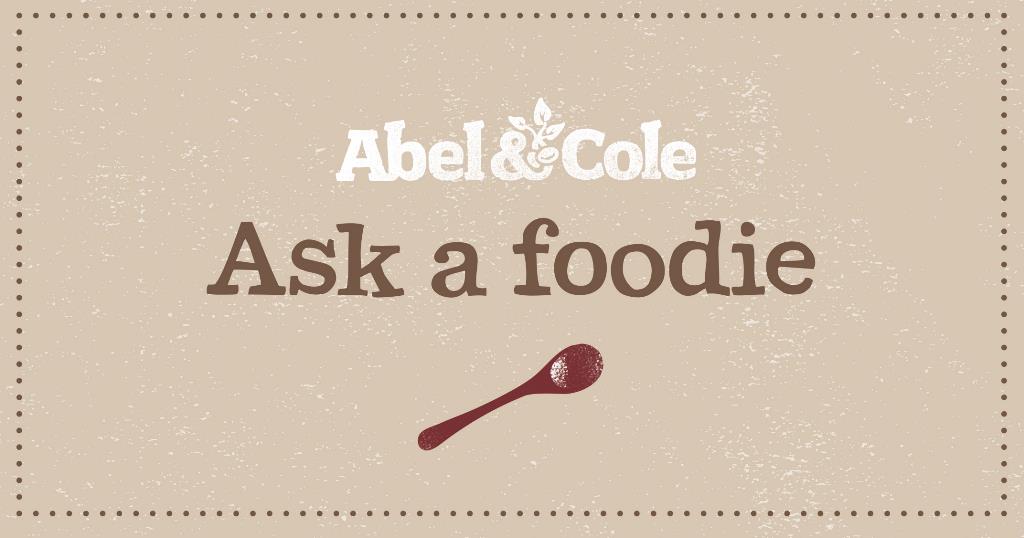 Favourite food from childhood or earliest food memories
Heinz tinned spaghetti bolognese on toast! The tinned ravioli and macaroni cheese, too. And Heinz tomato soup. If ever I'm feeling a bit low, or have a touch of a cold, I make myself buttered white toast and heat up a tin of something Heinz and feel much better about myself.
Who taught you to cook growing up?
My mum, The Usborne First Cookbook, and later Mrs Beeton.
First thing you made by yourself?
The first thing I remember making were puff pastry pinwheels with mincemeat in their middles and a blob of icing and chunk of glacé cherry balanced on top. They were for Christmas. The whole class made them to take home. We baked them for years afterwards. I still remember how to do them!
When did you know you wanted to let food become your job?
I'd been working as a sub editor and the magazine I worked on (a woman's weekly) closed down, making me redundant. The first week after it shut I went to the market to buy bags of cheap veg and big packs of pasta and rice, then set about making sauces to keep me going. I was stood at the hob stirring a panful of tomato sauce and I realised I was happy. I hadn't been so happy in ages, and all I was doing was standing there, stirring this sauce. I hadn't been sure what sort of work I should look for, and I knew then it had to involve food.
Tell us about your experience (learning your craft)
I had cooking lessons at school, where we learned to make things like quiche lorraine and chicken chasseur. At home, in the holidays, we would get obsessed with particular recipes and make them over and over again. My mum didn't have many cookbooks (and there was no internet back in those dark days), so we mostly ended up using Mrs Beeton's Cookbook. I remember a moth of custard tarts (my dad was happy) and a holiday that was mostly based around making bread pudding (another good few weeks for my dad). As I grew up, I learned from my mum, who is brilliant cook. At university I branched out by buying exotic things, like asparagus, and then phoning Mum up to ask her how I should cook them. That's when she gave me a copy of Mary Berry's Complete Cookery Course, which I used to make roast dinners with Yorkshire puddings, fish pies, curries and daals, crumbles and custard. After university, I developed a reputation among my friends for being a good cook. Not because I was, but because I was interested and would try things out. I ended up doing a year-long evening course based around French cooking techniques, which taught me a lot of basic skills, like white sauce and pastry, and some advanced things, like how to debone and stuff a chicken (not really done that since, if I'm honest). Over the next few years I did more and more recipe writing work, but I never felt I truly 'knew' how to cook. So I took a sabbatical from work and went to Ballymaloe Cookery School in Cork, Ireland. Doing the three month long chef's certificate there gave me the confidence to call myself a cook. Since then, I've just kept on trying things, kept experimenting, kept learning.
Your favourite veg
Onions, especially fried in butter. Nothing smells better than that.
Your favourite food season
I like the optimism of spring. The first greens and the taste of freshness – wild garlic is my sign that the cold weather is (more or less) over and better days on are on their way.
Something you'd make for a party or to impress?
For a party I normally bring a cake, because that's an easy way to get lots of praise! I made a triple decker chocolate cake layered with cream and bergamot curd for my friend's 40th birthday last year and I think I might make a few more this year. Triple decker cakes always get a wow. At Christmas I often do a huge slow roast shoulder of pork with crackling, bread rolls, salad and apple sauce. It cooks for a night and day and the entire house smells incredible. It's great for a party because it's low effort, looks fabulous, helps soak up the alcohol, and I've normally made so much we can have the same sandwiches again the next day.
Something you've made that you're really proud of
After I finished the French cooking techniques evening course, my friend and I held a big dinner party to show off what we'd learned. We made everything, including the bread rolls, and the main course was a huge salmon en croute. It was massive and, unbelievably, worked perfectly. We still talk about that dinner. Recently, with another friend, I did a pop-up in a pub and we cooked a big pot of crab in a cream and cider sauce. It was like a cross between Singapore chilli crab and moules mariniere, and people ate it with bread and chips. It went down really well and I'm really proud of that recipe.
What food do you make for fun or to let off steam (not steamed veg or fish)
I like popping popcorn and covering it in a toffee-ish sauce (little bit of butter, sugar, cream and a pinch of salt melted together). Best eaten laid on the couch watching a film with loads of explosions and special effects. For something quick after a long day, peanut butter noodles: egg noodles tossed with peanut butter, tahini, chilli oil, crushed Szechuan peppercorns, garlic and tamari.
A dish you'll never tire of/ Dessert island dish
Baguette, salted butter, cooked ham, pickled cornichons, a cold beer on the side.
Describe your cooking style in three words:
Simple, Rustic, Generous
Top tips you wish you knew earlier on
Don't use a little knife when a big knife would be better. Big cook's knives are not frightening and having a big, sharp knife makes most things much, much easier. Also, cooking is a skill and that does take time to learn. So yes, there are a lot of things getting burned, or not cooked enough, or under seasoned or over seasoned, or mixed into horrible combinations. But mistakes are good, because they means you're trying new things and learning. You can't improve get better at something without failing first.
"I like the optimism of Spring. The first greens and the taste of freshness – wild garlic is my sign that the cold weather is (more or less) over and better days are on their way."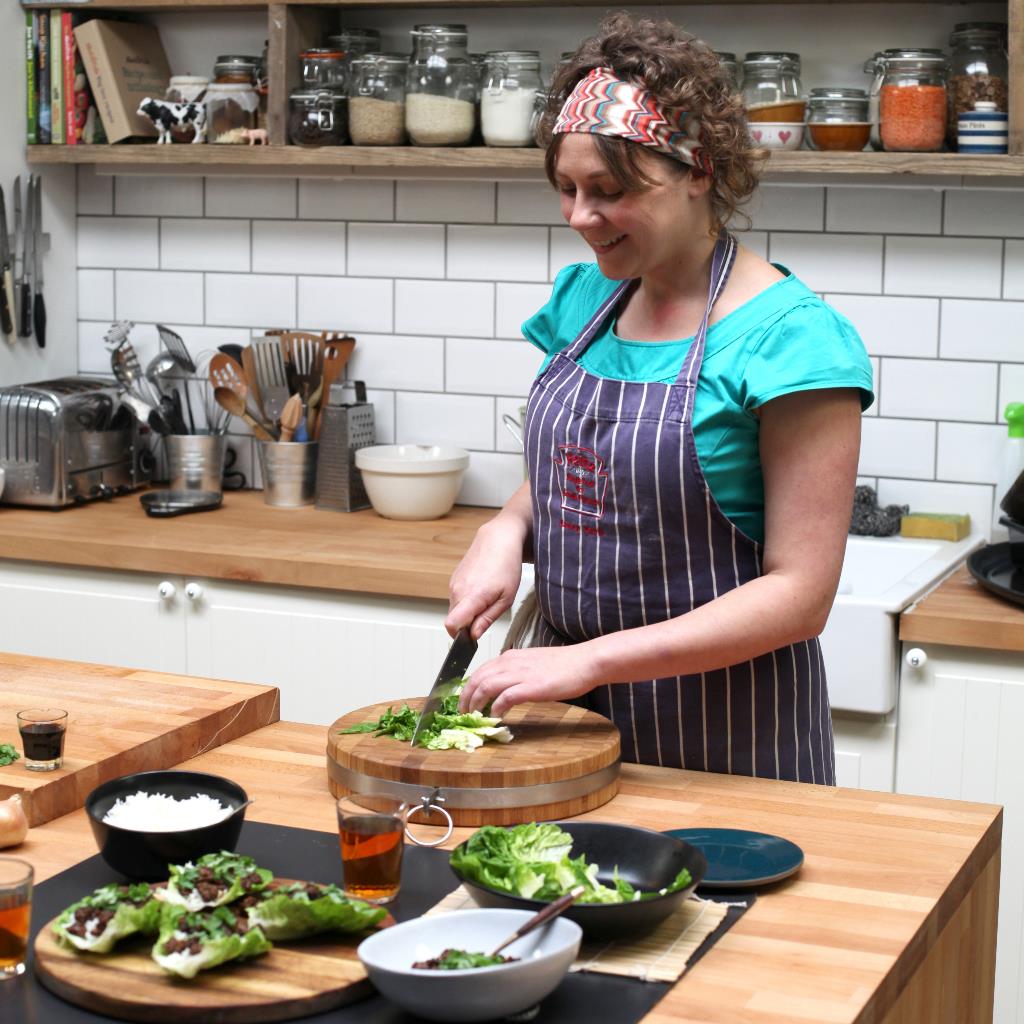 Sweet or savoury?
Sweet. I have a terrible sweet tooth that is my downfall.
Veggie or omni?
Omni, hard not to be with this job. Well over 50% of my meals are veggie though.
Starter or dessert?
Used to be dessert, but now I think it's starter. I must be growing up.
Biscuit or cake?
OK, maybe not that grown up, because I would pick cake. Big slices of fluffy Victoria sponge, chocolate cake with fudge icing, lemon drizzle with a crispy crunchy lemon sugar crust, coffee and walnut, orange and polenta, tray bakes, brownies, blondies, lamingtons dipped in coconut, scones (are scones cakes?). I could go on…

Tea or coffee?
Tea, tea, always tea.


Back to top