The Benefits of Organic Beauty Products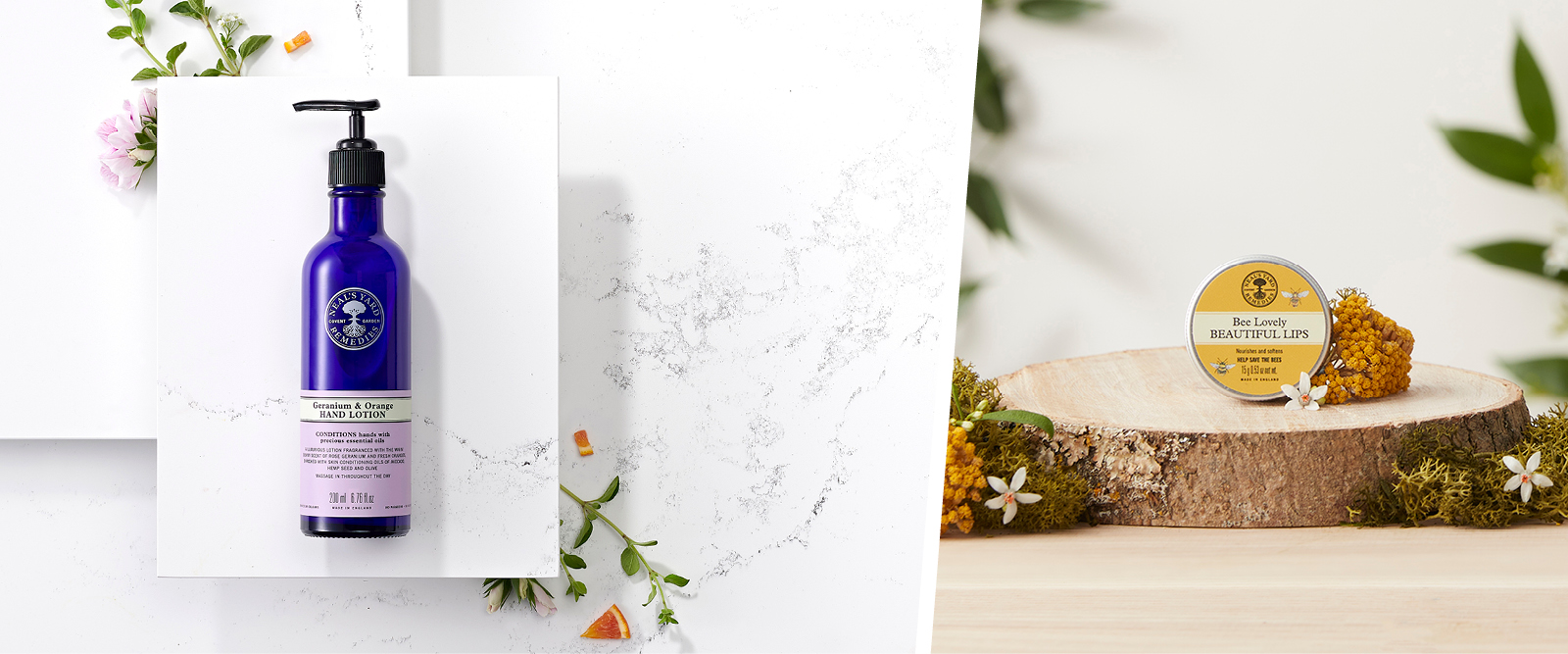 We've always believed that choosing organic has holistic benefits. So we caught up with organic beauty experts, Neal's Yard Remedies, who've been crafting natural cosmetics for 40 years, to learn more about the benefits of organic beauty products. Read on to discover how they believe incorporating organic beauty into your skincare, hair and wellness routines can make a difference to you, and our planet too.

We use natural and organic ingredients in our products at Neal's Yard Remedies because we believe buying organic is a step towards a more sustainable future.

There are so many reasons to consider shopping organic, and we've outlined some of the biggest benefits of using organic beauty products in your skincare, hair and wellness routines.
Kind to the planet

Organic beauty products are kind to the earth as they avoid pesticides, GM ingredients, synthetic colours and fragrances.

Organic farms also help to protect wildlife and biodiversity, making space for birds, bugs, bees and other species to live and thrive in the field margins and hedgerows.

Gentle on the skin
Organic ingredients are also kind to your skin as they have all their natural antioxidants, vitamins and minerals. Our Rejuvenating Frankincense collection is a great example of gentle, organic skincare that helps to hydrate and revive fatigued skin. For sensitive skin, our Almond Moisturiser is a fantastic place to start. This best-selling, vitamin-rich moisturiser helps to tone, balance and protect your skin, while preventing future moisture loss.

Stands the test of time
Natural- and organic-produced materials have been used for centuries. From herbal remedies to nourishing skin oils, many ancient ingredients are still used today because they work so well.

We've been making natural and organic beauty products for 40 years here at Neal's Yard Remedies. Many of the products we launched with back in 1981 are still available on our shelves today – our Honey & Orange Facial Scrub was originally made out the back of our first store in Covent Garden!

Sourced sustainably

We're as passionate about ethically-sourced ingredients as we are about organic beauty products, so naturally these things go hand in hand at Neal's Yard Remedies.

We work to support communities all over the world, building strong relationships with growers who use organic, sustainable and wild-harvesting practices.

From the organic palmarosa grown in Uganda and organic chiuri butter from Nepal, to the organic wild rosehip seed oil from Serbia that goes into our iconic Wild Rose collection. We're proud to support fair wages, employment opportunities and ethical practices in all kinds of communities.

Embraces natural fragrance
We always use organic oils, botanicals and herbs in our organic cosmetics to create lovely, natural fragrances that leave your skin, hair and home smelling incredible.

Our cult favourite Wild Rose Beauty Balm is fragranced with a balancing blend of organic geranium and patchouli essential oils, while our Defend & Protect and Natural Defence ranges are scented with our own bespoke blend of cleansing essential oils, including niaouli and lemongrass.

Supports cruelty-free practices

At
Neal's Yard Remedies
, all of our organic beauty products are approved under the Cruelty Free International Leaping Bunny programme, the gold standard for cruelty-free products.

We also work with Cruelty Free International, who are the leading organisation working to end animal experiments worldwide.

How to shop for organic beauty products
There's still a little confusion over organic descriptions in the beauty industry compared to the food industry, so it's always best to look out for certification logos such as the Soil Association, COSMOS or Ecocert, to know if a product has been certified organic.

At Neal's Yard Remedies, where available, we will always source organic ingredients sustainably. Take a look at our full range of organic skincare for an easy way to shop organic beauty.



Published May 2021

Feeling inspired to make the switch to organic beauty? Just add Neal's Yard Remedies' wellness wonders to your next sustainable shop, and we'll deliver your choices straight to your door. Explore their consciously-crafted collection of organic beauty products, here.


Back to top