Our Volunteer Work

During National Volunteer Week and beyond, we've been busy bees behind the scenes, and we thought you'd like to know how we've been pitching in here at Veg HQ. It's never been more important to pull together, and we've been working with some amazing people in direct response to the challenges of the pandemic.
Wimbledon businesses unite for the NHS
The Old Wimbledonians Rugby and Football Club (our neighbours just a stone's throw from Veg HQ) are using their clubhouse kitchen to create ready meals for NHS workers every day. The Alexandra Pub and the Rose and Crown in Wimbledon have now also joined in the volunteer work and between them they've sent out 3,000 meals a week. It's made possible by an army of volunteers who collect the meals and deliver to hospitals in London, Epsom and Guildford to name a few.

Feeling the community spirit, we've sprung into action too, and lent our own kitchen to the effort. Our chefs Paul and Ziya are making mountains of organic curries and pasta dishes with the help of volunteer workers, and we're planning on donating around 3,600 meals to those on the frontline in the coming weeks. There's also 1,600 pieces of fruit for snacking on the way too!
Breakfasts boxed up for School Food Matters
Since the onset of the pandemic in 2020 the amazing folks at food advocacy group School Food Matters have partnered with urban health foundation Guy's and St Thomas' Charity and the UN to deliver a Breakfast Box programme across the Lambeth and Southwark areas of London. The initiative provides a hearty box of breakfast essentials to 20,000 families with primary and secondary age children who have lost the food security provided by their schools.

Through the changing of the seasons our own volunteer heroes have provided a whopping 2,000 pieces of organic fruit each week to be included in these boxes. School Food Matters do incredible work to get healthy meals to those who need it most, and we're proud as can be to be showing our support at a crucial time as they deliver their 1 millionth breakfast. You can read more about their efforts here. Every organic banana makes a difference!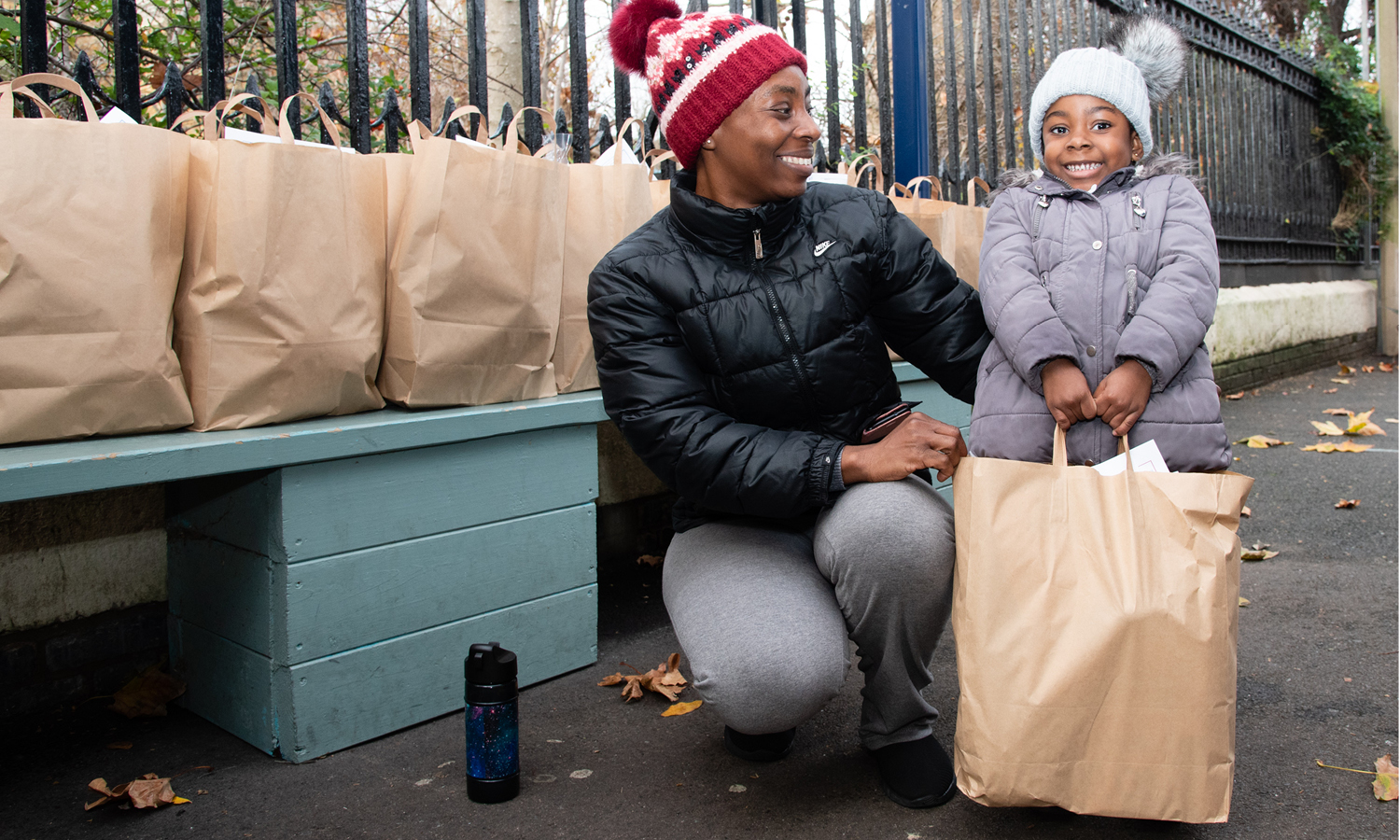 Cooking together with the CHS Group
The CHS Group runs eight supported housing services throughout Cambridgeshire, providing accommodation to vulnerable people aged 18-65. Since the start of the pandemic, CHS tell us that residents have been struggling with both financial hardship and mental health. With most service users living without the support network many of us take for granted, isolation is having a big impact on daily life.

To help bring households together, we're donating weekly boxes brimming with organic fruit & veg for group cooking sessions. Kristina of CHS tell us, "The donations have had a real impact on wellbeing, providing our residents with a positive and constructive project to work together on and strengthen relationship bonds as a household. In these times it's great to have something to look forward to each week!"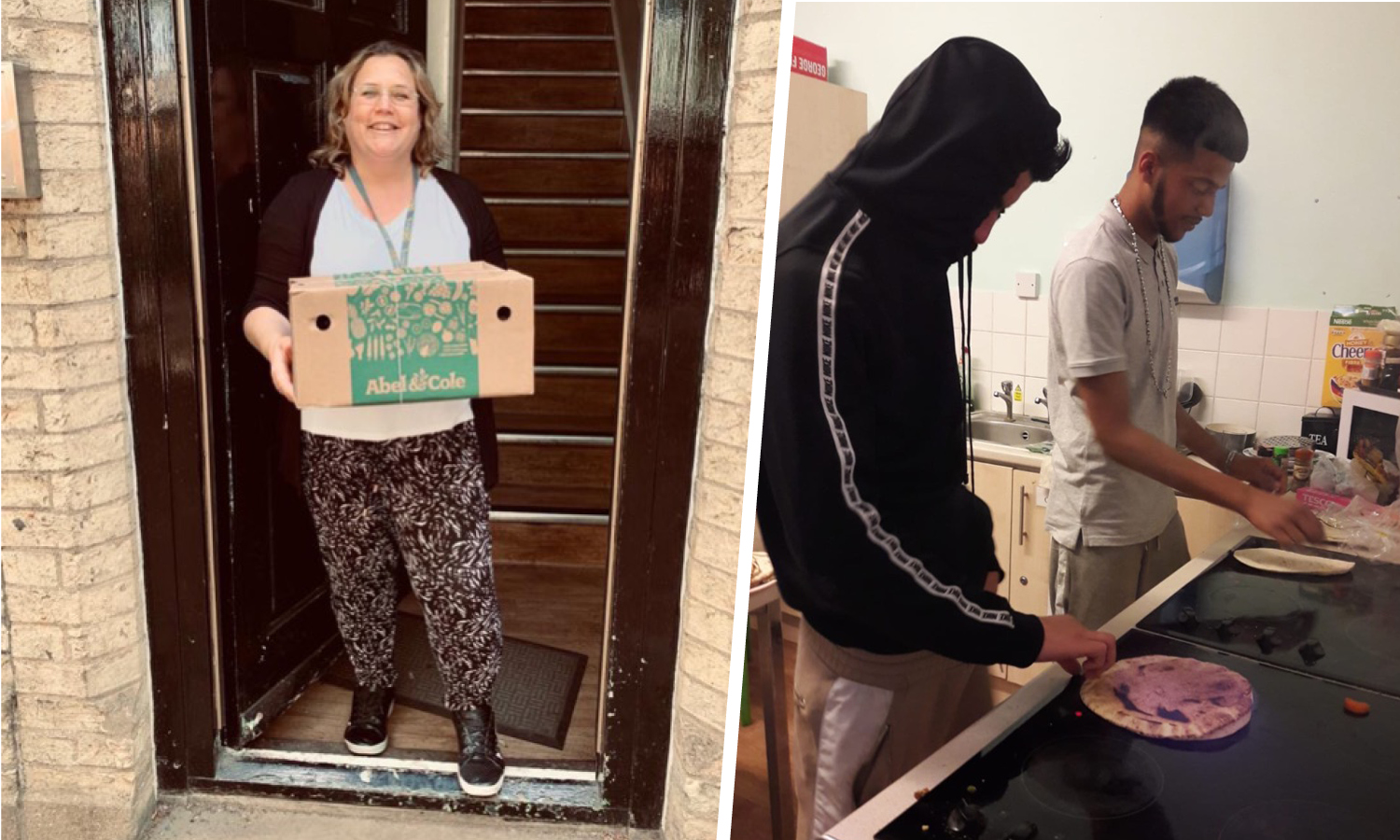 Knights Enham Nursery and Infant School with FareShare
Knights Enham Nursery and Infant School have been actively working with the charity FareShare since October 2017 as part of their commitment to redistribute surplus food and tackle food waste. We've committed to deliver a host of fresh fruit & veg alongside some staple organic goods and hygiene products for the coming weeks, to be packaged up and shared amongst local families in need.

Leanne of Knights Enham tells us, "We know that there is always a need for extra support for local families and were delighted when we were approached by Abel & Cole through FareShare, offering additional support at the beginning of the COVID-19 lockdown period. Being supported by a local business, able to donate to their local community, has meant a lot to us. Fresh fruit and vegetables are a particularly valued donation because we play a role in encouraging the young children in our setting and their families to eat a healthy and nutritious diet. Families will tell us that for them, fresh produce is often a luxury item on their shopping list.

The initiative to redistribute the donated food is led by the school's Family Partnership Manager who has knowledge of the families who are best placed to benefit from donations. "The COVID-19 pandemic has provided many challenges for local people. Our community tells us they have had difficulty accessing affordable food, accessing shops with young children, and managing the need to shop less frequently than usual. Many have talked about the added pressure of being a single parent family. Avoiding using public transport has meant practical difficulties too. Those families who rely on the support of friends and neighbours have found these options now unavailable to them. One of the strengths of our school community is that we know our families incredibly well and, with the help of Abel & Cole, we are able to target that practical support to those families where we know it will make a huge difference."
Islington Food Hub
The Islington Food Hub Project's focus is to help address food poverty in the community, particularly with young families and over 50s. We've committed to delivering weekly boxes of fruit & veg to assist in their outreach work in the area, which includes distributing donations from multiple sources.

Their Activities Coordinator Laura tell us of the impact of the recent crisis and the important impact of charitable giving. "We were no longer able to let people in the building who were now advised to stay at home. The situation has really impacted many, and people have lost activities they previously enjoyed and brought them together. COVID-19 has had such a financial and emotional impact on people that use our Food Hubs. We decided to respond to the crisis by delivering food parcels, first starting at Hornsey Lane Community Centre and then at Elizabeth House. Hilldrop Community Centre are also distributing food packages at the centre for collection. The needs are great and will be for months. The food parcels make a positive difference in such unique and uncertain times, especially to those unable to leave the house or on low or no income. People are suffering from food poverty and it's a huge issue affecting many in our borough."
Fircroft Primary School
With around 400 students from nursery age through to primary, our friends at Fircroft Primary School in Tooting have been steering its community through the crisis, taking care of essential workers' children, and offering help to those in need. Setting up their own mini food hub, Fircroft have distributed over 200 boxes of fruit & veg and parcels for over 150 pasta meals donated by Abel & Cole through their socially- distanced drop off points . Headteacher Denise tells us of the unique challenges faced in the local area: "Our close proximity to St George's Hospital means we have many parents who are involved in front line COVID-19 response. I am frankly in awe of our parents who are working at St George's. I see many of them regularly when they drop off or collect their children from our key worker provision and their grit and positivity is remarkable."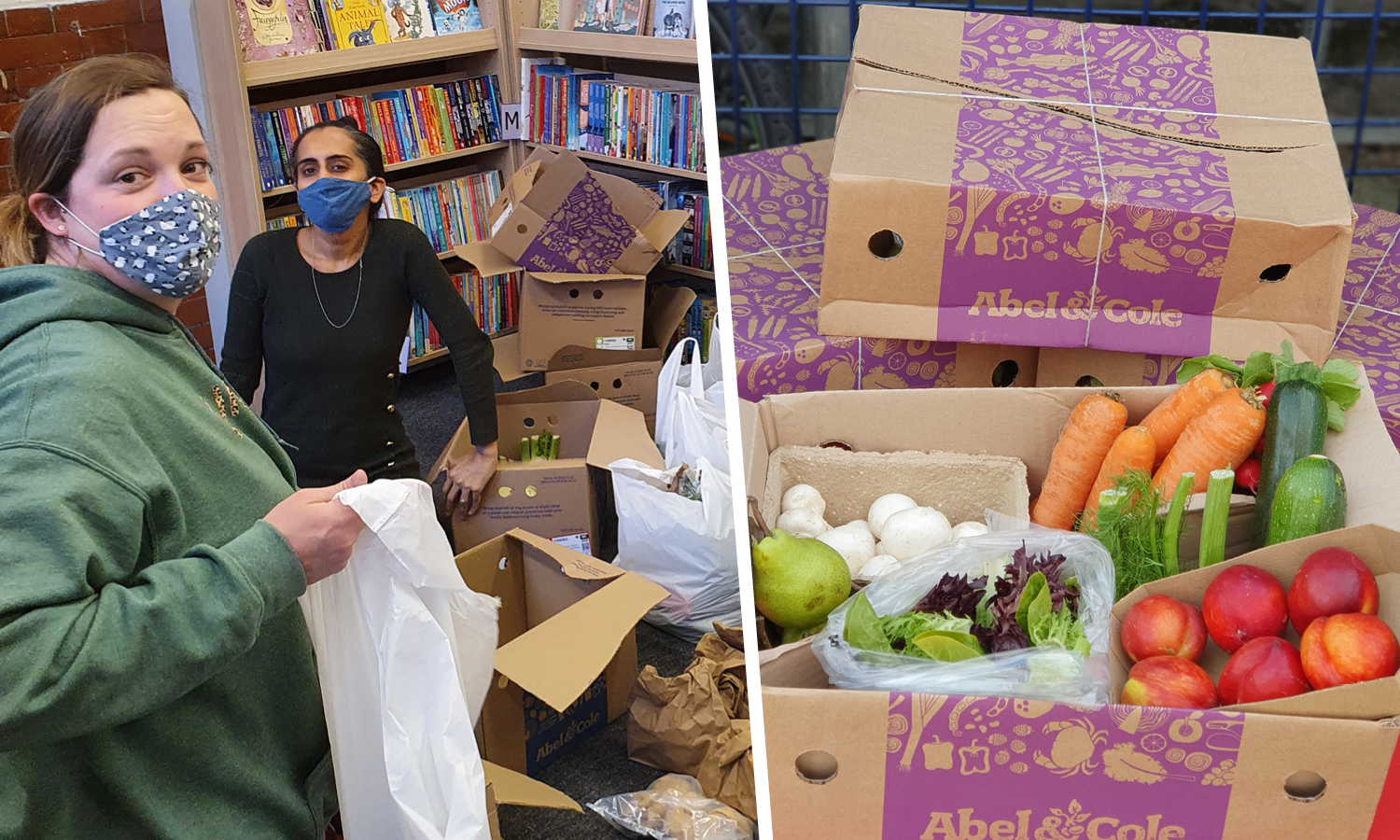 Midwives of the Good Hope Hospital
Despite all the upheaval of the current pandemic, the circle of life continues. Further north, the midwives of the Good Hope Hospital in Birmingham have been rushed off their feet delivering babies round the clock. With little time to shop for healthy meals, Abel & Cole have been dropping off boxes of lush greens to help support the nurses as they meet these new challenges. Midwifery Advocate Kerrie tells us: "It's been really touching, with no fresh produce being available in supermarkets when we've finished our shifts and no online slots available, we've often resorted to purchasing unhealthy ready meals/snacks. We've also been working extra shifts to support the team, meaning shops are often shut when we finish work. Or, we were simply too tired to face shopping! Thanks to Abel & Cole's supporting our team during this difficult time. These healthy donations have made such a difference to team morale and wellbeing."
Dons Local Action Group
Our very own next-door neighbours at Dons Local Action Group, created in response to COVID in the spring of 2020 and now a permanent fixture by our own office have been busy delivering much needed food parcels to those in need across the Merton, Wandsworth and Kingston boroughs with the help of a whopping 18 tonnes of Abel & Cole fruit and veg. We've also provided socially-distanced volunteers (including our very own MD Hannah) to help pack and collect provisions for the 94,316 meals delivered to date.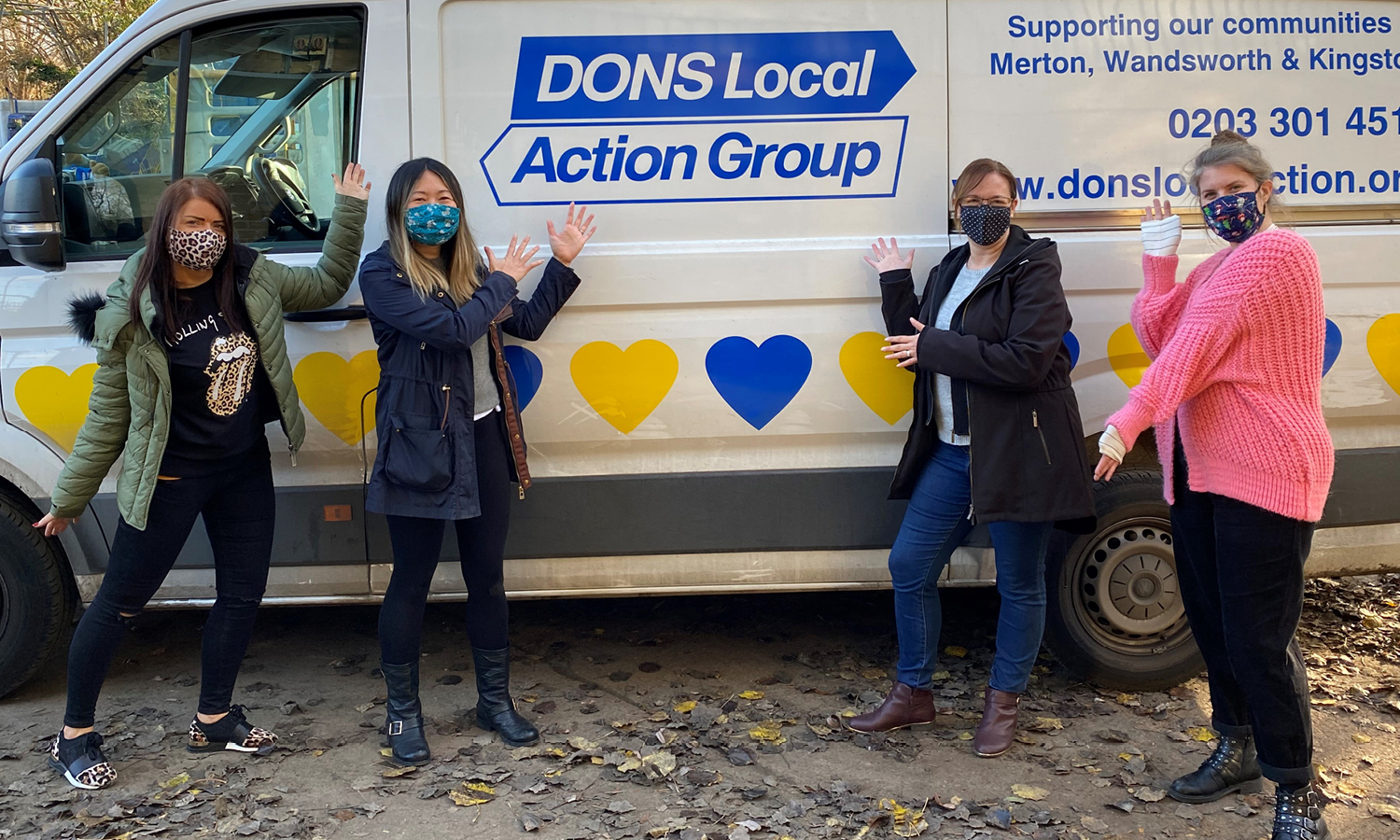 Want to hear more about our volunteer work in the community? Keep your eyes on our social channels for more updates.


Back to top