National Craft Month with Abel & Cole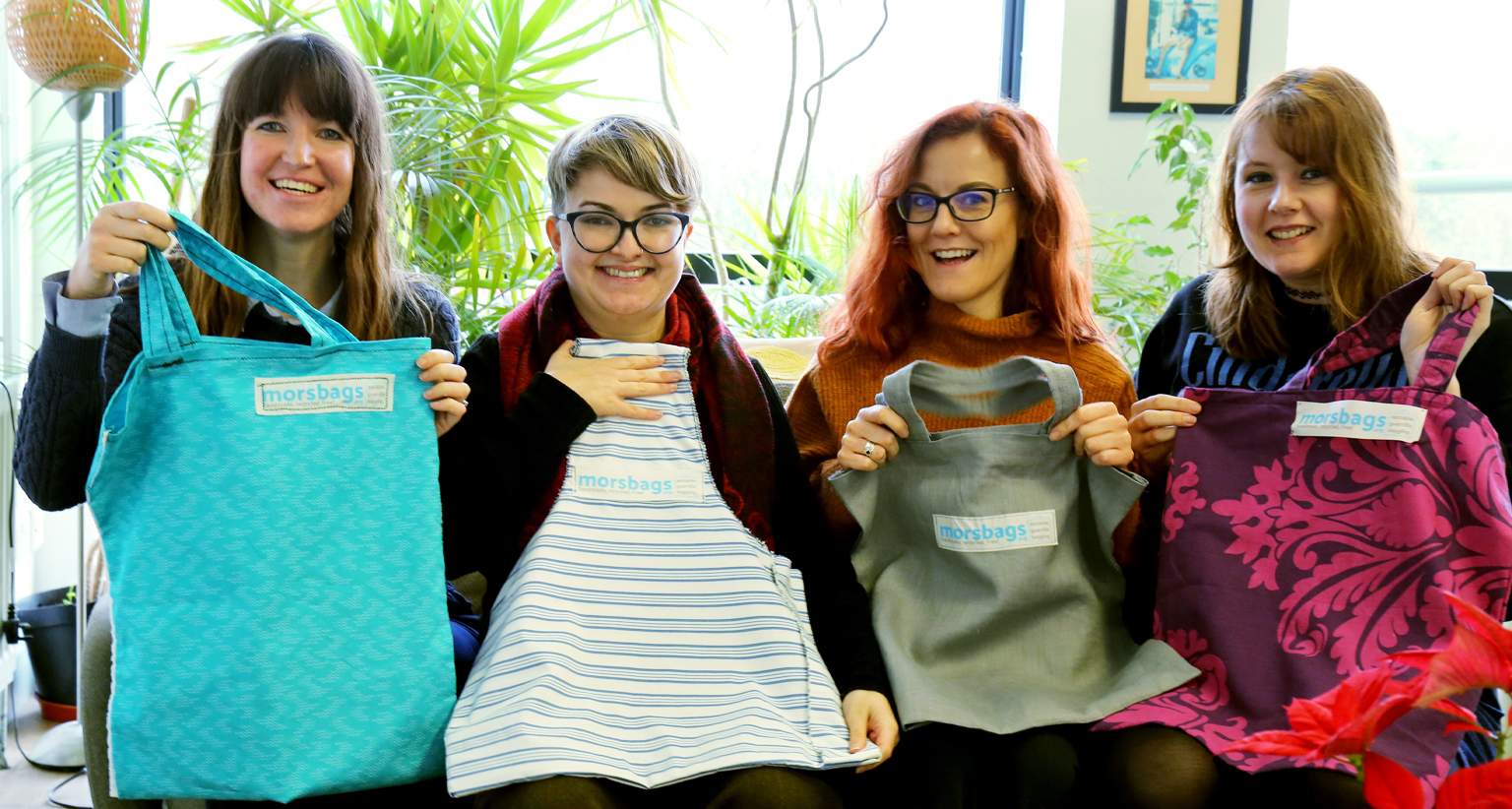 It's National Craft Month and we've been getting busy making Morsbags with repurposed materials. Morsbags are made from leftover materials and make a sustainable solution to plastic shopping bags. We're a crafty bunch here at Veg HQ and have set up our own sewing pod who are building up a Morsbag Library of communal bags. Let's get to know the VegPodders...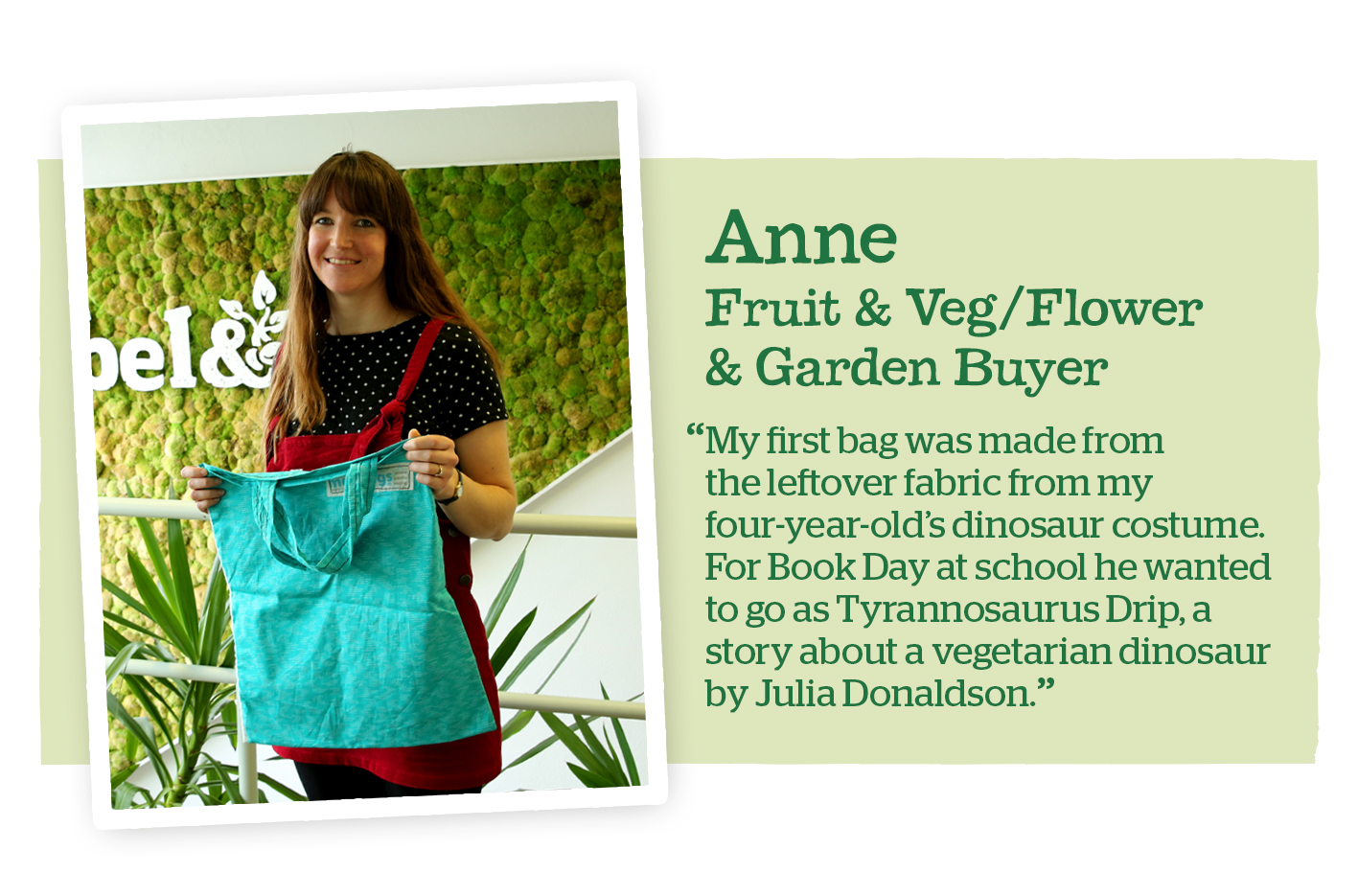 Name: Anne
Job Role: Fruit & Veg/Flower & Garden Buyer
How long have you been crafting? Since I was about four years old, on and off. I used to help my Mum make clothes for my teddy bears and I remember doing a cross-stitch of my name with flowers round the edge. I studied sculpture at university and some of my work incorporated fabric pieces. These days I mostly use my sewing machine to make fancy dress costumes for my two little boys.
Tell us about your bag! My first bag was made from the leftover fabric from my four-year-old's dinosaur costume. For Book Day at school he wanted to go as Tyrannosaurus Drip, a story about a vegetarian dinosaur by Julia Donaldson. I found some turquoise fabric, with little wavy lines in it, to make him a big dino tail, fastened round his waist with elastic. Together with a paper mâché head, the costume was a real hit at school! Sewing really helps me relax – particularly sewing by hand. There's something about the repetitive action that is particularly soothing. Also, the feeling of accomplishment from having made something with my own hands.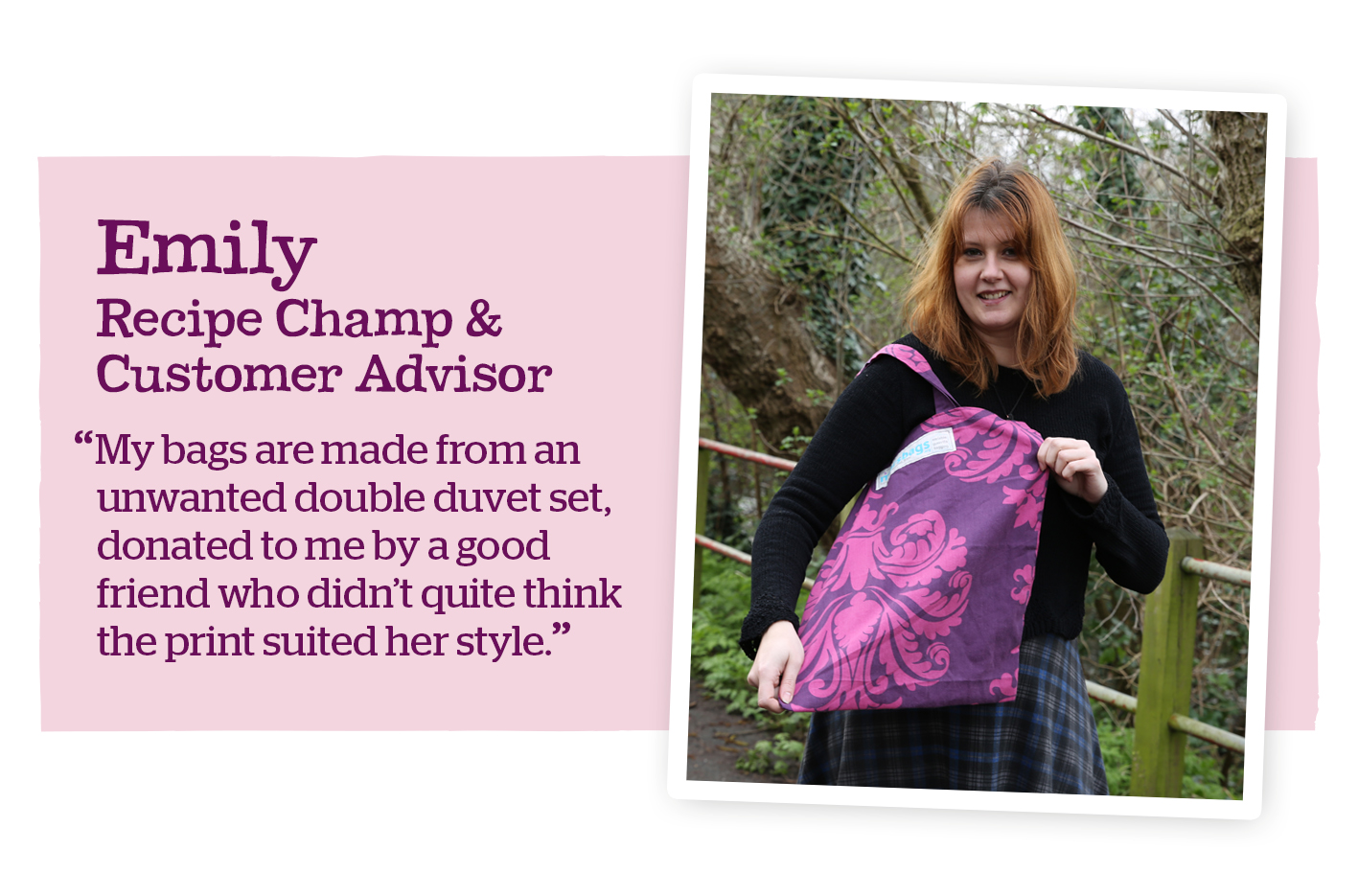 Name: Emily
Job Role: Recipe Champ & Customer Advisor
How long have you been crafting? 5 years. Mainly costumes and clothing!
Tell us about your bag! My bags are made from an unwanted double duvet set, donated to me by a good friend who didn't quite think the print suited her style. Sewing does wonders for my mental health - it's very relaxing and satisfying once it's finished!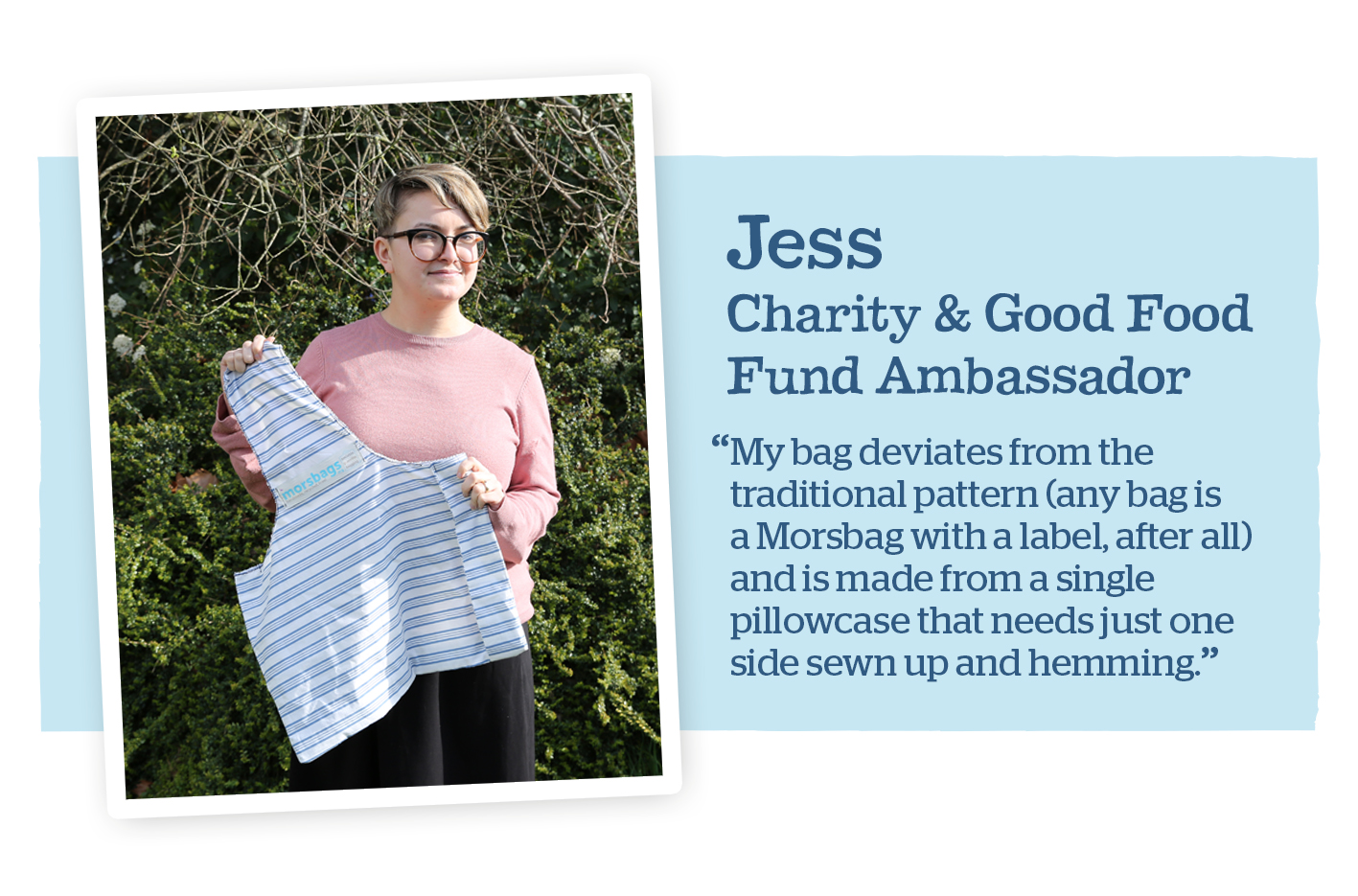 Name: Jess
Job Role: Charity & Good Food Fund Ambassador
How long have you been crafting? I was rubbish at sewing at school but took it up much later in my late teens. I'm now really into dressmaking using similar second hand fabric. My favourite things to make are skirts and trousers from the loudest vintage fabric I can find – usually curtains!
Tell us about your bag! My bag deviates from the traditional pattern (any bag is a Morsbag with a label, after all) and is made from a single pillowcase that needs just one side sewn up and hemming. It's a little hodgepodge, but comes with a handy small pocket in the side to pop your pens, keys or shopping list in so you don't have to go foraging around in the main body. Crafting in general is very therapeutic and is a great way to lift your mood – even if it's only small, making something is a great way to boost your confidence when you feel like you've accomplished something.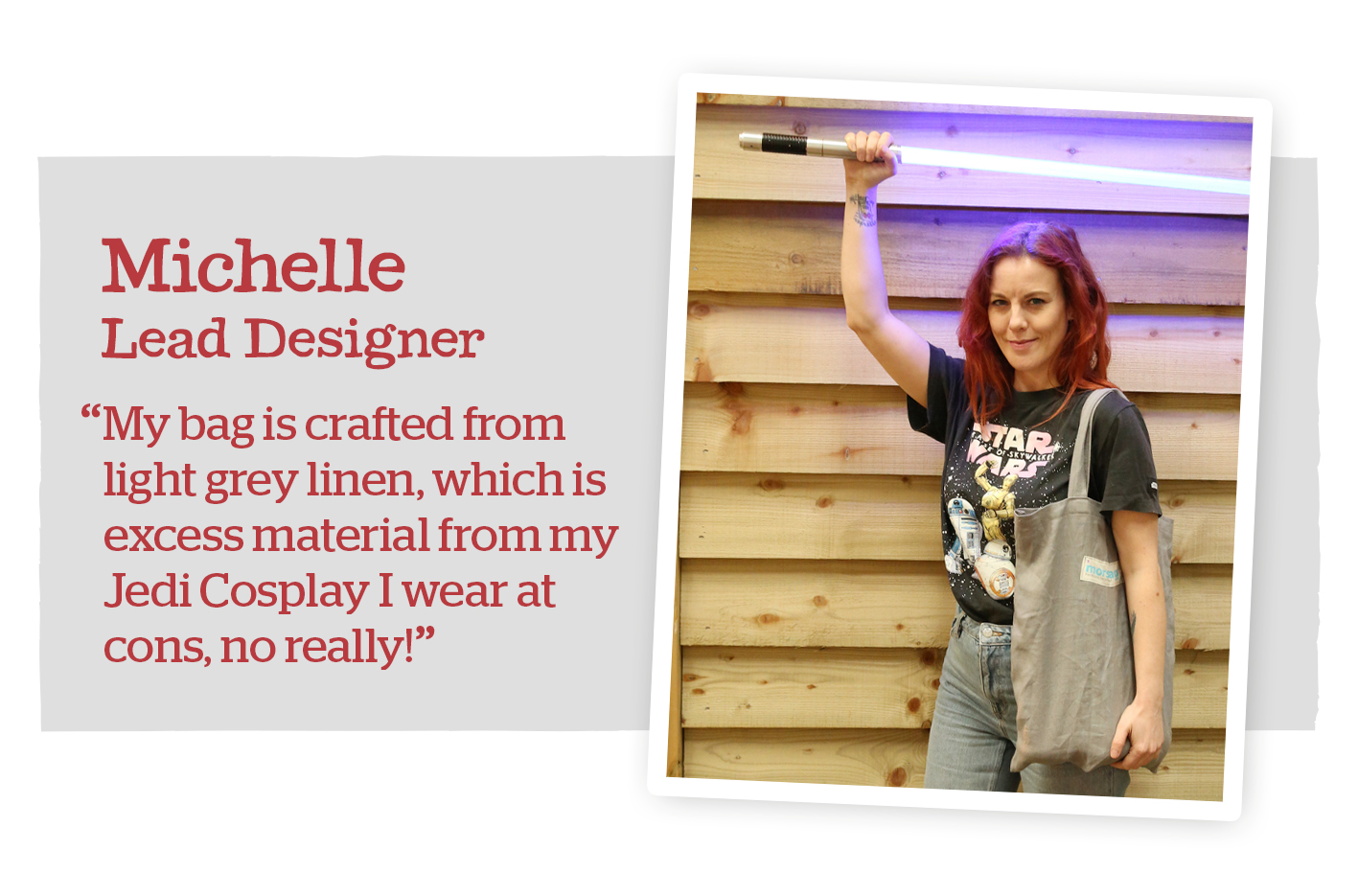 Name: Michelle
Job Role: Lead Designer
How long have you been crafting? For as long as I can remember.
Tell us about your bag! My bag is crafted from light grey linen, which is excess material from my Jedi Cosplay I wear at cons, no really! Sewing is great for mental health – when my machine isn't chewing up the fabric or snapping the cotton, it's usually because I've forgotten to do something obvious! I'm quite terrible though, in that most of my craft projects get done very late at night, as I have no time available during the day. So I tend to be quite tired after. But it's always worth it, when you try on your new outfit and feel a massive sense of achievement – I made that!



Back to top