How to make a canvas tote bag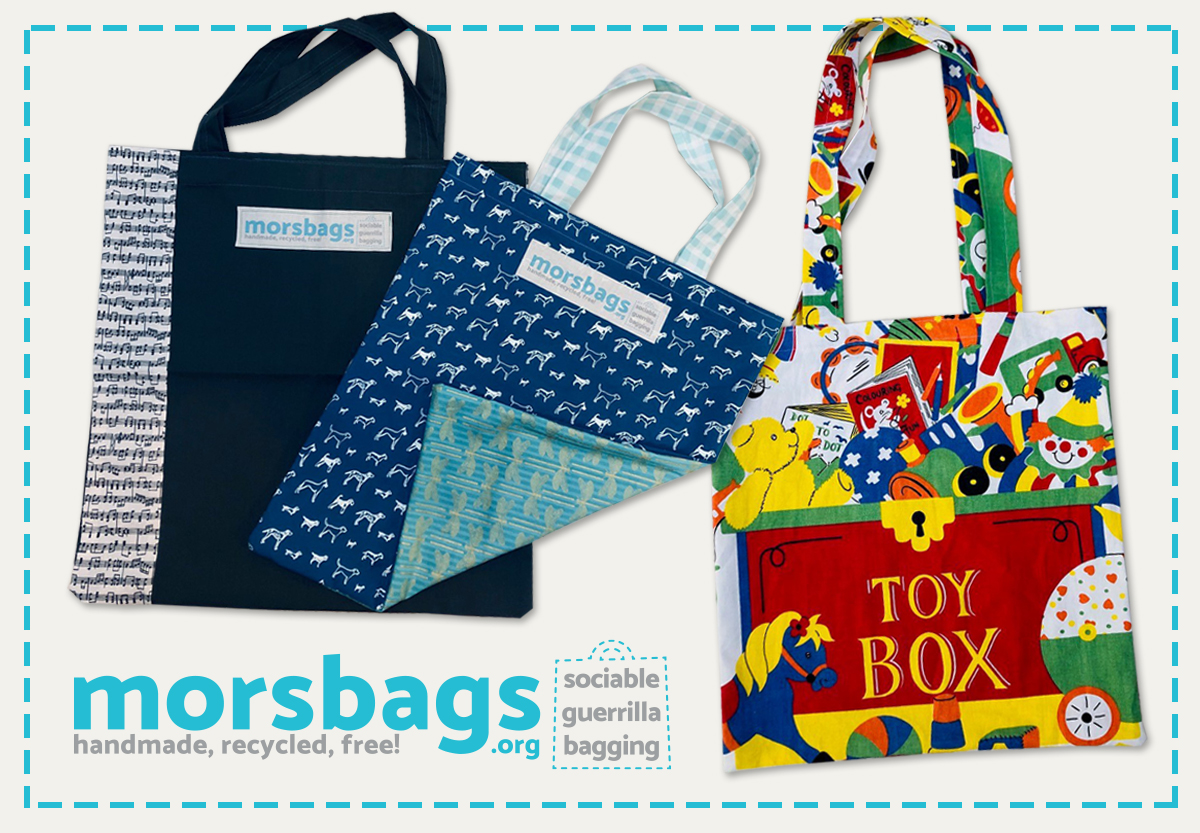 With January providing so many opportunities for sustainable swaps after the traditional excess of Christmas, the new year also proves a great time to look towards making the most of what's already around us and giving some of our tired textiles a second life.

Enter Morsbags, founded by Claire and her husband Joe Morsman. The guerrilla social sewing network saves leftover and unloved fabric from landfills, powered by the passion of volunteers to create hundreds of close-stitch communities.


What is a Morsbag?

A Morsbag (so named from the founder's surname) is a bag made from leftover materials by an individual or Morsbag sewing group (known as a 'pod'). Whether that's scraps from another sewing project, a colourful but worn-out duvet or even a beloved but tired tea towel. Whilst a pattern is suggested, the dimensions and style of the bag is ultimately up to the creator – all it takes to mark it as a bona fide Morsbag is the Morsbag label. The mission? To help shoppers say no to plastic while giving existing materials a new lease of life.

Joe adds, "We chose the name 'Morsbags' because we wanted to stay away from all the commercial 'eco bags' or 'green totes' type businesses out there. We were really stuck so just inserted the 'Mors' of our surname at the start hoping that the obscure and curious name would get people asking what they are (which does work!). Looking back, if we had known how successful it would get, we might have thought harder and not used our name, as we'd rather it reflected more of a community feel rather than anything to do with us as individuals".

Founder Claire fills us in on the network's history and details;
How was Morsbags founded?
It was started in 2007 when Joe and I lived on a houseboat and were distressed by the number of plastic bags floating by, and I was so shocked by finding out where they ended up and the damage they caused to marine wildlife (this was pre the awareness on plastic there is now).

I vowed that we would try our best never to use a plastic bag again and wondered about the best alternative… I thought of fabric as almost everyone has spare fabric knocking about in their homes/airing cupboards (it's strong, washable, often biodegradable and but all too often thrown away before being worn out) but wondered how to make a bag as I didn't know how to sew. My great aunt had just left me a sewing machine, so I asked my mum, Val, to teach me how to use it and to design a usable tote bag pattern – and made our first reusable bags out of some fabric lying in a skip!


What made you decide to start a network?
I thought that if I managed it so quickly and easily, why couldn't everyone else? Joe designed a simple website where we hoped people would find the pattern and help themselves. The only way to advertise the website was by making the bags and labelling them so that a recipient would be given a free Morsbag and would hopefully check the label to make their way onto the website (and from there help themselves to the pattern, make a Morsbag, hand it out… and so the cycle would continue!)

Luckily for us and the turtles and whales, many 10's of 1000's of people have joined in and made well over 360,000 Morsbags (and we know many people don't register their Morsbags – so there are 1000's more out there), which have replaced approximately 200 million plastic bags. We never knew how amazing the 'network' or movement would become: we have schools, nursing homes, food banks, prisons, young offenders, mental health facilities, libraries, churches, mosques, shops, community centres and universities all involved, not to mention many, many generous and committed individuals all over the world.


What are the benefits of using second-hand fabric?
A) It's free and easy to get hold of (everyone can find or get a donation of old curtains, offcuts, tea towels, pillowcases, duvet covers, clothes, shower curtains, etc.)

B) The material has already been produced so refashioning into a Morsbag doesn't involve the use of any more precious resources* or horrid pesticides. Also, it's almost always local - not imported – reducing carbon emissions. (like shop-bought bags for life, which are manufactured abroad and imported)

C) It keeps tonnes of fabric out of landfill! Most charity shops won't take a duvet cover with a hole in, but it can make multiple Morsbags! Lots of lovely memories are also wrapped up in old fabrics – the number of times we hear "oh that's the material I had for my children's bedrooms!" or similar joyful comments!

*For comparison, it takes 200,000 litres of water to produce 1 kg of cotton, the equivalent to a single t-shirt and pair of jeans, worldwildlife.org/industries/cotton


How do you start a pod?
To start your pod, once you've found some friends, (or you can be a solo-podder – we have plenty of those!) think of a pod name and register here: it only takes seconds but ensures the number of Morsbags you make are added to the main tally, adding weight to the movement as a whole – as well as contributing to the sense of community on our pod map!

We've gathered crafty Abel & Colers to form our very own sewing pod, so watch this space for more sustainable reusable adventures!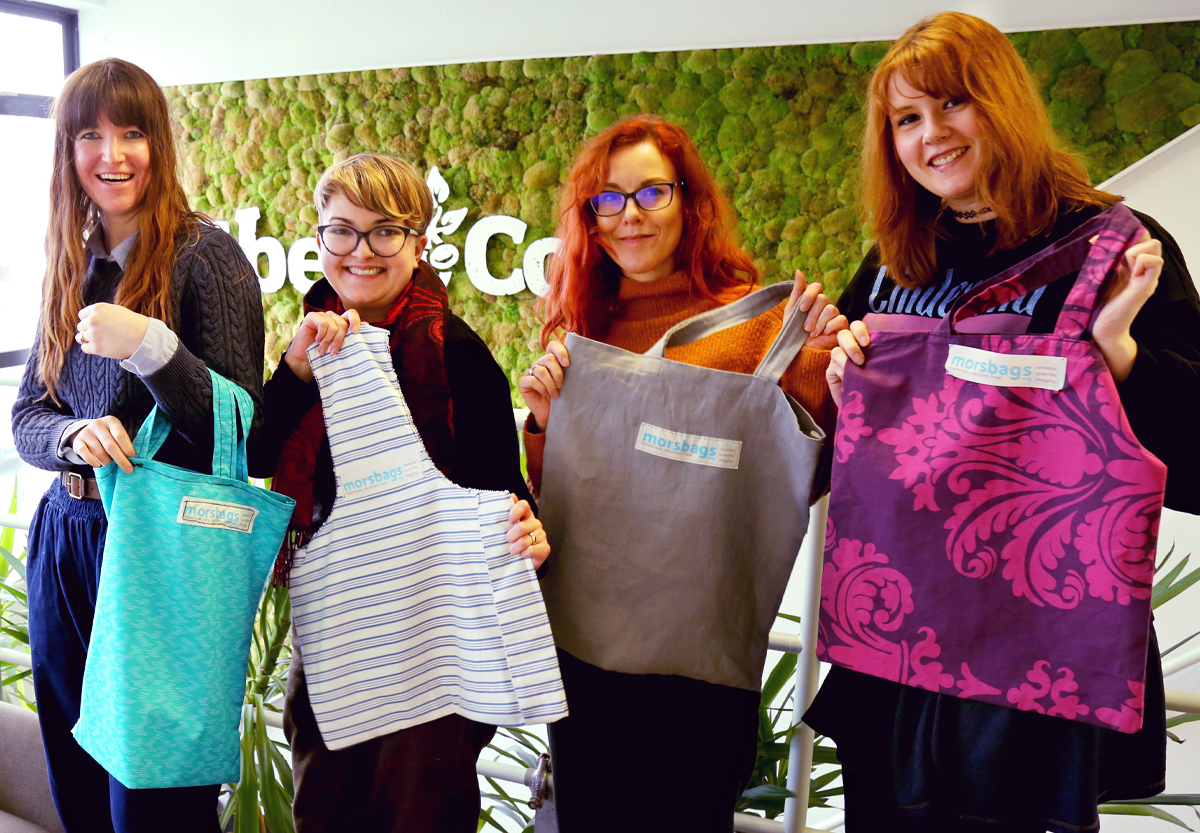 Back to top