Geese of a feather
Hidden away deep in the green haven of Devon, farmer Ben at
Summerhill Farm is looking after 550 organic geese.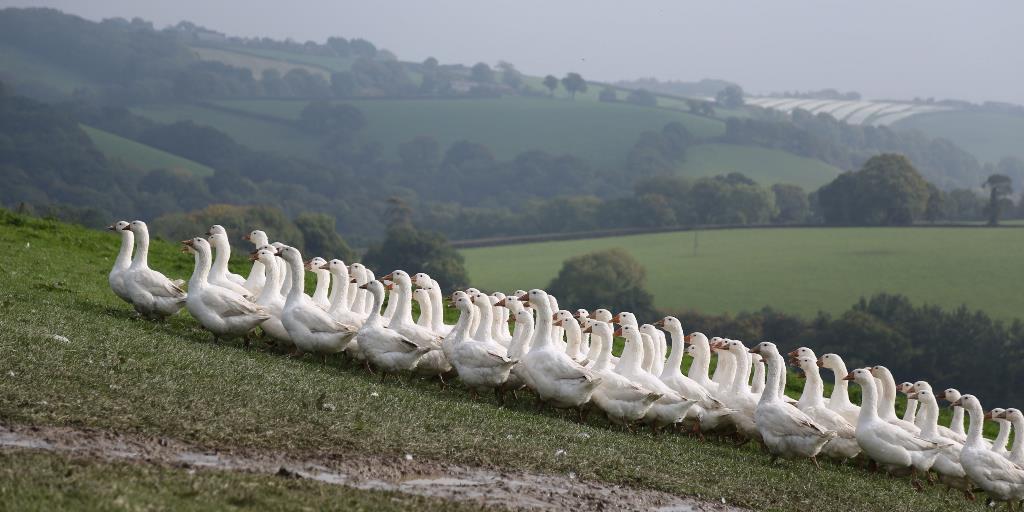 HONK!
There's no room for mystery as to what lies ahead driving up to Ben's 20-odd acre fields. As you can imagine, 550 geese cause quite the hubbub, the honking is constant. They love to chat, after all. Unlike your chickens and turkeys, it's plain to see that geese are certainly a bird of a feather. They're always looking out for each other. You'll always find one or two of them keeping an eye on things as the others graze and munch on the fresh grass. They're incredibly social, and fiercely loyal to their flock. They honk, waddle, and trim the grass all together, all day. Ben's seen the odd Canadian goose on its migratory path flying over his farm, and it's not long before they get chased away by his geese once they've come down for a bit of a gander. "They're grazers, they need space, they need range", says Ben, and the key to his geese being so content is "having enough space for them to keep moving around on it".
Stick together
What really sets Ben and his geese apart though is that they're with him from the moment they hatch. His hatchery is tucked away behind one of his fields and it's kept cosy and warm, so once his geese have paired up and the breeding season is underway, the eggs that have been laid have a comfy place to rest for the four weeks it takes to hatch. Then come early April, once the chicks have wrestled their way out of their eggs – no mean feat – the little Goslings are with Ben until December, waddling, grazing, honking, and growing all the while at their own pace. It's the only place in the UK where this happens. "There's no equation for goose growing", says Ben. It's a fine art, and truly one where understanding the species is absolutely paramount. "I'm part of this system here", is how Ben sees it, and the union he's formed with his land and his geese, and the entire life cycle, is very unique and everything that organic farming represents.
A bird in hand
Find Ben's glorious organic goose in our shop just here.
(The perfect bird for a twist on a traditional Christmas roast.)




Back to top