Championing high-welfare farms

We're expanding our top-quality meat range with new high-welfare and more affordable additions from trusted farms. Our Sustainable Sourcing Manager, Ed Ayton, reports from the fields of Packington and Wood Green Farm. Read how these farms go the extra mile.

Rob Mercer and his award-winning Packington Free Range farm operate to the simple philosophy that good animal welfare is important for looking after the environment and people alike. Unlike factory farmed animals, their pigs are born and reared outdoors according to the strict standards and inspections of RSPCA Assured, and they've scooped a Good Pig Award from Compassion in World Farming for their efforts. The RSPCA's frequent audits, and requirements such as phasing out unsustainable soya, make them a strong assurance of high animal welfare, which is of the utmost importance to the family-run farm.

How are the pigs raised?
The majority of pigs in the UK are intensively raised, kept indoors for their entire lives in facilities akin to animal factories. Many of the practices common to this level of farming are cruel and unnecessary, and that's why we've always sought farmers who go above and beyond for animal welfare.

At Packington, sows live their whole lives outdoors, where they are given their own 'arcs' and plenty of clean, dry straw to build their nests with. The spacious paddocks offered to every pig are sown with grass and clover, which might be expensive to do but provides them with enrichment and forage, and also helps prevent soil erosion. In the fields, wallows have been dug to allow the pigs to mud-bathe, but around the farm the soil is light and free-draining – crucial for keeping pigs healthy in the wetter months. After the pigs have been moved to a fresh patch, the nutritious soil is then used to grow a wide selection of crops, reducing the need for fertilisers across the farm.

Beyond the farm gate
We always look for partnerships with people who go above and beyond, and Packington are no exception. Nearly ten years ago they established their Farmlink programme to deliver food and farming education in schools, teaching 35,000 children in that time. They also power their farm with solar energy generated on the farm, and devote acres to nature with wild bird seed mixes and tree planting.
We've also been working with another Compassion in World Farming award winner, this time Chris from Wood Green Farm, who has been raising organic chickens for us for years. When Chris heard we wanted to expand our range, he took on the challenge, and under his brand 'Ruffles' we'll be selling the same free-range, slow-grown chickens that haven't been certified organic, but have been raised with nearly everything identical to his organic flock.

At the intensive end of the farming industry, chickens can spend their entire lives in an area no bigger than an A4 sheet of paper. As with all of our farmers, we've chosen to work with Chris because of his exceptionally high standards of animal welfare, and the exceptional quality of the meat produced. As well as clover rich pasture to forage and scratch around in, his flock are a breed that grows at a slower, healthier rate than modern breeds designed for battery farming, ensuring good welfare throughout their lives. Working with Chris for this long means we know everything about the farm, even down to the level of enrichment provided.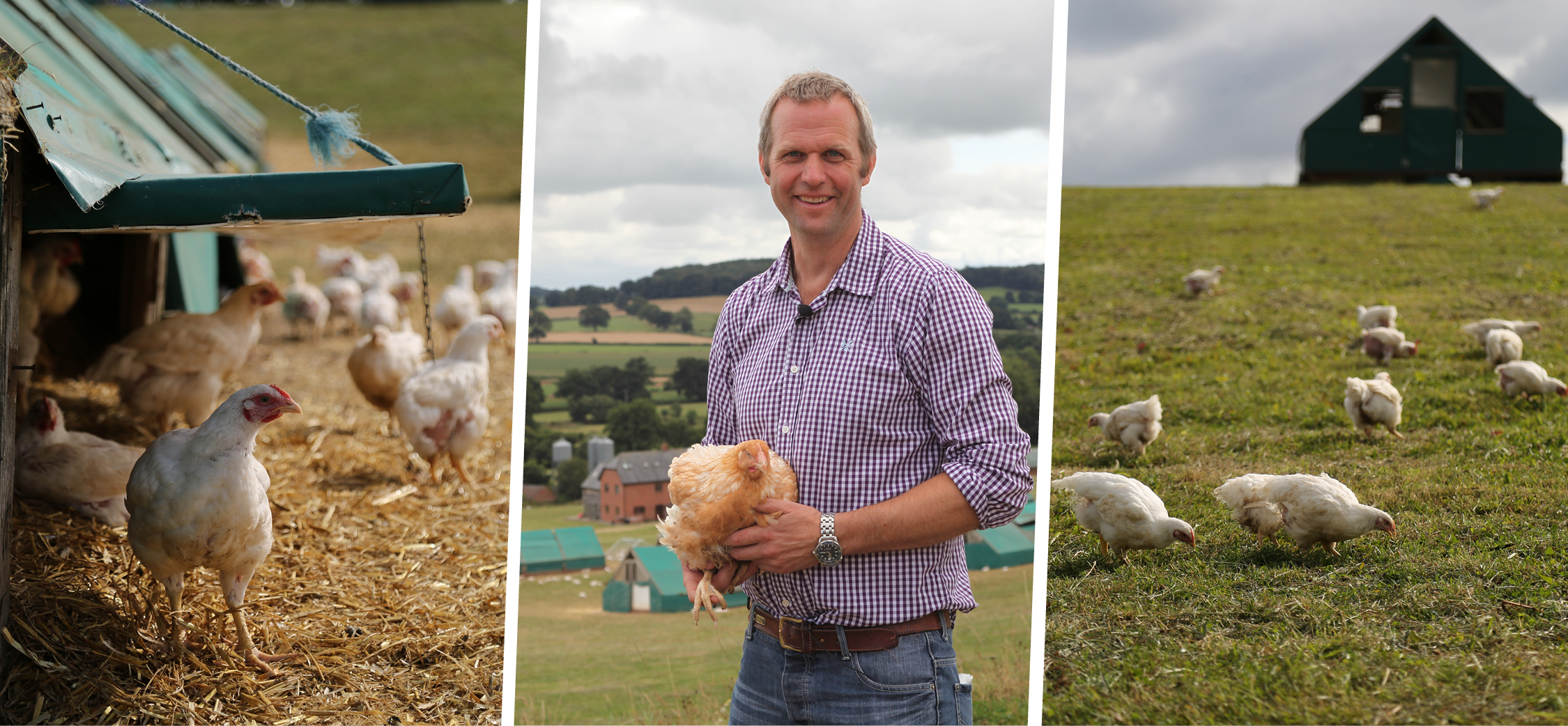 We're proud of every product that sits on our shelves. Each and every one demonstrates a commitment to doing the right thing. Even if it's difficult. And with trusted partners like Chris and Rob, that will never change.
Published May 2023


Back to top