400,000 portions donated to fight food poverty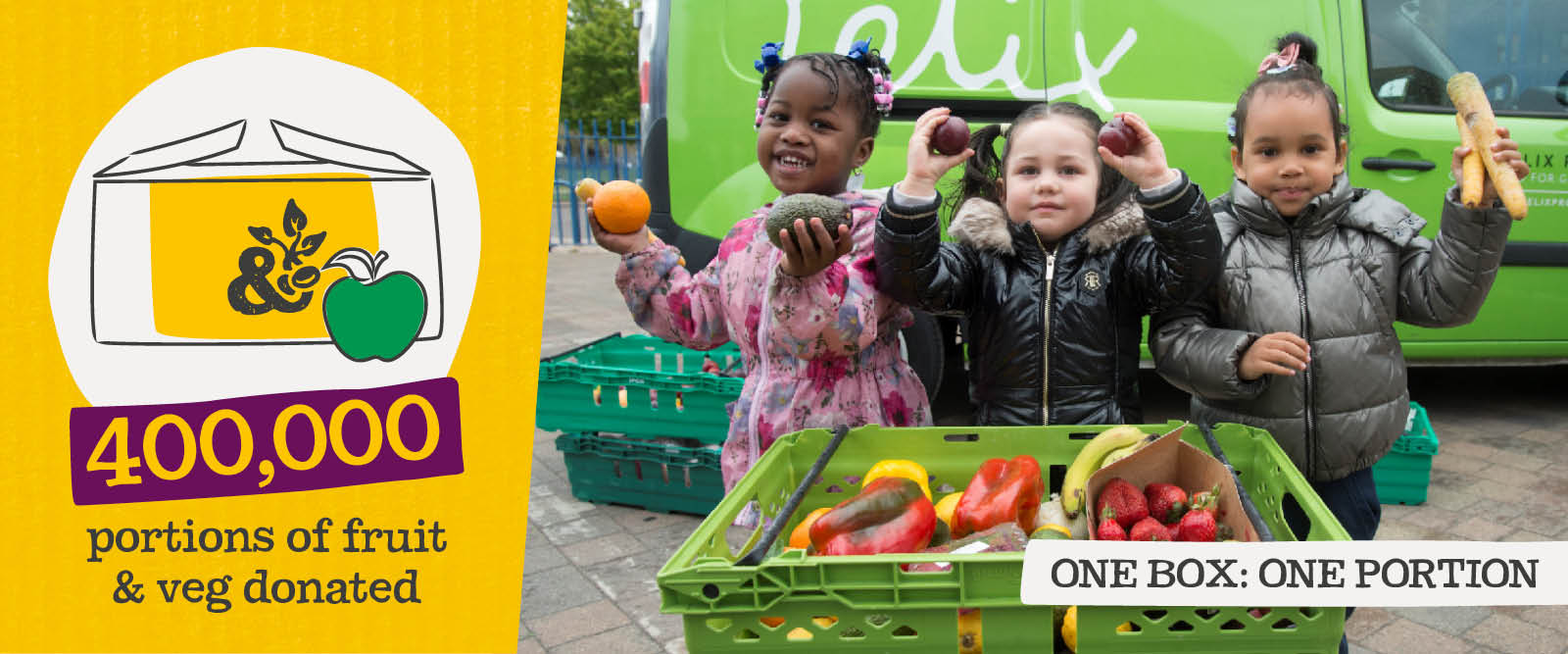 After just six months, One Box: One Portion has donated over 400,000 portion of fresh, organic fruit or veg to our food charity partners. We've donated a portion for every weekly Fruit & Veg Box we've delivered to our green community this year. So we checked in on the charities we've partnered with, to learn more about the effect this huge donation has had on the people they support.
No part of this sizable and life-changing donation would be possible without our three food charity partners, working to distribute the fruit & veg to those that need it. School Food Matters, The Felix Project and Dons Local Action Group have all played a part in supporting the individuals that have suffered the effects of food poverty, supporting their communities in different ways. As the cost of living continues to rise, food bank charities have become a vital lifeline for an increasing number of people. The Trussel Trust, a charity operating a network of food bank charities, revealed that they had to provide 2.1 million food parcels between April 2021 and March 2022. This was a 14% increase compared to the same period between 2019 and 2020 and the first time they'd crossed the 2 million mark since the start of the pandemic. There's no doubting that food charities and food donations are as important now as they have ever been and we're excited to see One Box: One Portion's impact grow
Dons Local Action Group
One of the groups we've been supporting with One Box: One Portion (and a neighbour to our Wimbledon HQ) is Dons Local Action Group. They're a volunteer-led charity, founded in March 2020 in response to the COVID-19 pandemic. One Box: One Portion has seen thousands of portions added to their food deliveries and food banks, but it isn't just food that DLAG supply to those in need. They deliver donated furniture and white goods to low-income homes, and recently sent seven vans of bedding, and warm clothes to help Ukrainian refugees taken in by the Polish Family Association. Their volunteers embody the generous spirit that has helped fight food poverty in the UK and we're proud to have helped with their incredible mission.

"Extra donations from Abel & Cole have allowed us to increase each household we support with more weekly fruit and vegetables. A six-person household for example, receives 16kg a week, enabling families to have a healthier diet at home, whether their children are at school or on holiday." Dons Local Action Group


The Felix Project
The Felix Project's fight against food poverty takes surplus fresh food that can't be sold and puts it in the hands of those in need. They've been one of the leading charities to tackle food poverty in London since 2016 and their volunteer-staffed kitchens and food banks help around 260,000 people every week. Through The Felix Project's network of over 1000 front-line charities, One Box: One Portion has helped vulnerable individuals in need of fresh, healthy food.

"Food donations from Abel & Cole made a huge difference to families in London, over the recent Easter half-term. With the rising cost of living, many more people faced a struggle, particularly during the school break when there was less support for families. Throughout Easter, Felix was on the road delivering good food to over 80 holiday programmes, as well as our usual charities, food banks and shelters. We can't thank Abel & Cole enough for the wonderful produce which made such a difference to so many lives." The Felix Project


School Food Matters
Education mixes with food donation under School Food Matters, tackling the issue of food poverty amongst children. School Food Matters advocate for better school meals alongside parents and teachers but also teach children more about the food they eat. Their campaigns cover everything from growing vegetables, learning to cook and even selling food at a market. Their focus isn't just on lessons however. Outside of term-time, School Food Matters' holiday programmes provide children with hot and healthy meals when there's no school meals. Our One Box: One Portion donations have helped reinforce the importance of fruit & veg in a child's diet, forming healthy eating habits at an early age.

"The fruit received by Abel & Cole has been fantastic so far and has been well received by students, staff, parents and carers. It is a welcome addition to our school day and helps build excellent habits around healthy eating within our school community. We are extremely grateful to Abel & Cole for choosing our school for this excellent initiative!" Bacons College, London


After just six months, One Box: One Portion has donated an amazing 400,000 portions and we're incredibly excited to see how much we can achieve in the future. We owe a huge thanks to everyone in our green community who has shopped with us, choosing to better with every box on their doorstep. You have helped make a real difference in the fight against food poverty and we can't wait to reach our next milestone.
Published May 2022
You can track the running total of donated portions, by heading to our One Box: One Portion page, here. And if you'd like to join the fight against food poverty, explore our collection of weekly Fruit & Veg Boxes and find the one for you, here. Together, we can fight food poverty. One box at a time.


Back to top