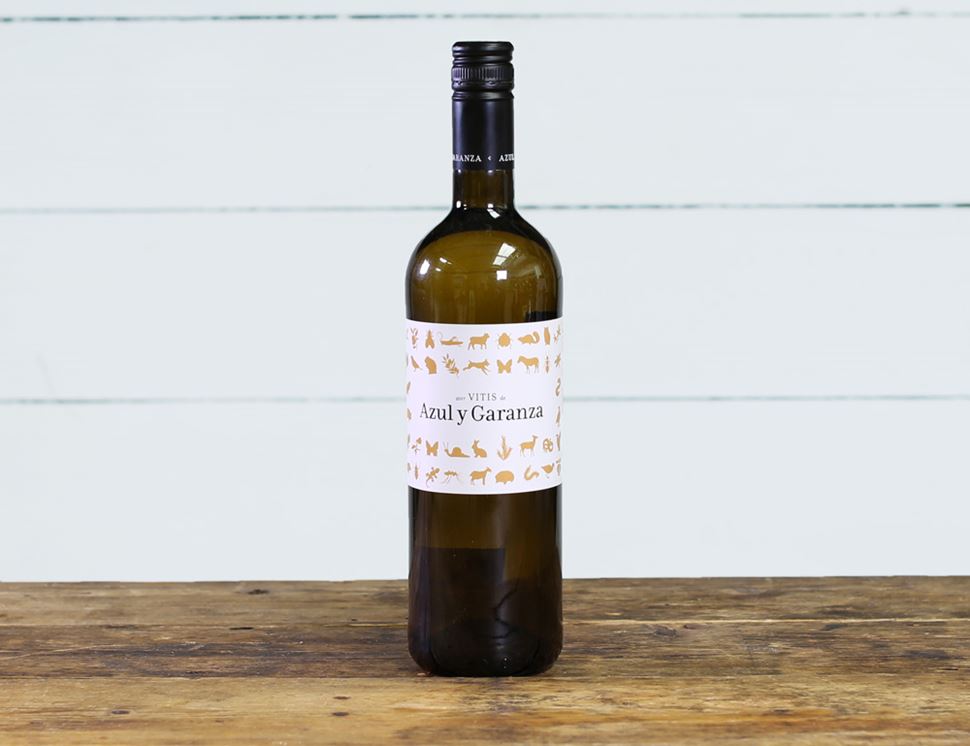 Vitis de Azul y Garanza 2017, Organic (75cl)
Order now for deliveries from 23rd September
This lengthy, textural blend of Viura and Garnacha Blanca is truly a hidden gem of the Navarra region. The long Summer days and cool nights in the vineyard ensure a beautiful balance of acidity and weight of fruit resulting in a wine that is ripe but dry with notes of wild fennel, pear and apricot. Caution! This is a hard bottle to put back in the fridge once opened! Stick to pairing with Spanish-inspired dishes.

Grape: Viura & Garnacha Blanca
Region: Navarra, Spain
Vineyard: Azul y Garanza
Vintage: 2017
ABV: 12.5%
Self-confessed vineyard explorers and wine dreamers Azul y Garanza are situated across 40 hectares in the heart of Navarra, a mountainous portion of Northern Spain that borders the Basque Country, Rioja and Aragon and whose viticultural history can boast dating back to 2BC. As with many regions in Spain, Navarra's reputation in the past few decades has struggled to compete with the dominating forces of Rioja but as with any good underdog story, it's all about who you talk to. Navarra is a great place to grow vines, the extremes of climate and poor quality in the soil mean that hardy vines need to dig deep through the soil to reach the nutrients they need; adding concentration and nuance to the wines produced. The region has also experienced a renaissance in recent years, with many winemakers focussing on crafting lower quantities of high quality, terroir-driven wines to rival the very best wine in production in Spain and at highly competitive price points. Vignerons Maria Barrena and Dani Sanchez of Abril Azul y Garanza are fiercely protective of their Navarra terroir, promoting richer ecosystems by planting trees and native aromatic plants around their vines that nourishes the landscape which in turn produces happier, healthier vines and wonderful wines.
Grapes*, Yeast.

Allergen information: Contains sulphites.

* = produced to organic standards.

ABV:12.5%
Store in a cool, dry, dark place. Once opened, reseal and consume within 24 hours. Not suitable for home freezing.
You might also like to try...