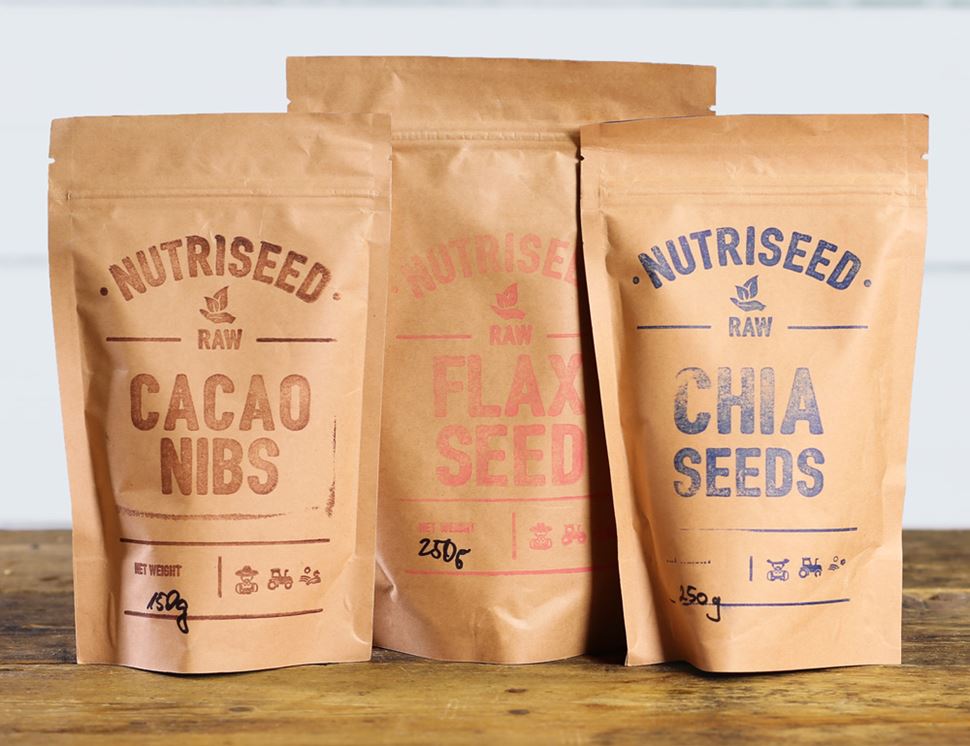 Nutriseed Seed & Cacoa Bundle, Organic, Nutriseed
Get three brilliant supplements in one with our Seed & Cacoa bundle; perfect for whipping up a quick smoothie, sprinkling on cereal or mixing into your favourite muffin mix for a healthy protein packed alternative.

Nutriseed Organic Ground Flaxseed is sourced from a local family-run farm in the British countryside, where it is freshly harvested throughout the year. Rich in dietary fibre, add Nutriseed Organic Ground Flaxseed to your smoothies, shakes and healthy bakes, or even use it as a vegan-friendly egg replacement.

Nutriseed Organic Cacao Nibs are sourced from the heart of the homeland of the cacao plant, in Peru. Here, local farmers use traditional farming methods to harvest the cacao beans and ferment them into cacao nibs. Rich in dark chocolate flavours, Nutriseed Organic Cacao Nibs are perfect for blending into porridge, smoothies and healthy bakes.

Nutriseed Organic Chia Seeds are the perfect addition to smoothies, porridge and healthy bakes, providing vegan-friendly protein and fibre with every bite. Sourced from an organic farm in Peru, these tiny but powerful seeds are a versatile ingredient that can easily be added to all sorts of healthy recipes.


This young British start up began by revolutionising a humble bowl of porridge and what started as a way of making something honest (without e-numbers and hidden refined sugars) soon caught on with the Nutriseed gang. Their philosophy about food is simple; no tampering, no complicating – just all-round natural goodness using fantastic quality ingredients.
You might also like to try...