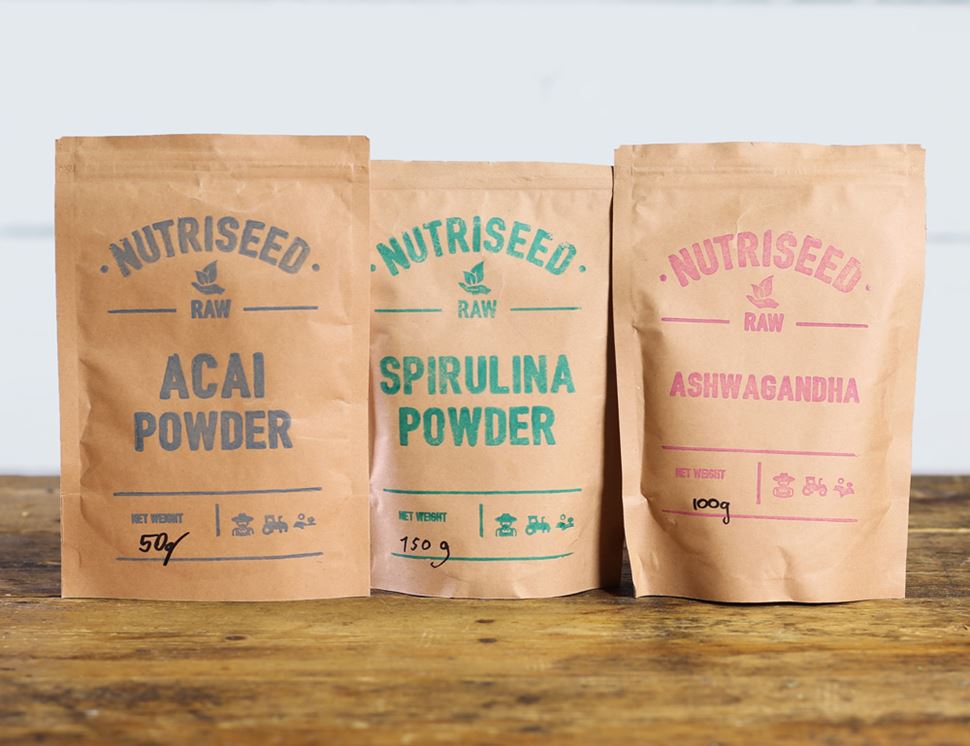 Nutriseed Breakfast Bundle, Organic, Nutriseed
With so many superfoods out there, it can leave us all scratching our head when it comes to decision time. That's why we've created the Nutriseed Breakfast Bundle. The perfect mix - or let's say, starter pack - for those taking a leap into the world of superfoods. This bundle contains everything you need for a wealth of vitamins and minerals to scoop into that morning bowl of cereal or smoothie of yours. Spirulina is a blue-green algae, and is known as being one of earth's very first life forms. Nutriseed Organic Spirulina Powder is cultivated in the depths of the coast of Hai Nan, a sub-tropical island of China, away from the hustle and bustle of the big cities. Add Nutriseed Organic Spirulina Powder powder smoothies, shakes and freshly made juices for an extra nutritional boost. Renowned for its adaptogenic qualities, ashwagandha root has been used in Ayurvedic healing for thousands of years, known for aiding people suffering with stress and sleep loss, whilst also providing a gentle energy lift when needed. Organically grown and processed in its purest form, Nutriseed Organic Ashwagandha Powder is sourced from India, and is best added to smoothies, shakes and hot drinks. Add Nutriseed Organic Acai Powder to your smoothies, juices and health shakes for a boost in earth-grown, antioxidant-rich nutrition. Sourced from Brazil, these renowned Amazonian berries are picked and freeze dried within 24 hours of harvesting to ensure freshness, and is the perfect addition to give your smoothie bowl the rich colour and healthy benefits you're after.
This young British start up began by revolutionising a humble bowl of porridge and what started as a way of making something honest (without e-numbers and hidden refined sugars) soon caught on with the Nutriseed gang. Their philosophy about food is simple; no tampering, no complicating – just all-round natural goodness using fantastic quality ingredients.
You might also like to try...