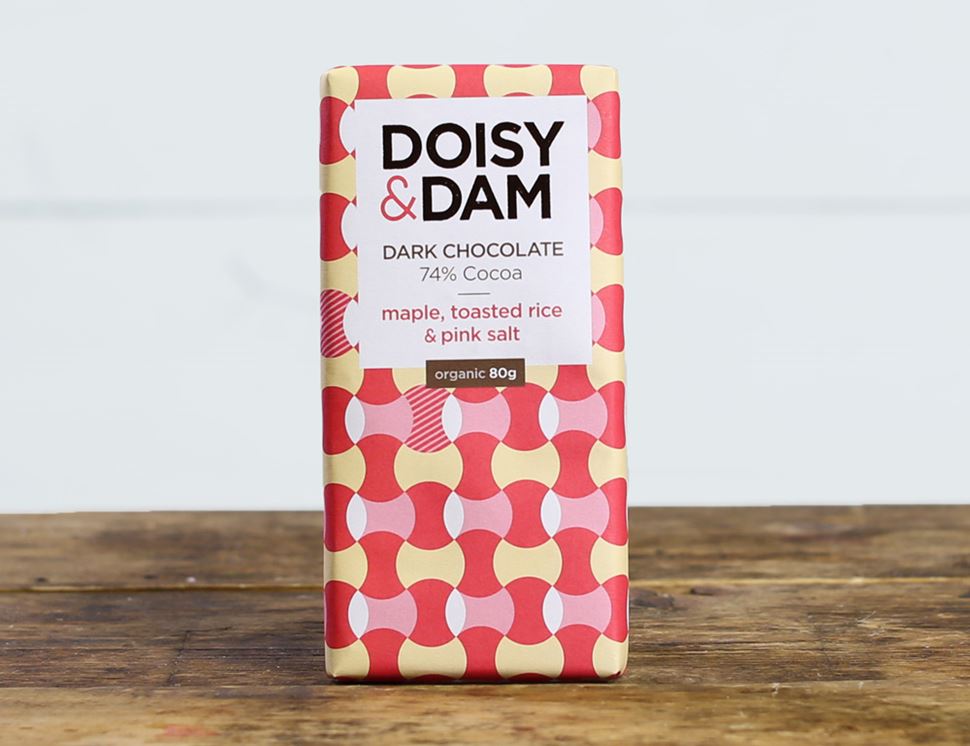 Maple, Toasted Rice & Pink Himalaya, Dark Chocolate, Doisy Dam, Organic (80g)
Take a drizzle of pure Canadian maple syrup, a sexy sprinkling of Himalayan Pink Salt and a scattering of lightly toasted wholegrain rice; and you get a crispy caramel bar of delight. This is vegan chocolate wizardry at it's finest.
Dreamt up by childhood best friends Ed Smith and Richard Wilkinson, Doisy & Dam fuses indulgence with a hit of superfood goodness. The two came up with the idea to infuse chocolate with precious, nutritious, ethically sourced, organic ingredients after leaving their corporate jobs in the City of London. And aren't we glad they did.



Dark Chocolate (Cocoa Mass, Organic Cane Sugar, Cocoa Butter, Vanilla Powder), Pure Canadian Maple Syrup (6%), Toasted Brown Rice (3%), Himalayan Pink Salt (0.4%)
Energy 552 kcal (2287 kJ) Protein 7.3g Carbohydrate 34g Of which sugars 26g Fat 41g Of which saturates 25g Fibre 10.2g Salt 0.44g
Store in a cool, dry place below 18 degrees for maximum deliciousness.
You might also like to try...