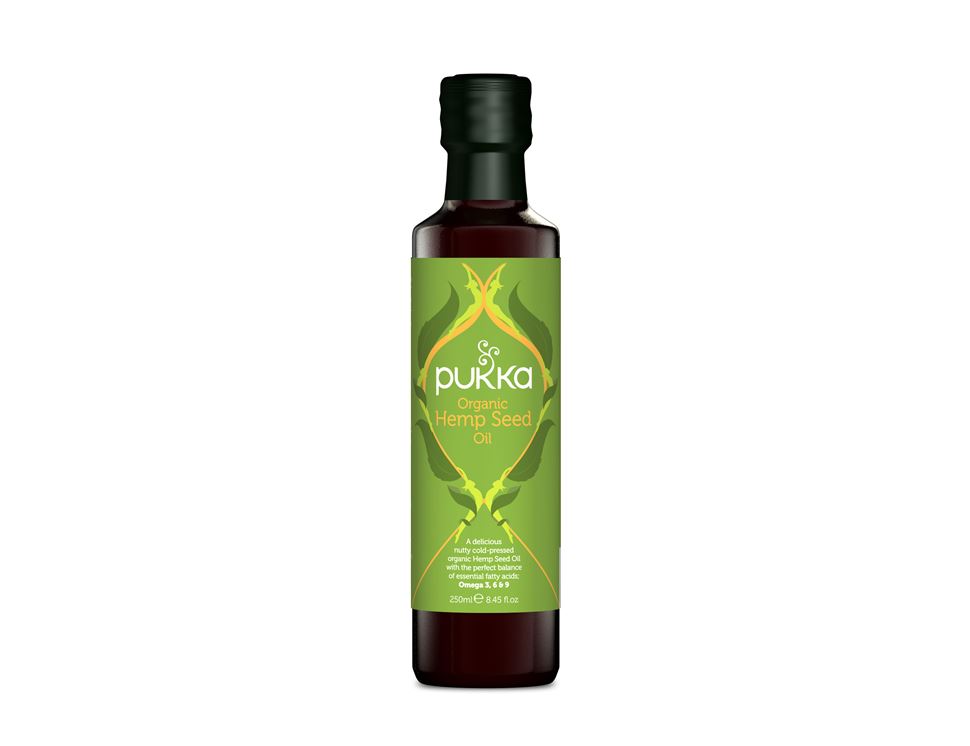 Hemp Oil, Organic, Pukka (250ml)
Cold pressed Hemp Seed Oil is a delicious oil with nutty flavours, it's a perfect balance of nourishing essential fatty acids with Omega 3,6 and 9. This one's not suitable for cooking as it tastes perfect as it is.
In 2002, Tim Westwall put an ad in a local magazine, asking, 'Do you want to grow business in a healthy way?' He only got one reply, from Sebastian Pole. Sebastian is a qualified practitioner in Ayurveda (the ancient Indian art of living wisely), Chinese and Western herbal medicine. They set up business in Tim's spare room, making delicious teas from organic herbs with a focus on wellbeing. Pukka have grown their business by making sure their herbs are from organic and sustainable sources.
Hemp seed oil* * = produced to organic standards.
Nutritional Information per 100g/ml Energy: 976kcal, 4013kj Protein: <0.1g Carbohydrates: <0.1g of which sugars: <0.1g Fat: 99.9g of which monounsaturates (Omega 7 & 9): 12.04g of which saturates: 10.52g of which polyunsaturates: 76.9g of which Alpha Linoleic acid (Omega 3): 18.04g of which Linoleic acid (Omega 6): 55.4g
Delicious on food or in smoothies. Alternatively take 2 tablespoons twice a day as a tonic oil. Store in a cool place & refrigerate after opening. Use within 6 weeks of opening.
You might also like to try...