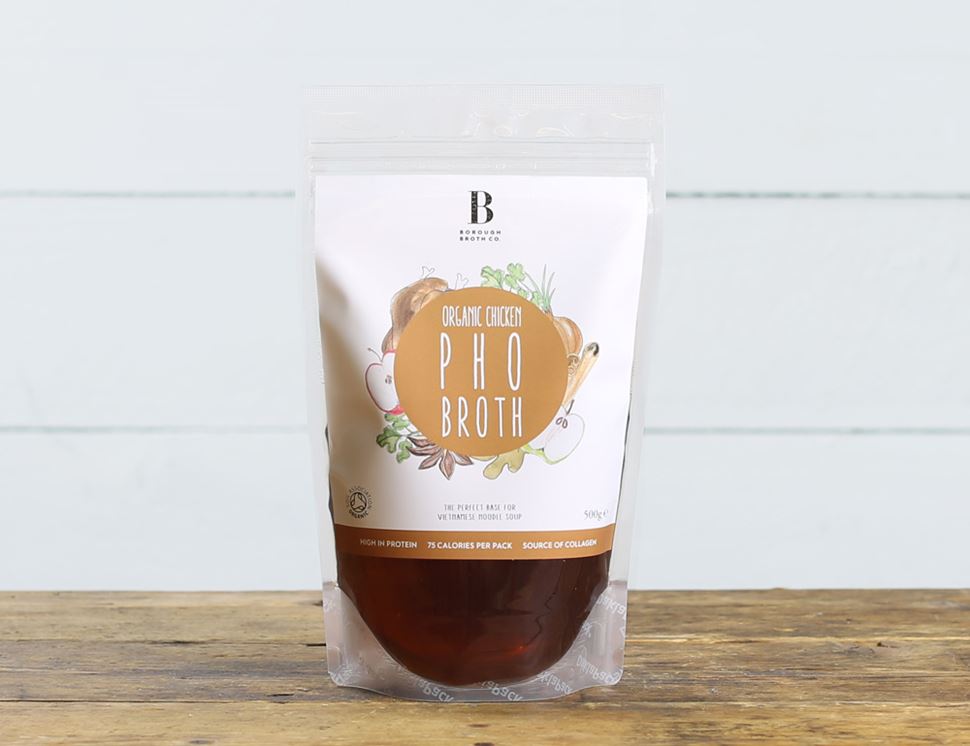 Chicken Pho Broth, Organic, Borough Broth Co (500g)
This chicken bone broth is made using the carcasses of organic laying hens from the British egg industry and is the ideal base for a hearty bowlful of Asian-style pho soup. Traditionally made with rice noodles, meat, vegetables as well as fish sauce and sriracha – it's a speedy supper that's ready in minutes and packed with a hearty umami flavour.
Ros created the Borough Broth Company back in 2015, when she was horrified to find the levels of added sugar, preservatives and MSG in even the premium brands of broth available on the market. She knows that a good broth starts with actual bones, and that's exactly what you'll get with her delicious and responsibly-sourced creations.
Spring Water, Chicken* (29%), Onions*, Apples*, Ginger*, Fish Sauce (Fish, Salt), Cinnamon*, Pink Himalayan Salt, Coriander Seeds*, Coriander Leaves*, Star Anise*, Cloves*

*= Produced to organic standards

May contain traces of nuts
Nutritional Information per 100g/ml
Energy (kJ): 63
Energy (kcal): 15
Protein (g): 1.6
Carbohydrate (g): 0.8
of which sugars (g): 0.8
Fat (g): 0.5
of which saturates (g): 0.1
Salt (g): 0.6


Store refrigerated and enjoy within use by date.
Once opened, keep refrigerated and use within 24 hours. Do not refreeze after defrosting.
Suitable for freezing on day of purchase for up to 6 months.

Bring to the boil until piping hot. Our broth is good enough to sip straight from a mug or you can use it as a stock in your home cooking.
Microwaves vary, these are guidelines only. Pour into a microwavable bowl or mug. Microwave at 900W for 5 minutes, stirring halfway through. Ensure broth is piping hot. Leave to stand for 1 minute before serving.


Food contact material: OPE /PE MD 30+100 (solventless glue) - Recyclable
Contains BPA: No
You might also like to try...