The Boom Awards
News just in, our organic large eggs and Guernsey milk have
both been shortlisted for Soil Association Boom Awards.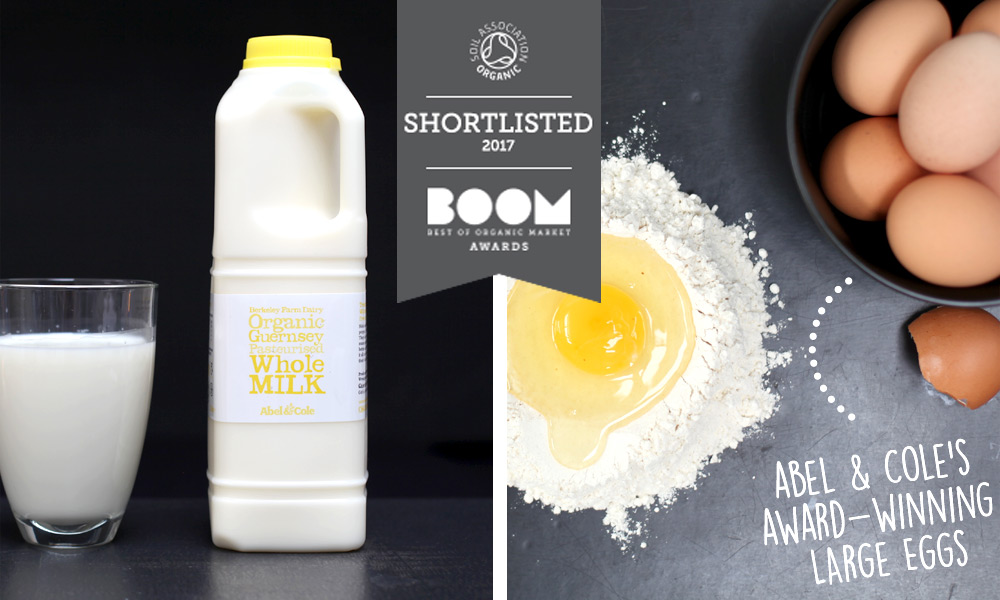 They're back. They've even won awards. (I didn't know awards can be award winning too, but they can and the Boom Awards are!) BOOM stands for Best of Organic Market and they're all about seeking out and celebrating organic makers, servers, sellers who bring real food as it should be.

We're thrilled to say Nick Gosling's stunning organic Guernsey milk and Andrew Jackson's eggs have both been shortlisted for awards. A terrific achievement for these two cracking farmers.

The Gosling dairy queens
We go way back with the Goslings. For the past 15 years we've worked together to make milk taste the way it ought to. It's always been a winning partnership, and we're great admirers of the way they take care of the animals as well as the Wiltshire land they roam. Nick and Christine see that every blade of grass munched by a Berkeley Farm cow is organic, the milk is creamy and unhomogenised and that the whole herd is healthy from head to hoof. These cultured cows are even partial to a spot of classical music in the milking parlour. Skip to all their milk just here.

Andrew's organic eggs
Meanwhile, Andrew Jackson (and a flock of other organic farmers we know and trust) bring you the best organic eggs from hens that roam free, feed, scratch and cluck about naturally on organic pastures. Our egg hero Andrew Jackson has made a little chicken paradise on his organic Wiltshire farm. Everything about the way he runs his farm is natural, healthy and sustainable. The health and welfare of his hens come first. Andrew sends us eggs of all sizes, even the smaller ones that hens lay first of all. They don't fit the standard medium or large size the bigger shops think we're expecting. We think that's a waste of a good egg. We're clucking the trend by taking all of Andrew's eggs.

No matter the outcome, we think our organic eggs and milk are truly special.


Back to top