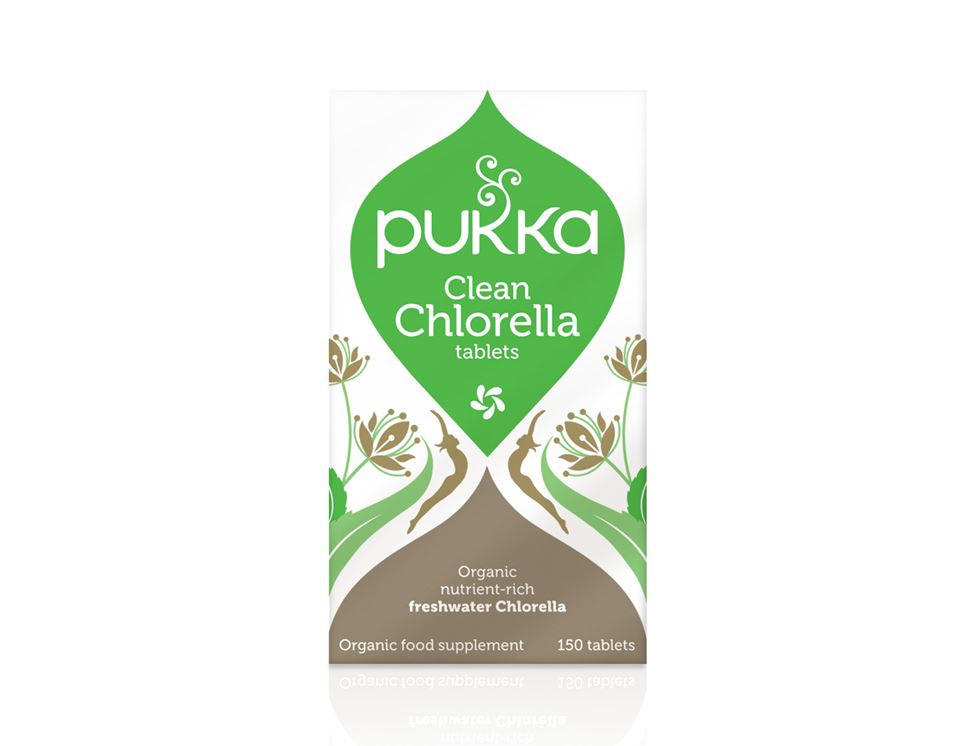 Clean Chlorella Tablets, Organic, Pukka (150 tablets)
Chlorella cleanses, alkalises and supports immunity, with high chlorophyll content and chlorella growth factor. It's nutritionally dense, with antioxidants, amino acids, proteins, essential fatty acids, vitamins, minerals and nucleic acids.
In 2002, Tim Westwall put an ad in a local magazine, asking, 'Do you want to grow business in a healthy way?' He only got one reply, from Sebastian Pole. Sebastian is a qualified practitioner in Ayurveda (the ancient Indian art of living wisely), Chinese and Western herbal medicine. They set up business in Tim's spare room, making delicious teas from organic herbs with a focus on wellbeing. Pukka have grown their business by making sure their herbs are from organic and sustainable sources.
Chlorella* (cracked cell). * = produced to organic standards. Free from dairy, wheat, gluten, added sugar and soya.
Each serving gives you 2.5% Chlorella Growth Factor, 3.2% Chlorophyll and well over 100% RDA of vitamins A, D and B12, as well as a wide range of dietary carotenoids and trace minerals. See full nutrition breakdown here
First week: 2-4 tablets per day with water or Pukka Organic Aloe Vera Juice before or after meals. Thereafter: 6 tablets per day. Optimum: 6 tablets 3 times a day. 150 tablets gives you 25 days supply taking 6 tablets per day. Store away from direct sunlight below 30C. Keep out of reach of young children. Seek professional help during pregnancy. Do not exceed the recommended daily intake. Do not use this product as a substitute for a varied diet.
You might also like to try...