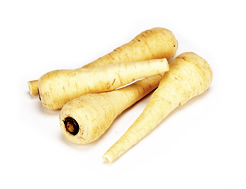 Parsnip recipes
Here's a collection of parsnip recipes from our weekly newsletters, and some lovely ones you've sent in. If you'd like more please have a look at our recipe index! To find out about our parsnip producer and order yours click here.
Parsnip and Potato Casserole
Parsnip Puree with Apple Layers
Parsnip, Potato and Cheese Cakes
Roasted Vegetables with Cardamon
Parsnip, Leek and Carrot Gratin
Creamy Chestnut Parsnip Soup
Winter Root Salad
Parsnip and Parmesan Gratin
Balsamic Roasted Parsnips with Thyme
Roasted Root Vegetables with Honey & Cumin
Honeyed Parsnip and Bacon Risotto

230 g parsnips, peeled and chopped
230 g potatoes, peeled and chopped
4 tablespoons swiss cheese, grated
1 tablespoon grated parmesan cheese
2 tablespoons light cream
1&1/4 tablespoons unsalted butter, softened
2 tablespoons fresh parsley, chopped
Preheat oven to Gas Mark 5/190°C/375°F. Place parsnips and potatoes in a steamer basket over boiling water. Cover saucepan and steam 10-12 minutes or until tender. Drain and return vegetables to pan. Mash well. Stir in the remaining ingredients. Season with salt and pepper to taste. Pour mixture into a buttered baking dish. Bake 20 minutes until mixture is bubbly.
A completely original way to serve your traditional parsnips!
675 g parsnips
1 large cooking apple
1/2 lemon, juiced
1 tablespoon soft brown sugar
Salt and pepper to taste
Preheat oven to 180°C/ 350°F/ Gas Mark 4. Peel or scrub the parsnips and cut them into chunks. Boil or steam them until they are soft. Drain them and then mash them until they become almost pureed. Season with salt and pepper. Cover the bottom of a gratin dish with half of the parsnip mixture. Peel and core the apple and cut it into thin slices. Layer half of the apple slices over the top of the puree. Then layer the rest of the parsnip puree and apples on top. Sprinkle the lemon juice and sugar on the top layer of apples. Bake in the oven for around 30 minutes or until the apple softens and begins to brown.
1 onion, peeled and sliced
350 g potatoes, peeled and grated
225 g parsnips, peeled and grated
1 garlic clove, peeled and crushed
1 tablespoon chopped fresh sage
1 egg, lightly beaten
2 tablespoons sunflower oil
175 g cheddar cheese
Salt and pepper to taste
Use a kitchen towel to absorb the excess moisture from the grated vegetables before mixing them together with the onion, garlic and sage in a large bowl. Season with salt and pepper. Stir in the egg and mix well. Heat the oil in a large pan. When hot, spread half of the vegetable mixture over the base of the pan. Scatter over the cheese, then top with the other half of the mixture, spreading it flat. Cook over a low heat for about 10 minutes until golden underneath. Slide the cake out onto a large plate and flip back into the pan. Cook the other side until golden and the vegetables have cooked through. Serve immediately, cut into wedges.
Serves 6-8
400 g carrots
400 g parsnips
400 g swede
150 ml extra-virgin olive oil
4 cardamom pods, lightly crushed
1 tablespoon honey
Salt and pepper
Preheat oven to 200°C/ 400°F/ Gas Mark 6. Peel all of the vegetables. Quarter the carrots and parsnips lengthways. Cut the Swede into chunks. Heat the olive oil in a roasting tin and add the vegetables, turning them to coat well. Roast for around 30 minutes, turning a couple of times. Add the crushed cardamom pods and honey to the vegetables. Turn to coat evenly. Return to the oven and bake for a further 30 minutes until the vegetables have browned. Don't let them lose their shape! Transfer to a serving dish and sprinkle with salt and pepper.
Smooth and scrumptious, this recipe will make a fine winter dish. Serves 4-6.
3 tablespoons butter
1 kg (2.2 lb) carrots, sliced
1 kg (2.2 lb) parsnips, sliced
1 kg (2.2 lb) leeks, sliced
480 ml (16 fl oz) double cream
240 ml (8 fl oz) single cream
4 tablespoons brown mustard
4 tablespoons sage chopped
wedge of parmesan grated
salt and pepper to taste
Heat the oven to 400°F/200°C. Put on a pot of salted water to boil for the carrots and parsnips. While water is heating, sauté the leeks in butter until they start to lightly brown (about 10 minutes). Remove from heat. Add the carrots and parsnips to boiling water for about 3 minutes and drain. In a large bowl whisk the cream, mustard, sage, salt and pepper. Taste the mixture and adjust from there. Add all the vegetables to the cream mixture and gently stir to mix thoroughly. Pour the mixture into a 9" x 13" baking dish, top with grated Parmesan and cover with foil. Bake at 400°F/200°C for half an hour.
This is a luxurious, creamy, dreamy soup that will please both parents and child. Get the children involved with the parsnip peeling and chestnut crossing and shelling! Serves 6 children or makes 2 adult portions and 2 children's portions
25 chestnuts
5 medium sized parsnips
750ml chicken or vegetable stock
100ml full-fat milk
50ml Berkeley Farm pouring cream
2 black peppercorns, crushed
1 tbsp, plus 1 tsp rapeseed oil
1 small onion, peeled and finely diced
2 garlic cloves, peeled
1 small apple, peeled and finely diced
Preheat your oven to 220°C. Peel the parsnips. Cut into rounds – larger ones for the skinny end of the parsnip and thinner ones as you work your way to the top. Tumble them into a roasting dish and top with 1 tbsp rapeseed oil and the crushed peppercorns. Pop into the oven and roast for 30 minutes – until tender, but not browned. Score the chestnuts with a little cross. Place in a baking dish and roast for 20 minutes – you can do this alongside the parsnips, in a separate dish, though. Shell chestnuts, cover to keep warm and moist and set aside. Melt 1 tsp rapeseed oil. Sauté the onion, garlic and apple until tender – do not brown. Pour the stock over the apple onion mix and add the parsnips, any buttery juices from the pan and the shelled chestnuts. Simmer for 10 minutes. Mix the milk and cream. Puree adding the milk/cream, little by little, until smooth. Pass through a fine mesh sieve, pushing the soup through to refine the texture. This really gives it a luxurious silky smoothness.
A warming salad that makes the most of British winter produce. Serves 2 as a main, or 4 as a side.
8 Pink Fir Apple potatoes
3 parsnips
4 tbsp rapeseed oil (olive will also work)
4 garlic cloves, peeled
3 sprigs fresh rosemary, leaves only
Juice from 3 clementines
2 tsp balsamic vinegar
2 tbsp extra virgin olive oil
1 tbsp wild flower honey
2 ripe pears
3‐4 handfuls fresh rocket
3 tbsp pinenuts, toasted
1. Preheat oven to 180C. Scrub your potatoes clean, keep the skin on. Peel parsnips. Quarter each.
2. Drizzle oil into a large roasting tin and place in oven to warm for 5 minutes, remove. Place parsnips and potatoes in the pan, along with the whole garlic cloves. Coat in oil. Place in oven to roast for 40minutes, or until golden and mildly crisp on the outside, soft inside.
3. While they roast, make your dressing. Whisk the clementine juice with the balsamic, olive oil and honey. Finely chop the rosemary, add, along with a pinch of sea salt, and black pepper, to taste. Chill dressing.
4. Just as your roots start to pick up colour, drizzle half the dressing over and pop back into the oven to roast for 5 minutes or so, just enough time to turn the dressing into a light glaze.
5. When your roots are cooked, remove from oven to cool slightly. Note, the salad can be made a day ahead up to can be roasted and dressing made. Also, note that roots can be served cold, rather than warm, though, the latter is preferred.
6. Peel, core and slice pears into 6‐8 chunky pieces. Toss with rocket (tear leaves if they're on the large side!). Drizzle over remaining dressing and give the leaves and pears a good coat.
7. Arrange the roots on a plate, top with dressed leaves and pears. Mix the roots, with your hands, in with the tangle of rocket. Sprinkle over the pinenuts and serve with a nice glass of red wine.
Serves 4-6
500g parsnips
175ml Berkeley Farm luxury pouring cream, or double cream
2 cloves of garlic, crushed, peeled and roughly chopped
2 sprigs of thyme, leaves only
1 heaped tsp Dijon mustard
Nutmeg
4 tbsp freshly grated Parmesan
Salt and pepper
Preheat the oven to 200C. Butter a gratin dish.
Peel the parsnips and slice as thinly as possible into rounds. Steam for 5-10 minutes until soft, but still holding their shape (or boil for 4-5 minutes and allow to steam-dry in a colander). Layer roughly in the gratin dish.
Mix together the cream, garlic, thyme, mustard and a good grating of nutmeg. Season generously, particularly with salt. Pour over the parsnips and press down so the liquid oozes through the vegetables. Dot the top with butter and cook in the oven for 35 minutes.
Remove from oven and cap with grated Parmesan. Return to oven for 10 minutes, until golden and bubbly.
600g parsnips, peeled, halved and cut into thumb length pieces (all the pieces should be about the same size)
3 tablespoons butter
1 tablespoon brown sugar, or maple syrup
1 tablespoon balsamic vinegar
¼ teaspoon salt
Pepper to taste
1 tablespoon chopped fresh thyme
Place the butter into a shallow baking dish large enough to hold the parsnips in a single layer and put the dish in the oven until the butter melts. Stir in the sugar and vinegar, add the parsnips, and season with salt and pepper. Then stir the lot to make sure the parsnips are coated evenly. Bake in the oven (with the roast) for 35 minutes. After 35 minutes, stir in the thyme, then continue to bake until the parsnips are browned and tender.
3 onions, quartered
3 large carrots, halved and cut into 10cm (4") lengths
4 large parsnips, halved and cut into 10cm (4") lengths
1 swede, peeled and cut into batons, 1 finger's width and length
8 cloves garlic, unpeeled
60ml olive oil
1 tablespoon honey
1 teaspoon whole cumin seeds
Salt and pepper to taste
Optional: sprinkling of chopped fresh parsley to serve
Place the vegetables and the unpeeled garlic in a large baking dish, drizzle with the oil and honey, sprinkle with the cumin seeds, season with salt and pepper and toss to make sure they're coated. Bake in a 190ºC, 375ºF, Gas mark 5 oven for about 40 minutes, until they are tender inside and golden brown.
Serves 2 as a hearty main, or 4 as a light lunch or starter.
2 bacon rashers, cut into lardons
A good glug of olive oil
3 parsnips, peeled and cut into 1cm dice
2 tsp clear honey
1 onion, peeled and chopped
900ml chicken or vegetable stock
175g risotto rice
A small glass of white wine or sherry
1 tbsp unsalted butter
Salt and black pepper
Rocket leaves or chopped parsley
Freshly grated parmesan cheese
Place a large saucepan over a medium‐high heat. Add a drop of olive oil. Once hot, add the bacon pieces and fry until crispy. Spoon into a dish and set aside.

Add a bit more oil to the pan and add the parsnips. Slowly fry them until they're nice and golden. Drizzle the honey over, stir through to coat. Add to the bacon and set aside.

Add a touch more oil to the pan if it's looking dry. Tip in the onion and gently cook for 15‐20 minutes, until it's soft and just about to colour. Place the stock in a separate pan to warm through.

When the onion is cooked, stir the rice into the onion and cook for a few minutes to give it a nice toasty flavour - you should hear it pop and crackle a bit. Slosh in the wine or sherry - you want just enough to cover the rice. Let it bubble up. Then, add a ladle of stock. Set a timer for 15 minutes and continue to add the stock little by little until the timer goes off and the rice is nice and tender. You should have ladled in most of the stock after 15 minutes. If not, taste the rice; if it's still quite firm, continue to add the stock until the rice is cooked to your liking.

Once tender, fold in the bacon, parsnips and the butter. Season and serve with rocket or parsley and Parmesan cheese, if you fancy.