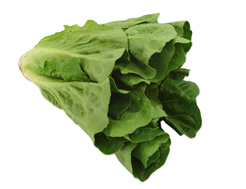 Lettuce recipes
Here's a collection of lettuce recipes from our weekly newsletters, and some lovely ones you've sent in. If you'd like more please have a look at our recipe index! To find out about our lettuce producer and order yours click here.
Chinese Pork and Lettuce Rolls
Lettuce and Tarragon Soup
Barbequed Lettuce
Pureed Spring Lettuce and Peas with Fresh Herbs
Dress to Impress

Serves 2 as a main dish or 4 as a side dish or snack.
1 little gem lettuce
a few bamboo shoots
100 ml (4 fl oz) chicken stock
2 tablespoons vegetable oil
2 teaspoon cornflour
2-3 mushrooms, finely chopped
1 tablespoon dry sherry
50 g (2 oz) finely chopped celery
1 egg
200 g (7 oz) pork (or chicken) mince
pinch of salt
1 tablespoon soy sauce
Wash and dry the lettuce, then peel off the larger leaves and place them on a serving dish. Put them in the fridge. Chop the bamboo shoots and mushrooms and set them aside. Mix together the mince, egg, soy sauce 1 teaspoon of the cornflour. Set aside. Combine the sherry, half the stock and the salt. Add the remaining cornflour to the remaining stock, and blend well. Heat a wok then add the oil. Cook the mince mixture, stirring constantly, for about 5 minutes. Add the mushroom mixture and cook for a further two minutes, again stirring constantly. Stir in the sherry mixture and the cornflour mixture. Add the celery and stir, until the celery is heated through. Place the mince on a serving dish. To serve, let each guest fill a lettuce leaf with pork and roll the leaf. Eat them with your fingers.
Iceberg lettuce can be surprisingly versatile! Serves 4.
1/2 iceberg lettuce, finely shredded
1 onion, finely chopped
50 g (2 oz) butter
1 clove garlic, crushed
25 g (1 oz) plain flour
600 ml (1 pt) chicken stock
150 ml (1/4 pt) skimmed milk
1 tablespoon fresh tarragon
salt and pepper
150 ml (1/4 pt) natural yoghurt
tarragon leaves to garnish
Fry the onion gently in the butter for 3-4 minutes, add the garlic and flour and stir over the heat. Gradually stir in the stock and milk and bring to the boil. Add most of the lettuce and the tarragon, and season to taste. Simmer for 20 minutes. Blend the soup in a liquidiser until smooth. Return to a clean pan and heat; add the yoghurt and remaining lettuce and continue to heat through, stirring. Garnish with tarragon leaves and serve piping hot.
Not ready for salads yet? Then cook your lettuce! Little gem lettuces are perfect for outdoor or pan-grilling. Cut them in half lengthways, leaving the bases on. Brush with oil, season with salt and pepper, and place cut-side down on a hot barbecue or griddle pan. Cook for a few minutes, until they are tender. Now serve drizzled with a gorgeous dressing, like honey-mustard vinaigrette or smashed anchovies mixed with mayo and lemon juice - and sprinkle with Parmesan cheese.
Cooked lettuce is delightful. Increase the peas or double the recipe for more servings. Serve with white fish. 4 side servings
1 medium yellow or white onion, chopped
2 medium garlic cloves, chopped
2 tablespoons butter
1 head green lettuce, ends discarded, chopped
2 tablespoons water
200 g frozen peas, thawed
½ teaspoon salt
½ tablespoon fresh lemon juice
2 teaspoons chopped fresh herbs, such as tarragon, thyme, mint or parsley
Melt the butter in a large saucepan over a medium heat. Add the onion and garlic and cook, stirring occasionally, for 5-7 minutes or until softened. Add the lettuce and water, and simmer, covered, until the lettuce wilts, about 5 minutes. Stir in the peas and cook until they are heated through, stirring, for 4 minutes. Coarsely puree in a food processor or blender, and transfer the mixture back to the pan. Cook over a medium heat, stirring, until heated through, then stir in the salt, lemon juice and herbs.
Got a few leaves or crunchy veggies to dress? Here are a few fantastic frocks.
To make, just get an old jam jar out (a clean one!). Pop the ingredients inside. Twist the lid on. Shake and serve. Or store in the fridge for up to a week. Each will dress 4-6 servings of salad.
Dijon vinaigrette – delicious with crisp leaves
1 tbsp Dijon mustard
2 tbsp red wine vinegar
75ml olive oil
Lush and lemony – super with wispy shavings of raw fennel and courgettes
Zest and juice of 1 lemon
6 tbsp olive oil
1 tbsp finely chopped parsley
Sea salt and black pepper
Chilli balsamic vinaigrette – sublime with Oriental salad leaves
4 tbsp olive oil
2 tbsp balsamic vinegar
2 tbsp lime or orange juice
1 tbsp honey
1 tsp soy sauce
1 chilli, halved and deseeded